Lime Rock Diary:
Day One
2014 Schedule Predictions ... Continued
Lime Rock, Conn., July 5 — Yesterday, I wrote my predictions for the 2014 United SportsCar Racing schedule. Today, I have a little bit more information ... but not much more.
I heard the 2014 schedule will consist of 10 or 11 races, though 10 is the number most often mentioned. This would be a shame, but it is due to team budgets. In sportscar racing, teams set their budgets based on how many hours they run the car. As I mentioned yesterday, four races alone, all of which should make the final cut (24 Hours of Daytona, 12 Hours of Sebring, Six Hours at the Glen, and Petite Le Mans which is about 10 hours), add up to 52 hours of racing.
I was told combining the two series will mean a quantum jump in teams' budgets. Thus, 10 races will be hard enough, never mind 11 or 12.
<!p class='regcaption'>The Downhill is the most challenging turn at Lime Rock. But will the drivers get to experience it next year?<!/P>
Therefore, some of my thinking has to change. How many races do they want in the Midwest? With only 10 races, I can't see Road America, Detroit, and Mid-Ohio all making the schedule. What other factors will be considered? With just 10 races, theoretically, you will end up with 10 healthy races turning profits and paying full sanction fees. Thus, the series can now choose not just what is best for their teams' sponsors, but what works logistically.
Will Lime Rock make the cut based on this when there is essentially no hotel space nearby? Teams typically stay well outside Lime Rock in order to find large hotels with lots of rooms such as in Poughkeepsie, N.Y. and Waterbury, Conn.
One topic I did not cover yesterday was dates. Suppose Lime Rock does make the schedule along with Watkins Glen and Detroit. Keep in mind USCR has an agreement with the ACO and Le Mans, so you have to leave that window open like ALMS always did. You can't fit these three races in their normal dates.
Perhaps, they move Lime Rock back to the old traditional Memorial Day Weekend. But, if they race on Monday, that leaves only three days to turn around and get to Detroit for Friday practice. They could move Lime Rock to September like the Grand-Am race is this year. But, first things first. Let's see if Lime Rock even gets on the schedule.
I heard the schedule could be released at Road America when both series share the weekend. The TV deal is also supposed to be announced then. That's only a month away.
While talking to folks about this topic another interesting one came up -- the demise of SPEED Channel. There have been many layoffs occurring in Charlotte, and some SPEED folks are going to be in Kansas covering the Grand-Am race the same weekend SPEED becomes Fox Sports 1. Many of them are panicking that their company credit cards will no longer work while stranded in Kansas...
Not Vapor. Remember last year when Lime Rock did not have any support races? One factor was due to the invisible Unlimited Racing Championship. A series that was supposed to get off the ground in 2012, but failed to show up anywhere. This year, they once again were supposed to start up, but at Laguna Seca had nothing but some demo laps. Some very lame demo laps from what I heard.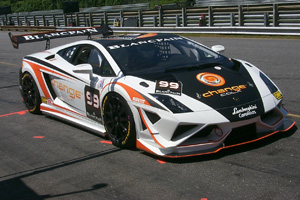 <!p class='regcaption'>The Lamborghini Super Trofeo series (finally) made its debut at Lime Rock.<!/P>
It appeared we had this year's version of the URC -- the Lamborghini Super Trofeo series. They were supposed to make their North American debut at Mid-Ohio a few weeks ago. They couldn't even manage demo laps. Instead, they offered ride along laps.
However, at Lime Rock, they actually appeared ... and raced. They seemed a bit disorganized, their website still has no information whatsoever (good luck trying to find the technical specs), and only 10 cars competed (some starting from the pit lane ... many laps after the green flag).
Admittedly, they are cool looking, have a nice throaty sound to them (better than the Ferrari Challenge cars), and were quite fast. However, what puzzles me the most about this and the URC, is who in their right minds keeps trying to start up mega-expensive spec series in these economic times? No wonder they are more vapor series than reality.
The real support series this weekend is the Pirelli World Challenge. All their classes are here. This means TC and TCB had two combined races on Thursday and will have another one on Saturday. The GT and GTS have a combined race on Friday and Saturday. Both have very large fields ... and excellent racing.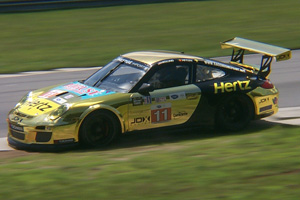 <!p class='regcaption'>If it stays dry for a hot race day, cars running off course will cause dust clouds.<!/P>
Blistering. This seems to be a recurring theme every time we come here to Lime Rock in July -- hot, hot, hot. Humid and muggy. With a searing sun. It reached somewhere in the low 90s, with track temperatures even higher. Super high. It will be very interesting to see how long teams can get tires to last in the race with a weather forecast of even warmer temperatures. Not to mention how long the drivers last...
As usual, expect the competition to be in the GT class. LMP1 is even less of a contest as last year, as the Muscle Milk team (whose car is absolutely on rails again) has no reliability problems, Rebellion Racing is taking a North American break, and Dyson Racing is just not fast enough. The Delta Wing car is here and very interesting to see run.
I am interested in watching the LMP2 battle. Two strong teams with two strong cars, each with top driver talent. Ryan Briscoe and Marino Franchitti head the Level 5 Motorsports squad while Extreme Speed Motorsports is loaded with Scott Sharp, Guy Cosmo, Ed Brown, and Johannes van Overbeek.
In any case, this is Lime Rock. A track which always promises an action filled race throughout the field amongst all five classes. It will be anything but boring.

Photos by
Copyright &copy 2013 by Russell Jaslow and Deep Throttle. All Rights Reserved.