Lime Rock Diary:
Day One
Where's The Support?
Lime Rock, Conn., July 6 — Lack of support is never a good thing.
Lack of pit crew support is not good. Just ask Lewis Hamilton. Lack of support from your boss is not good. Lack of air conditioning support in this media center is a terrible thing in a sweltering room. Lack of bra support is definitely not a good thing.
Lack of support races at a motorsports event is also not a good thing. The American Le Mans Series is a great event for spectators. But, fans want more than just one two hour, 45 minute race. This year, Lime Rock is offering nothing.
Not a single, solitary support race is on the docket this weekend. Nada. Zippo. Zilch. Absolute zero.
<!p class='regcaption'>ALMS was the main feature, but the lack of support races meant that is all the Lime Rock crowd will get to see.<!/P>
Today there was at least a good amount of ALMS action. A two hour practice session in the morning. A one hour practice session in the afternoon. Then, qualifying which was scheduled to last an hour, but went a little longer. Thus, with Lime Rock's strict local curfew laws, there were four hours of track action out of eight hours of allowable track time.
Fifty percent of track usage, though, is not a great bargain. For tomorrow, the showcase day (racing on Sunday is banned at Lime Rock), they will witness the following. A half hour practice session at 10:00 A.M. Nothing for the next four hours and 35 minutes (unless watching slow parade laps of Porsches and Corvettes floats your boat). Then, the 2:45 main feature.
It's not like Lime Rock didn't know they needed to fill the void. IMSA released their master schedule back in the winter, and it clearly showed they were not going to bring any of their support races to this weekend.
There were so many opportunities to be had. The F2000 Championship series and related classes, run by Mike Rand, a former Lime Rock General Manager, could have easily filled some slots. Skip Barber could have thrown together some races to entertain the crowd. Even a restricted regional pro Spec Racer Ford event would have been a crowd pleaser. All of these classes have at one time or another supported major pro races at Lime Rock.
One can look at the bright side -- the vendors will be very happy since the fans will have plenty of time to shop...
Unlimited Nothingness. There was supposed to be one "support" race -- the Unlimited Racing Championship. When that was first announced, skepticism reigned. This series was first announced last September with much fanfare at the Laguna Seca ALMS event. However, their website has not been touched since two press releases from that time.
Nothing. Nada. Zippo. Zilch. Absolute zero. (Sensing a theme here?)
It was obvious this heritage "Can-Am" series was going to be nothing more than a bunch of rich guys with way more money than talent stroking their oversized egos. Who in their right minds would start up a series like this while we still sit in an economic funk when the aforementioned rich guys with way more money than talent stroking their oversized egos are still being affected by the doldrums of Wall Street?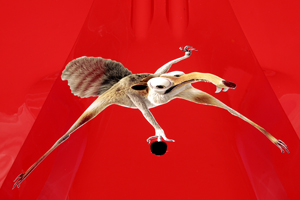 <!p class='regcaption'>Scrat, the
Ice Age
squirrel, appears on the RSR Racing LMPC entry with the new movie
Continental Drift
as their sponsor. Scrat is as real as the Unlimited Racing Championship.<!/P>
When the schedule was published, the support race was "downgraded" to an exhibition run. Word from reliable sources said three cars were going to show up. The website shows two cars being tested, so at least one more car had been built. I was tingling with excitement anticipating these "exhibition" runs...
Suddenly, but not surprisingly, a new schedule was released with no mention of the Unlimited Racing Championship.
July Heat. Even though weather.com indicates the highs were in the mid to upper 80s for Lakeville, Connecticut, it sure seemed a lot hotter. With a searing sun beating down from a cloudless sky, it made for a typical hot summer day.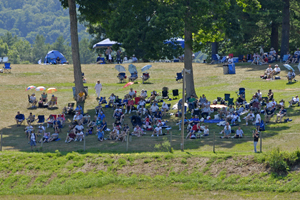 <!p class='regcaption'>Shade was a rare and much sought after commodity on a hot, sunny Connecticut day.<!/P>
Qualifying was not as hot as various incidents caused all the sessions to be stopped at least once. Thus, it had a herky jerky feel to it. The local team (from nearby Poughkeepsie, N.Y.), Dyson Racing, put their car on pole in a new qualifying lap record of 0:44.017 with Guy Smith driving. He and Chris Dyson will be defending last year's race win which came from pole.
Christophe Bouchut placed one of the Level 5 Motorsports entries on the LMP2 pole, third overall. LMPC pole was grabbed by Kyle Marcelli for Conquest Endurance. BMW, driven by Bill Auberlen in his 100th ALMS start, got the GT pole followed by a Porsche and a Corvette. The GTC pole was nabbed by Alex Job Racing with Leh Keen driving.
An ALMS race at Lime Rock is always a thrilling venture on the 1.5-mile track with five different classes. However, it would have been more enjoyable with some support to go along with it.

Photos by
Copyright &copy 2012 by Russell Jaslow and Deep Throttle. All Rights Reserved.