Lime Rock Diary:
Preface
Predicting The 2014 USCR Schedule
Lime Rock, Conn., July 4 — As we approach the meat of the American Le Mans Series schedule, talk will be increasing concerning the new United SportsCar Racing series which combines the ALMS and GRAND-AM Rolex SportsCar Series. Lime Rock is my first ALMS race I'll be covering this year, and coupled with Mosport in two weeks, I hope to be gathering a lot of answers sports car fans have concerning the USCR.
One key question is the makeup of the 2014 schedule. I was going to wait to try to get some direct answers, but then I thought, I have all these theories, so why not stick my neck out there and see how right or wrong I am. And, there's nothing like the Internet to make your failures so public for perpetuity.
That's why this diary is a preface as it's not really a preview of the upcoming weekend.
This year, there are 10 races on the ALMS schedule and 12 for Grand-Am, leaving a total of 22. However, five tracks are visited by both series, leaving in reality 17 possible venues. (We're going on the assumption no new event is going to pop up unexpectedly. Though, dreaming about new events, who amongst us wouldn't love to see a resurrection of the Cleveland Grand Prix as a sports car endurance race?)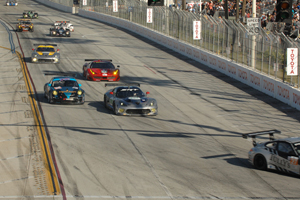 <!p class='regcaption'>There will be one sports car series in North America in 2014. But, which tracks will they race on?
(Photo by .)
<!/P>
Many people, me included, have assumed the USCR schedule will consist of 12 races. However, I have heard the powers that be mentioning "between 10 to 12 races." I can't imagine trying to whittle these 17 possible venues down to 10. Nor, would I want to see only 10. On the other hand, monetary concerns my force them to keep it closer to 10 than 12 – a combined schedule will now mean in just four of the races, the cars will run 52 hours which eats up a lot of money, and that doesn't even factor in Le Mans for those teams who will make that trip.
Looking at those 17 venues, I see five of them as absolute guarantees based on either a particular event's historical success, importance of the track, or a facility owned by ISC. They are the 24 Hours of Daytona, the 12 Hours of Sebring, the Six Hours of the Glen, Circuit of the Americas (coupled with the World Endurance Championship, assuming the WEC returns next year), and Petite Le Mans at Road Atlanta.
I see five other tracks almost guaranteed to be on the schedule. Though, I rather not see sports cars on street circuits, I think two will stick around. The other three tracks are in important markets.
Long Beach – For obvious reasons, the USCR is going to want to stay at the most famous street race in America.
Detroit – Yes, the track is nothing to write home about. However, it's all about the manufacturers. The same manufacturers who have worked tirelessly behind the scenes to get these two series to merge. The same manufacturers who had a large say in how the USCR class structure panned out. And, most importantly, the same manufacturers who pour so much money into sports car team budgets. So, if the manufacturers want the USCR to race in Detroit (and they probably do), there will be a race in Detroit.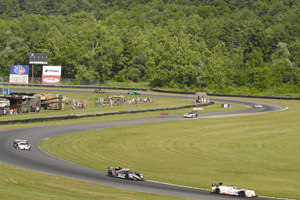 <!p class='regcaption'>Lime Rock Park, the road racing bullring in the Berkshires, will probably be on the 2014 USCR schedule.
(Photo by .)
<!/P>
Lime Rock – Some drivers, namely Johnny O'Connell, love to bitch and moan about the tight confines of Lime Rock. However, this is the only venue in the key Northeast market able to attract the big money from New York and Boston. This past week's display in Manhattan is a perfect example. BMW, who's North American headquarters are in New Jersey, puts a lot of money into this event (as well as being a key sponsor of the track). This venue is too valuable, literally, not to be on the schedule.
Mosport – This is the only opportunity for the Canadian market (unless they want to try and return to Montreal or go to Mt. Tremblant, which no one is talking about). The track has implemented major improvement projects and the new owners want to continue bringing in as many big time events as possible, even talking about the possibility of a WEC event if the FIA decides to add a second North American venue. Plus, I have always heard that outside of Sebring and Road Atlanta, the largest ALMS crowd is at Mosport. Why give that up?
Road America – I am hard pressed to believe Elkhart Lake will not be on the 2014 schedule. Both series have gone here for a long time, and this year they combined for a doubleheader extravaganza. With that sort of love, why would they suddenly dump it?
That gives us 10 races. Where do the other two come from? I will eliminate two right away – Kansas Speedway and Barber Motorsports Park. The Grand-Am used to use a lot of the infield circuits at their ISC tracks, but have been rightfully dropping them as time went on. Now that access is open to ALMS-only tracks, it's time to drop all the rovals. (Yes, I know Daytona is a roval too, but for obvious reasons I shouldn't need to explain to racing fans, Daytona is not part of the roval discussion.)
Admittedly, I don't know what the attendance is like at their Barber event with Indycar, but I just can't see the Birmingham market trumping the other locations still in play. That leaves us with five contenders for two spots.
Originally, I would have said Indianapolis is a prime contender, perhaps even a gimme. I'm starting to rethink this. Does the USCR really want to play second fiddle during a NASCAR weekend, forced to race on Friday? Grand-Am dropped their Watkins Glen event which coincided with NASCAR. And, does IMS really want to switch back and forth between the road course and the oval during that weekend? Does the meager Friday attendance justify such an expense? Do the sponsors get anything out of an overshadowed weekday race? And, just who is paying whom to be there? So, for those reasons, I am going to exclude IMS from any contention. This is, admittedly, my biggest question mark in this whole piece.
Now, we are down to four venues. I list them in order of my prediction of the chances of them being picked.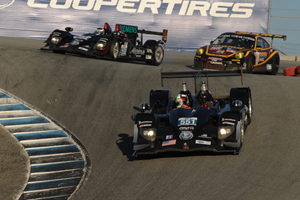 <!p class='regcaption'>Will the Corkscrew and wine country of Laguna Seca make the cut for the 2014 USCR schedule?
(Photo by .)
<!/P>
Laguna Seca – Both series apparently love this venue, it's traditionally one of the great road racing circuits in America, and it does give the USCR the Northern California marketplace.
Mid-Ohio – ALMS dropped the Lexington circuit to make room for COTA. Grand-Am continues to go here. I think it all depends on Honda. If the manufacturer, whose U.S. plants are nearby and are a prime sponsor of the track and driving school, wants the USCR at Mid-Ohio, then the USCR will be at Mid-Ohio. It will probably be combined again with the Indycar weekend.
Baltimore – This is a wildcard. The downsides are the viability of Baltimore is always in question and it is another street circuit. The upsides are like Lime Rock gives you the Northeast money, Baltimore gives you the Mid-Atlantic money base (Philadelphia, Baltimore, Washington D.C.) and the fans seemed to really enjoy the ALMS there. I think whether Baltimore stays or not comes down to money, one way or the other.
VIR – Virginia International Raceway is a great track and a beautiful facility, epitomizing road racing like Road America and Laguna Seca. On that premise alone, it fully deserves to be on the 2014 schedule. However, I believe ALMS is renting the track instead of getting a sanctioning fee for it. If that's the case, no way does the France family ever consider going here.
There you have it. My prediction on the 2014 USCR schedule – five absolutes, five most likely, and then pick two of the remaining viable candidates, hoping we get 12-races next year.
We will all start learning over the next few weeks how much of this comes true as the stated goal of the USCR is to release a schedule in September. In the meantime, enjoy the racing at Lime Rock. I know I will!
Copyright &copy 2013 by Russell Jaslow and Deep Throttle. All Rights Reserved.