Cleveland Diary:
Day Three
A Total Motorsports Weekend
Cleveland, Ohio, June 24, 2007 — Cleveland continues to rebound under the guiding hands of Mike Lanigan. Do we dare propose a bold scheduling change?
Continued Investment. The resurrection of Cleveland continues. Last year I wrote about how Mike Lanigan embraced the classic street festival concept for Cleveland. Cleveland has an advantage no other street race has. Not only does it have the requirement of being near enough to downtown to be within walking distance; it also has a semi-permanent feature to it (allowing for longer set up for off track activities) and way more land to accommodate a slew of activities.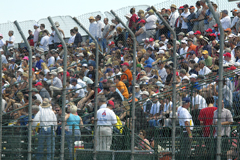 Thus, even more was added this year, and with a lot more marketing, the attendance again took another major jump. This year, the three-day count was 151,426, including 65,000 on race day, a 28% increase from last year. (The year before that, there was just under 90,000 for the three days.) Some of that wasn't even for Champ Car as late night drag racing, all the way till midnight, attracted it's own crowd. But, so what? The stands were still close to be filled, a new infield section opened up the general admission space, and more hospitality clubs were available. Everybody I talked to seemed to be having a great time.
Quite frankly, the event is becoming a huge motorsports happening rather than "just" a Champ Car event. And, as long as the fans watch and consider the Champ Car race as the headline event, then where's the harm? I see only good. Six race series took part with a total of nine races, drifting, and drag racing all took part on the track. Off the track, there was beach volleyball, Miss Grand Prix of Cleveland show, go karts, a kids zone, bicycle and motorcycle stunt shows, amusement rides, a climbing wall, concerts, and more.
The number of vendors and people walking around approached the heydays of Cleveland. And, seeing what Lanigan has done so far, we know that he has a lot more in mind. Pretty soon, he may have to start bringing the larger grandstands back.
There may be events that have a better atmosphere like Long Beach and Toronto. However, thanks to the advantage of the unique layout of the this venue, Cleveland may turn into the greatest overall motorsports weekend in the country. A person on a message board asked should Cleveland be Champ Car's Memorial Day Weekend race?
At first, I thought no. But then, why not? A Saturday, Sunday, Monday schedule with more of a chance for cooler weather like we had this year on the premier racing weekend in America, and it could indeed be "the perfect storm."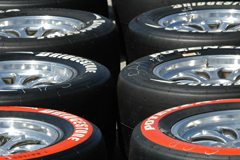 Black And Round Yesterday, I wrote about how all but one of the support series is supported by Mazda (and they put some sponsorship money behind Champ Car as well), but when it comes to tires, the support is spread out. There are six series running at Cleveland, and there are six tire manufacturers involved. Three of the series have the tire companies as part of their name:
BFGoodrich/Skip Barber National Presented by Mazda
Star Mazda Championship Presented by Goodyear
Cooper Tires Presents The Champ Car Atlantic Championship Powered by Mazda
Of course, Bridgestone is involved with Champ Car, now through 2009 as announced on Friday (putting to bed the usually wrong and often harmful Internet rumors) and used to be part of the series name. Hankook is the official tire of the F2000 Championship Series and Kumho is lined up with the Mazda MX-5 Cup.
Every Lap Is A First Lap All the talk at Cleveland is about the first turn on the first lap of any race that takes place here. We all know the drill -- the track is so wide, the inside looks so inviting, but ultimately the line through the turn is very narrow resulting in many hair raising moments along with irate drivers.
Usually, after that first, and often fateful, first lap, the excitement in that area diminishes a lot. Not in the Mazda MX-5 Cup. With "spec" underpowered street race cars, the Miatas run in packs all day. This results in those insane first lap moves occurring every lap. Dive bombing galore! It's great fun for the spectators. Too bad the races took place so late, so a lot fans missed the excitement.
If you get a chance to see these guys run next year (or anywhere or the similar Spec Miata class in a SCCA club event), do so. It's balls of fun!

Photos by
Copyright &copy 2007 by Russell Jaslow and Deep Throttle. All Rights Reserved.