Cleveland Diary:
Day Three
The Street Festival Business Plan Marches On
Cleveland, Ohio, June 25, 2006 — The street festival model is all the rage in Champ Car, and Cleveland (finally!) has fully embraced it thanks to a new promoter who also got Houston started in grand style. The fans enjoyed themselves, they got to see a race that will be talked about for years, and a security guard made the riskiest move of the weekend.
Investing In The Future. Though the buzz started to return to Cleveland last year, the new promoters of the Grand Prix of Cleveland presented by U.S. Bank have taken this event to a whole new level. One that should see it return as a preeminent stop on the Bridgestone Presents the Champ Car World Series powered by Ford.
I've always been puzzled why Cleveland has never truly taken the approach of the classic street festivals of other downtown races. Cleveland is as close to a downtown race as you can have. Though it might take place on an airport, it is a very old airport. One, that is situated right next to the city. In fact, some of the downtown hotels are within walking distance to the track, and the city skyline is prominent in the view.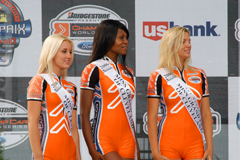 Mike Lanigan, owner of Mi-Jack Racing, believes Cleveland truly is a candidate to be a full fledged street festival. He pulled out all the tools in the box, and then some. Large video screens, motorcycle daredevil shows, concerts, Miss Grand Prix of Cleveland contest, plenty of booths with pretty ladies, a nightly carnival with amusement rides, and even rides in a monster truck.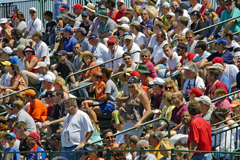 To make sure the fans saw what he was doing, he lowered ticket prices and did not charge a separate admission to the paddock. It seemed to have worked. Over 51,000 fans showed up on race day while over 118,000 fans took part in the entire weekend.
There were some mistakes, which is to be expected when you try to do it all in one year. The most glaring one was the location of the stage for the concerts and beauty contest. They placed it on the median between pitlane and the front straight. The thinking was to have the grandstands available for the fans to sit in during these events.
The problem was the stage was too far from the crowd for these sort of events, and it lost its intimacy even with seats available in front of the stage. Lanigan needs to take a look at how it is done in Toronto with the stage in the middle of the paddock. There is always a buzz surrounding it during the day, and when the Faces of Champ Car contest and concerts take place, it has much more of a close up feeling to it. Put a beer garden next to it, and you have a winner. (Just don't charge a cheap rate for the beer, like the infamous Cleveland Indians promotion many years ago.)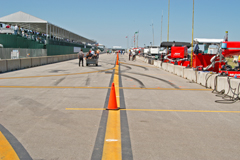 The fans also loved the new pitlane configuration. Many of whom told us they really enjoyed being able to see the pit stops and the teams work on the cars without any obstruction. Their only issue with that setup is it made the pit access tickets a waste of money since it was extremely limited.
All this did cost Lanigan. He fully expects to take a loss this year, just like in Houston, which was also considered a huge success. However, Lanigan is a rare breed in American business. He firmly believes in the concept of investing for the future, unlike most U.S. companies who are so hell bent on short term gains to appease the shareholders to the detriment of the long term health of the company.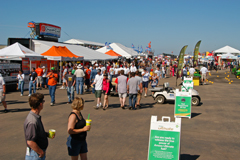 To cap it all off, the fans got to see one of the wildest and greatest races in Champ Car history. Just seeing A.J. Allmendinger slicing through the field every time he fell to the back was well worth the price of admission. Discounted or not. With the airport circuit restoring the reputation of producing some of the best racing in the series combined with the proper street festival atmosphere, Cleveland will soon become a must see for Champ Car fans. And, a profitable one for the promoter.
Good Luck With That! Just before the race was to get underway, security swept through pitlane to make sure only those who belong got to stay. As most track side security behaves, they at times were overzealous. Though, to be fair, many times it is a result of a miscommunication. The security folks are told one thing while the participants are told something else.
One security guard tried to throw Paul Tracy's Mom out. I kid you not. He was making sure everyone had long pants with absolutely no skin showing. Paul Tracy's Mom was wearing her usual calf length pants, so the very lower part of her leg was showing. Barely. She, of course, refused. He said he will notify his superior.
Overhearing this, I told him, "Do you know who that is? It's Paul Tracy's Mom."
He said, "I don't care who it is. I've kicked out moms and dads all the time."
I thought, you really don't know who Paul Tracy's Mom is. She can take you down before you could cry, "Uncle!" I then told him, "Trust me. You will lose this battle." The security guard continued his sweep down the pits, and I never saw him again.
Proper Behavior. Whatever your feelings are about Dan Clarke, he knows how to appreciate his crew. After the race, where he could easily have been consumed with self loathing for throwing away a possible second place finish, as soon as he got out of the car, he walked up to every crew member and gave them a hug, thanking them for their job.
Clarke is one driver who truly understands what is necessary to motivate his crew and want them working hard for their driver.

Photos by
Copyright &copy 2006 by Russell Jaslow and Deep Throttle. All Rights Reserved.