Cleveland Diary:
Day Two
Zoom-Zoom
Cleveland, Ohio, June 23, 2007 — Both Angelo and I own a Mazda. I have a 1984 Mazda RX-7 GSL-SE while Angelo enjoys Sunday afternoon rides in a 1996 Mazda Miata MX-5. However, we didn't take either car to get us to Cleveland. It would have been appropriate had we done so.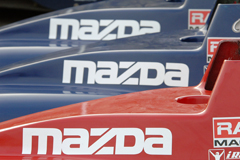 Back in the late 70s when Mazda first introduced the RX-2 and RX-3 and then the RX-7, the company got involved in motor racing like no other manufacturer did except perhaps Porsche. And unlike most manufacturers, they did not just get involved in the upper echelons of the sport looking for a quick marketing return. They got immersed in the grassroots level of racing all the way up to the major professional road racing series.
Mazda dominated IMSA GTU during the 80s. Remember the driver Walt Bohren, winner of the 1980 IMSA GTU title in an RX-7? He was one of my race instructors when I took the Skip Barber Racing School way back when. Now, Skip Barber is hooked up with Mazda.
Which brings us to the 2007 Grand Prix of Cleveland. This event is the ultimate example of Mazda's immense involvement in motorsports. With the exception of the F2000 Championship Series, every support event at Cleveland has Mazda backing. In fact, according to the Mazda Racing Ladder, all we need are the Snap-on Stars of Karting to have their entire system here. And, even one series not associated with the Ladder is supported by Mazda.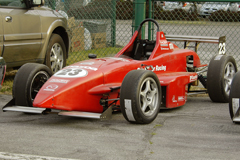 The bottom rung for cars is the Skip Barber Racing Series. After years of being associated with BMW and then Dodge, Skip Barber recently announced their entire school system was going to partner with Mazda. This meant that Miatas are used for the street driving classes and Mazda powered formula cars are used for the racing schools (non-winged formula cars), regional racing series (East, Midwest, South, and West using F2000 cars), and the BFGoodrich/Skip Barber National Presented by Mazda.
The National series has by de facto replaced the Barber Dodge Series (whose predecessor was the Barber SAAB Series) which closed shop after the 2003 season. The National was originally meant as a one-weekend shootout amongst the top regional drivers. The fist winner in 1999 was Ryan Hunter-Reay. Over time, it involved into a series all to itself, and with the demise of the Barber Dodge series, grew into a professional entity. AJ Allmendinger finished second in 2001, Raphael Matos won in 2003 as did Marco Andretti the following year. Couple that with the champions and top drivers who competed in the Barber Dodge Series -- Robbie Buhl (1989), Bryan Herta (1991), Kenny Brack (1993), Allmendinger (2002), Juan Pablo Montoya, Hunter-Reay, Jeremy Dale, Townsend Bell, and Michael Andretti -- you might be smart to pay attention to the names of those competing in this series for future reference.
The winner of the 2007 Skip Barber National gets a fully funded ride in the 2008 Star Mazda Championship, the next rung in the ladder. This longtime Mazda supported series has similar looking cars to the F2000 machines but with carbon fiber construction and powered by the venerable rotary engine, now using the same one found in the RX-8.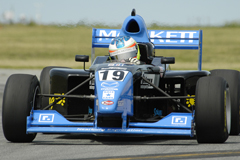 Star Mazda has been around for quite awhile, since 1996 to be exact, and it too has a Who's Who list of former champions -- Joey Hand (1999), Guy Cosmo (2002), Matos (2005), and Adrian Carrio (2006), as well as other top drivers such as Kevin Lacroix, James Hinchcliffe, Graham Rahal, and Scott Speed.
An added feature of both the Skip Barber National and Star Mazda Championship is both have a Masters Division (with Star Mazda also employing an intermediate Expert Series), so older drivers like myself could compete in a professional formula car series for our own points race without worrying about getting clobbered by the young guns looking to advance their racing career.
After Star Mazda on the top rung of the Mazda Ladder comes of course the Champ Car Atlantic Championship powered by Mazda. I've written plenty in the past about the virtues of this series and we all know the many names that come out of it. With the resurgence starting last year thanks to a new chassis, engine, and $2 million career enhancement bonus check, it has become in my opinion one of the three top development series in the world (along with GP2 and British F3).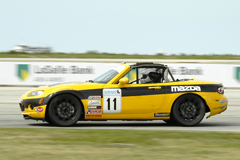 That other series at Cleveland that is technically not part of the Mazda Ladder? The SCCA Pro Racing SIRIUS Satellite Radio Mazda MX-5 Cup (now, there's a mouthful). Eligible cars are the 2006 and 2007 Mazda Miatas in general showroom stock form with some performance and safety modifications. Though pro Miata Cup events were sanctioned by the SCCA in 2002, the first championship started in 2003.
Cleveland is the only place this year where all the Mazda Ladder pro car series are on the track the same weekend, and along with the Miata Cup, it is the largest Mazda involvement on a pro weekend.
Even with all this pro involvement, including support of the top level such as sponsoring the Champ Car Grand Prix of Portland (and I haven't even talked about their efforts in the American Le Mans Series, drifting, and rallying), Mazda continues to play a very active role in the club racing arena. Spec Miata, now a national class, is a prime example, but they support Mazdas racing in all classes from local regional classes such as Spec RX-7 to helping folks running Mazdas in Improved Touring classes, GT classes, Production classes, and Showroom Stock classes through their MAZDASPEED Motorsports program.
Zoom-Zoom indeed!

Photos by
Copyright &copy 2007 by Russell Jaslow and Deep Throttle. All Rights Reserved.