VIR Diary:
Day Three
Independence Day in October
Alton, Virginia, October 5 — Corvette, BMW, and Viper may all have big time factory efforts, but it was the Ferrari and Porsche independent efforts which stole the show at Virginia International Raceway. Also, as usual, GT stole the racing show.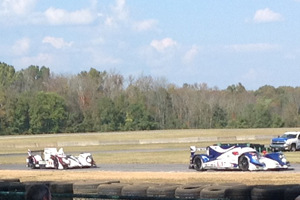 <!p class='regcaption'>The battle for the overall lead was close for awhile with Dyson Racing leading Muscle Milk Pickett Racing.<!/P>
It looked like it was going to be a close race for overall victory. Muscle Milk Pickett Racing jumped out to a large lead, but Dyson Racing of Johnny Mowlem and Guy Smith was able to close the gap and take the lead after early pit stops. And, they were able to hold off Muscle Milk for quite awhile. However, some strange strategy from Dyson deciding not to pit during a full course caution (thanks to a grass fire) put them out of sequence and lost them the race. Lucas Luhr notched his 49th career American Le Mans Series race sharing the car with Klaus Graf.
Though BMW had the pole, it was clear the Risi Competizione Ferrari F458 Italia driven by Oliver Beretta and Matteo Malucelli was the best car in the field. It was just a matter of whether circumstances would prevent victory. They did not, and though Ferrari had to work at times, once they regained the lead late, they pulled away.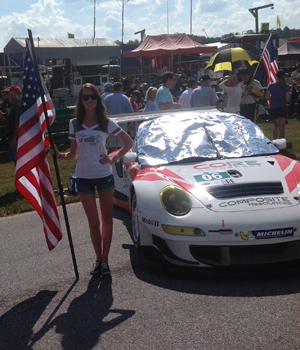 <!p class='regcaption'>The CORE autosport Porsche finished second in GT.<!/P>
Meanwhile, the CORE autosport Porsche 911 GT3 RSR driven by Patrick Long and Colin Braun had to desparately hold off a pair of Corvettes (who finally found their speed too little, too late) for second place. Jan Magnussen and Antonio Garcia had to settle for third for the bowtie squad.
When the battle for second through sixth really started to heat up with a couple of laps to go, the crowd stood up and moved to the fence line, cheering their favorites. Once again, the GT class provided most of the excitement. It doesn't matter whether the teams are independent or factory supported.
The race had a wild crash between two Porsches, the #48 GT and the #31 GTC, which saw the #31 car literally climb the tire wall and ride on top of it. Make sure you check out the video on that one, including the shots of the TV cameraman staying as long as he could at his station. It's pretty wild stuff, and thankfully everyone was okay.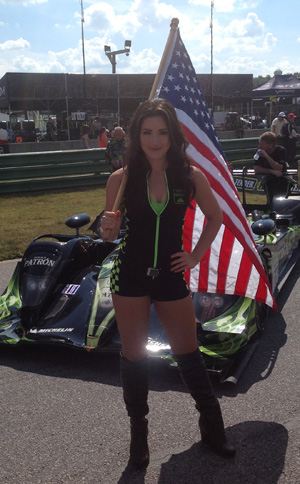 <!p class='regcaption'>In LMP2, this Tequila Patrón Extreme Speed Motorsports car (#01) took second. Level 5 Motorsports took the win in car #551 driven by Scott Tucker and Ryan Briscoe.<!/P>
Looking Ahead. By now, everybody has seen the 2014 schedule for the new, and newly renamed -- again -- Tudor United SportsCar Championship. I don't have too much to say about it as most of my thoughts were laid out when I predicted what the schedule would be. Here are some quick comments.
12=11: There are 12 race dates, but each class only runs 11 times. A nice way to accommodate the number of tracks which wanted a race versus the budgets of the teams having to do those number of races.
Detroit: There was never a question in my mind that the series was going to be in Detroit because ... well ... it's Detroit. I also understand the need to give the GT Le Mans class that weekend off. Teams doing Le Mans can participate in their test dates since that class will most likely have teams going to La Sarthe. However, the main reason the series is in Detroit is because of the manufacturers. The class which gets the most support from the manufacturers is the GT Le Mans class. And, they are the class which will not be there. D'uh!
Indianapolis: Are you kidding me?! Not that the series is returning to Indy, but that the series is returning in the same way Grand-Am has been going there -- as a tick on the NASCAR elephant. There was talk about having a separate sportscar weekend, perhaps combined with an Indy Car road race, but in the end, they once again race on the Friday before the NASCAR weekend when the number of fans will be zilch, the amount of coverage will be zilch, the exposure for sponsors will be zilch, and the atmosphere will be zilch. And they gave up a Lime Rock or a Mid-Ohio for this? Really? Thank God, they at least had their senses together when it came to making sure Kansas was left off the schedule.
VIR: As mentioned by other reporters, apparently VIR had a locked in contract through 2014. The VIR event has been moved to late August (talk about HOT). But, here's the peculiarity of that event. It is the one where the Prototypes will not run and the Prototype Challenge class will run a separate race from the GT Le Mans/GT Daytona classes. Peculiar because the track is certainly big enough to handle all the classes at once (though passing is tough here on large sections of the track) and there is plenty of paddock and pit space. (In fact, the track just announced today they will be paving the entire north paddock area as well as repaving the track and widening it in some places. It certainly sounds like they are making it even more attractive for USCC.)
So, why the pared down, split event? Could it be they are setting up a return to Lime Rock in 2015? Having an event which already consists of only some classes with two races will solve the paddock and pit space issues at Lime Rock. And, despite some of the issues with Lime Rock, it is still coveted by the sponsors thanks to the Boston and New York marketplace. Certainly, more so than what VIR can offer, which is essentially only the Raleigh/Durham market.
Speaking of Lime Rock, I was talking to a vendor who I see at all the events. Besides his distaste for the way Lime Rock treats the vendors (some refuse to ever go back there because of the poor treatment, no matter how much they can make there), he acknowledges that Lime Rock gets a decent crowd and, "It's a money crowd."
He also told me at any track he has been to where both ALMS and Grand Am raced, ALMS clearly outdrew Grand Am. It wasn't even close. "At least six-to-one, if not seven or eight to one." Who needed this merger more...?
The vendor was also skeptical whether the fans at regular Grand Am tracks, like Watkins Glen, will respond to the new series and the attendance will increase to ALMS-type numbers. I believe they will. The vendor was not too sure. As they say, time will tell.
When I was driving the pace car at The Gold Cup last weekend, I noticed on Sunday there were hardly any fans. There weren't many Saturday, but there was a lot less on Sunday. I mentioned this at dinner that night, and the Black Flag Steward who lives in nearby South Boston (where my motel was this weekend) explained it to me.
"Around here, on Sunday mornings, everybody goes to church. In the afternoon, everybody stays home to watch NASCAR."
I now have my explanation for why the Oak Tree Grand Prix is run on Saturday. Last year, when it was a four-hour event, I could see why they preferred Saturday. This year, I couldn't, until I was set straight about the local entertainment habits. It's good for me, as it provides me all day Sunday to make the 10-hour drive home.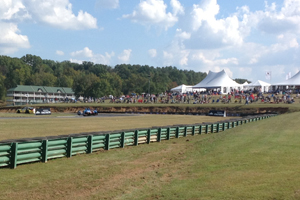 <!p class='regcaption'>The crowd enjoyed some intense racing at VIR.<!/P>
It seemed to work. Attendance was very good, and the crowd was very enthusiastic (yes, Virginia, there are road racing fans in the heart of NASCAR). I wonder if they expected such a big crowd because many vendors were running out of food while it was still lunch time. I was skeptical whether VIR deserved a spot on the USCC schedule. After today, I don't see why they don't.
Oak Tree Shall Live On. They are going to clone the famed oak tree. Seriously. It was announced today that Virginia Tech University for Advanced Learning and Research will actually clone the tree. Saplings will be sold, so you can literally have a piece of VIR in your backyard. Of course, they will plant one of those saplings near the original site.
What next? Clone Brian Redman's Cat at Road America?

Photos by
Copyright &copy 2013 by Russell Jaslow and Deep Throttle. All Rights Reserved.