SCCA Valvoline Runoffs® Wrap Up
The President's Cup and Naughty Drivers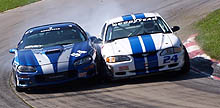 Lexington, OH, September 22, 2003 — Brief Concern. The weekend started out with trepidations about what the remnants of Hurricane Isabel were going to do, but the rain stopped before the first race, and by the third race, it was a dry track all the way through and the weather was near perfect. As the weekend progressed, the weather got better and better -- if that was at all possible -- bringing out record crowds. And the new configuration at the Keyhole provided the fans with more passing to enjoy.
President's Cup. The most prestigious individual award at the Runoffs, the President's Cup was donated in 1954 by R.W. Woodruff, President of Coca-Cola Co., and was first presented in person by the real President, Dwight D. Eisenhower. It's given to the driver who best demonstrates ability, competitiveness, and success, and is selected by the Chief Steward and Stewards of the Meeting. This year it went to Formula Atlantic champion Rennie Clayton. On Monday, he crashed his car hard in the Keyhole during practice after his rear suspension failed. With a lot of borrowed parts, he rebuilt the car, placed it on the front row, and won the race by over 22 seconds. Only two drivers have ever won the President's Cup three times, one of them being Roger Penske. Other drivers familiar to CART fans who have won it are Jim Hall, Skip Barber, Bobby Rahal, Paul Newman, and Jimmy Vasser.
Naughty Drivers. Though this year was not as bad as recent years, where seemingly more championships were won in the tech shed, which this year was a tent, than on the track, there were still a few drivers disqualified for various mechanical or driving violations, two of them the on track winners. We told you about the Formula Mazda winner and fourth place driver being DQ'ed, a decision that was upheld during the appeals process. The SSB winner also lost his title when he was penalized one minute for rough driving tactics. From our viewpoint, it was more like dirty driving, as Randy Saucier repeatedly rammed Toby Grahovec from behind to shove him out of the way. Unfortunately, Grahovec did finally get knocked off the track, which meant that Saucier's penalty did not help Grahovec, but rather, Harry Manning, who is now the SSB champion. Other non-winning drivers who were disqualified included CSR driver Jacek Mucha from sixth place, Jordan Sandridge from Touring 2 (but he had already dropped out of the race anyway), Tom Feller from second place in H Production (we believe for passing under the yellow), all three BMW Z4's in SSB before the race for technicalities over their proper inclusion in the class through no fault of the drivers (and they had qualified in the top three positions) as well as an Acura RSXS, American Sedan fifth place driver Kyle Watkins, and Formula Vee driver Stevan Davis who was excluded from the event after showing up with a blatantly illegal car.

Weekend Numbers. The largest class of the weekend in terms of number of cars that took the green flag was SSB with 42 (47 were entered). It was not E Production as we mistakenly stated yesterday. EP had 41 cars with 42 entered. Six other classes had over 30 cars -- SRF (31), GP (34), F500 (34), AS (37), FV (37), and SSC (38). All told, 661 cars took the green flag, a Runoffs record, an average of approximately 27.5 cars per race. The smallest field was CSR with 13 cars. Interestingly, the class with the second smallest field, GT2 with 15, put on the best race of the weekend. The only other class below 20 was GT1 at 18. Perhaps the most impressive number was 3, as in the number of races T.C. Kline competed in. He finished 12th in Showroom Stock C in a Honda Civic, got the bronze medal in Touring 2 in a Nissan 350Z, and was unable to run the SSB race due to having one of those aforementioned BMW Z4's.
Career Numbers. A number of drivers at the top of the career win list had an opportunity to add to their total, but none were able to despite being in excellent positions to do so. Jerry Hansen is the all time leader with 27 wins. Behind him is the all time active leader, Duane Davis, with 12. He was battling for the win in the amazing GT2 race, but wound up second. In third spot is Joe Huffaker with 8 wins. He too failed to extend that number when his lead in GT5 evaporated with the failure of his throttle linkage. Five drivers share fourth spot with 7 wins, two of whom competed this year. Dave Weitzenhof finished second in Formula Continental, and David Daughtery started from the front row in SSB but dropped out after eleven laps.
Consecutive Numbers. The first two years Formula Ford existed, 1969-70, Skip Barber won both times. After that, it seemed nobody would ever win back to back FF titles. Then finally, Bruce May did it in 1995-96 (and nearly three-peated in 1997) quickly followed by Keith Nunes in 1998-99. Now, it's becoming almost a habit as Justin Pritchard became the third driver to pull that feat in less than ten years by winning his second in a row this year. Two other drivers won their second in a row in their respective classes -- Kent Prather in G Production and Mark Jaremko in D Sports Racer. John Heinricy topped them all by winning his third consecutive title in Touring 1.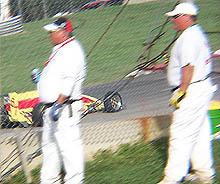 The Real Heroes. As usual, the real weekend -- or, in this case week long -- warriors were the volunteer workers that represented 27 states and Canada with a track contingent numbering 154. The work they did was better than ever, as numerous full course yellows were avoided thanks to amazing work by the corner workers and wrecker crews removing cars from harm's way while the races were still going on. Great job guys and gals!
Next Year. After 24 races in three days, you almost get overdosed with racing. Almost. But, after driving back home, catching up with the rest of your life, in a few days you can't wait for next year. Especially with an event such as the SCCA Valvoline Runoffs. We know it keeps sounding like a broken record, but my gosh, it is simply the best darn road racing around. Be there September 20-26, 2004 at Mid-Ohio.

First photo by
Last two photos by
Copyright &copy 2003 by Russell Jaslow and Deep Throttle. All Rights Reserved.