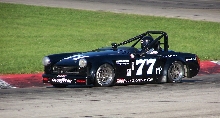 A Quarter Century Wait. Mike Pinney won his first national championship in 1978 in G Production. He won his second national championship today, 25 years later, in F Production. He had to rely on a little bit of luck, though in production class racing, reliability is just as much part of the equation as speed and talent. Pinney was easily the second fastest in the field. After a chaotic start, Pinney had to fight his way back to second place which is where he was gridded. However, Steve Sargis, the pole sitter, had the field covered, continuously expanding an already huge lead. Until the midway point, when Sargis suddenly lost a piston, and pulled off course. Pinney was now the class of the field, running away from the remaining cars. If Pinney has to wait another 25 years for a gold medal, you can put your money on 2028 being his year.
Spec Miata. The class may be Showroom Stock B, but for all practical purposes, it was a showcase for the Mazda Miata. With the exception of nine entries, the huge 42 car field were all Miatas. Even with those numbers, an Acura Integra driven by Toby Grahovec sat on the pole and led the first six laps. The race turned ugly as vicious battles took place amongst the top four runners with lots of bumping, grinding, and impossible moves. After the leader dropped out, Randy Saucier, who was particularly aggressive in the early going, slowly pulled away for the win. It's Saucier's third national championship in four years in SSB, all in a Miata.
Formula Production The Formula 500 race resembled a production car race in terms of reliability. First the pole sitter and first lap leader, Doug Marsh, went straight off in Turn 1 and hit the tire wall hard after something broke in his car. That allowed Calvin Stewart to take the lead. Meanwhile, Jason Morales was making his way up through the field before pulling off in the esses. On lap 14, Stewart suddenly dropped out due to mechanical issues. This gave the lead to Brian Novak who held it for one lap before Jonathon Dick passed him for the top spot and eventual win in an Invader QA1a.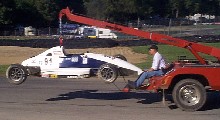 Other Winners. Doug Peterson, not the Formula Mazda driver, won in GT5 in a Mini Cooper S in a runaway after early runaway leader Joe Huffaker pulled into the pits with mechanical problems. It was Peterson's sixth national championship, but his first since 1989. Adam Malloy won in H Production in a Honda Civic, fighting off persistent pursuers. The Formula Ford race broke into a pairs event as the top two, third and fourth, and fifth and sixth place runners all paired off for their private battles. The leader from pole position, Justin Pritchard, slowly started to pull away after fighting off a number of challenges from John Larue, to win by over four seconds in a Piper DF5. It was Pritchard's second in a row in FF.
New Formula Mazda Champion. Forget what we said yesterday about the Formula Mazda race. The winner Doug Peterson, along with the fourth place finisher, were disqualified, giving the win to Chris Schanzie. Rumor in the press tower has the carburetor being the issue. However, the results are still provisional, and most likely appeals are being heard. Two other races from Friday are also still in provisional status, SSC and T2, classes that typically take awhile in the tech shed. We know that there are appeals being heard, but so far nothing has changed on the results sheet.
Final Day. Like we said in our preview, the final day could be the best of the three. The weather will be great again, and every race on the schedule has potential to be memorable.
T-Shirt of the Day. Club Racing: Racing For Fame, Fortune and ... Trophies.

First two photos by
Last photo by
Copyright &copy 2003 by Russell Jaslow and Deep Throttle. All Rights Reserved.