SCCA Valvoline Runoffs® Notebook:
Day Three
Clean Starts and Thrilling Battles Entertain Large Crowd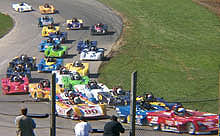 Lexington, OH, September 21, 2003 — Clean Starts. Surprisingly, for the day where many would have predicted the most carnage on the starts considering the classes involved plus the largest field of the weekend, the drivers were extremely good through the esses after the green flag flew, and barely a car touched another. Formula Vee and Spec Racer Ford are typically action packed, but they all behaved themselves admirably. E Production had a huge 41 car field, yet even with larger cars, they too snaked their way through the first few turns after the starter's stand in clean balletic motion. It was a sight to behold.
Drafting Battle. As expected, Formula Vee was a thrilling see-saw drafting battle. An initial pack of six cars broke away from the field, but that eventually dwindled to three cars. Pole sitter Steve Oseth and defending champion Brad Stout swapped the lead virtually every lap, sometimes multiple times a lap, so it didn't always show up on the lap chart as official lead changes. Once in a while, Roger Siebenaler got into the fun, and was credited with officially leading one lap. The fun finally ended when Stout spun in Turn 1, causing Siebenaler to check up, allowing Oseth to open a lead in his Vortech. Stout quickly returned to action, but in a distant third, which is how the top three ended up.
New Champion. Spec Racer Ford finally crowned a new champion at Mid-Ohio after Warren Stilwell and Roger Spicer combined to win all the previous nine times. Spicer's two race win streak came to an anticlimactic end when he was shuffled back to fifth at the start, and never seemed to be able to muster much of a fight. He eventually finished in that position. Up front, the star was John Black who was strong all week, and led the race from pole position for all 20 laps hardly challenged. Meanwhile, behind him Joe Colasacco made a daring move on the last lap to snatch second place from Lee Fleming.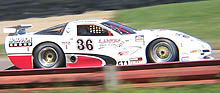 The Big And The Small. The smallest cars this day were D Sports Racer while the largest cars were the biggest on the weekend, GT1. Mark Jaremko won the DSR race in a Stohr 03D BPS, leading from start to finish. Whenever he was challenged, his pursuers would fight amongst themselves, allowing Jaremko to run away for his second consecutive DSR title. In the ground pounding race, Cliff Ebben took the win in a Chevy Corvette. After Ebben opened up a healthy lead, his car started to go away, and the two behind him, Lew Larimer and Phil Simms, respectively, closed the gap. However, time ran out before they were able to do anything about it.
Almost A Great Run. The story in E Production could have been John Weisberg, who was forced to start dead last in the massive 41 car field after switching to a backup car. He then drove his Mazda RX-7 all the way up to 7th position in 15 laps. Alas, it was not to be, as he dropped out on the next lap. Meanwhile, up front, there was a great battle for the lead that thoroughly entertained the large crowd. Jon Brakke and Grayson Upchurch traded the lead numerous times, constantly outbraking each other at the end of the long backstretch. Finally, Upchurch bobbled first, when he overextended himself trying to hold onto the lead, and ran his Nissan 240Z off entering the esses. He drove right back on, but the damage was done, and he had to settle for second. Brakke won in a Mazda Miata.
Speed. Two of the faster pure breed racing classes ran on Sunday, one open wheel, one closed wheel -- Formula Continental and Sports 2000. Mike Anderson won his third FC championship (he's won every other year since 1999) in a Van Diemen RF00, holding off Dave Weitzenhof after a restart. In S2000, Steve Johnson (not the SCCA President) nearly repeated what Mike Pinney did yesterday, except he was one year short. Johnson's first national championship came in 1979 in F Production. Twenty-four years later, he won another one, this time in S2000, driving a SR 71. Despite Johnson having the pole, John Fergus jumped the start, grabbing the early lead. When Johnson finally got back around, he ran away with it. The final race of the Runoffs, GT3, was won by pole sitter Collin Jackson in a Nissan 240SX. Pete Peterson initially took the lead, but Jackson got by him on the sixth lap, and slowly pulled away.

A Stellar Turnout. A lot of factors -- beautiful weather, exciting racing, and fans realizing what a great event this is -- led to the largest crowd for a Mid-Ohio Runoffs. Though no official attendance figure was released, it was quite obvious by the afternoon that this was one large turnout. The announcers also commented how impressive the crowd was, filling many of the hillsides and grandstands. The fans certainly were not disappointed as they witnessed three great days of road racing.

Photos by
Copyright &copy 2003 by Russell Jaslow and Deep Throttle. All Rights Reserved.