SCCA Valvoline Runoffs® Diary:
Day Three
Sibling Rivalry, Oil On The Track, and No Rain Conclude The Weekend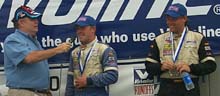 Lexington, OH, September 22, 2002 — Band Of Brothers. Andrew Prendeville started on the Formula Continental pole position. His older brother, Doug, started sixth. Both would play a significant part in today's race. After an early full course yellow, Doug made the move of the weekend at the restart. Coming from third position, about 4-5 car lengths behind the leader -- his brother -- Doug dive bombed everyone heading into the esses. With an outbraking maneuver past the leaders that had no prayer of being successful, Doug stuck it better than a gymnast, kept it under control, and took the lead. Shortly afterwards, Dave Weitzenhoff and Rick Silver, who was a lap down after pitting early, came together, ending both their days. After allowing his older brother to hold the lead for the next five laps, Andrew had enough of respecting his elders, and went around the outside entering the esses. The two siblings went side by side through Madness, lightly touched wheels, before Andrew finally pulled ahead to stay. Brian Tomasi put some pressure on Doug, but the Prendeville brothers were able to finish one-two in identical Avon shod Van Diemen RF01.
No Rain, But Oil. Despite some threatening skies near the end of Sunday, this year's Runoffs saw rain (and snow) free races for all three days. A rarity this time of year in Ohio. However, that didn't mean that other elements weren't available to cause a slick track. Usually the GT and Production classes are infamous for their oil spewing engines, but it took the next to last race in those categories for such an occurrence. The E Production race saw enough fluid dumped to turn Mid-Ohio into the world's largest ice skating rink. With engines and gearboxes exploding in greater frequency than fireworks on the 4th of July, cars were spinning and banging into each other all over the place. The most significant incident occurred on the 8th lap, when the leader, Jon Brakke, went wide on the left hander in the esses, tried to save it as pole sitter Craig Chima went underneath him. They touched, but both kept it on the track, with Chima grabbing first. Chima would then maintain the lead, driving his Elva Courier to victory. Brakke would bring his Mazda Miata home second. Third place went to 12th qualifier Jeff Dernehl in a Mazda RX-7. Second place starter, Pratt Cole, spun twice in the oil, and then went from last to 6th.
Word Association Game. If someone said GT5, you would immediately think of two words -- Mini and Huffaker. That's because they both have dominated Grand Touring 5 in recent years, and this year was no different. Joe Huffaker immediately took the lead in his BLMI Mini Cooper from pole position and never looked back, eventually winning his third consecutive National Championship by 3.844 seconds. Doug Peterson took second, also in a BLMI Mini Cooper with Jack Beck in third with an Alfa Romeo GT1300. Huffaker now moves into sole possession of third place in the Runoffs' wins list with 8.
Never Give Up. Racers are an odd lot. Never tell them a task is impossible. And never tell them to pull it in as long as the car is still running, and the wheels are pointing (more or less) straight. After 19 races got off to a successful start, it was the 20th race, Grand Touring 3, that had to spoil that streak. It all started before the start when 8th qualifier Mike Henderson spun into the inside wall making an evasive move to avoid the car in front of him when Henderson accelerated too early. The second time around, they still did not get the green flag. Meanwhile, Henderson pitted, and then came back out. When the green finally flew on lap 3, Henderson hadn't even caught the pack. He was also missing a hood, various front body panels, and his windshield. But, he never gave up, eventually finishing 19th, two laps down. Meanwhile, up front fourth starter Michael Cyphert got his Toyota Celica into the lead on the second green lap. However, a few laps later, he spun, dropping back to third. Cyphert passed Larry Hansen's Nissan 240SX on the 16th lap at the same time that the leader, Mike Pinegar pulled into the pits. Cyphert would not make another mistake, coming home victorious, followed by Hansen, and Terry Watson.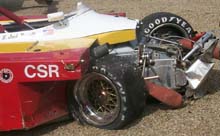 Controversy Averted. The C Sports Racer event nearly added to all the controversy at this year's Runoffs when a near pass under yellow almost determined the outcome. With Ben Beasley in the lead, Jacek Mucha started to make a pass on the long straight just as the full course yellow came out. Beasley felt the pass was made after the yellow. The officials did not, at least not right away. When the green came back out, Beasley hounded Mucha, finally taking advantage of a lapped car after Mucha guessed the wrong way and got balked. Soon afterwards, Mucha's engine started to misfire, so it left the whole yellow flag controversy a moot issue. Beasley went on to win in his Beasley B-7. Mucha hung on to finish, and then was penalized one lap by the officials, but he was still able to finish second in a Ralt JMS. Unlike the DSR revival we mentioned yesterday, CSR is hurting for entries. Only ten started the race, and with one crash eliminating two of them, and various mechanical ills afflicting others, third place went to James Stineheifer, whose pace was 8+ seconds off the leader, and was the lapped car that caused the lead to change.
Fast Classes. The Grand Touring 1 class saw its usually attrition. This time it affected the leader. Cliff Ebben was leading with under two laps to go while nursing a failing gearbox. The leaking gear oil finally caused him to get loose in the Keyhole, allowing pole sitter Tim Cowen to get underneath, and power to the win in a Ford Mustang. In the other races, Jamie Bach won in Formula Mazda, and Mike Biangardi took the Formula Atlantic title, both leading all their laps from pole position.
Change That Again. Yesterday, we reported that Bill Hagerty was the provisional winner of the SSC race while the second and third place drivers were disqualified. Well, it's been changed ... again! Hagerty was DQ'ed on a technical infraction. Joel Lipperini, fourth at the checker, was finally declared the winner. Erich Heuschele, who finished second on the track and was initially disqualified, was instead penalized one position, and thus finishes second. Meanwhile, AS is still not settled.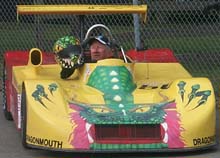 Last Laps. The Runoffs sees drivers from all walks of life. Take Henry Gilbert who's T1 Corvette was sponsored by The Fast and the Furious 2, which made perfect sense since Gilbert is a stunt driver for that movie ... The youngest driver of the weekend was Cliff White who is 17-years-old and competed in Spec Racer Ford. He qualified 10th, showed some promise in the race, but dropped out after 10 laps ... The oldest was none other than Paul Newman, who's number was his age -- 77. He was trying to be the oldest driver to win the Runoffs, a record held by Dan Carmichael who did it in Formula Atlantic, just a few days shy of his 77th birthday. After Newman destroyed his GT-1 car at a Watkins Glen National, he bought a Jaguar from Paul Gentilozzi's Trans-Am stable. However, he could only manage an 11th qualifying spot, and after running in 6th, would eventually be punted off on the last lap eventually finishing 11th ... Two college students competed quite successfully. Jordan Sandridge from Ohio State University finished second in the T2 race and Scott Culbertson from Clarkson University got a third in GT4 ... The most interesting name for a chassis has to go to Charlie Kulmann CSR's Puff Dragon. However, the bark was more ferocious than the bite, as he was nearly 20-seconds off the pace.
T-Shirt of the Day. Racing. No Second Chances. No Time Outs. No Overtimes. No 5 Yard Penalties. One Rule. GET THERE FIRST.
Thank God For Workers. There is probably not a more dedicated group of volunteers than SCCA workers. Every year, BFGoodrich Tires sponsors the Workers of the Year awards. Here are this year's winners:

Paddock: Dave and Carol Deborde (Chicago Region)
Starter: Linda Chapman (MidSouth Region)
Sound Control: Neil Swanson (Oregon Region)
Timing & Scoring: Mark Waggoner (Blawkhawk Valley Region)
Registrar: Donna "Dee" Speidel (San Francisco Region)
Race Chair: Sara Snider (North Carolina Region)
Grid: Vicki Jarecke (Northeast Oklahoma Region)
Flagging & Communications: Richard Smith (Chicago Region)
Emergency Services: Dave Karling (Chicago Region)
Next Year. If you made the mistake of not attending this year, don't do that again next year. If the advanced ticket prices remain the same, it is $24 for three days of 24 races. A buck a race. You can't beat that deal anywhere in the motorsports world for the best road racing on the planet. And I can guarantee that you will never see any corner worker flip you off or a father-son bear chested duo jump out on the track and attack someone. It's what a sporting event should be all about. In the meantime, be sure to catch this year's action on Speed Channel starting in November.

Photos by
Copyright &copy 2002 by Russell Jaslow and Deep Throttle. All Rights Reserved.