When asked whether they could teach the NASCAR, CART, and F1 guys how to run clean battles, Davies said, "It's easy when you don't lean on each other." Amen to that!
What A Mess! Remember yesterday when we mentioned how messed up the American Sedan results were? Well, it got worse today. The winner of that race is now disqualified along with another driver down the pack, making it a total of five drivers given the boot, including the first, second, and fourth place finishers on the track. And it doesn't end there. Today's Showroom Stock C race wound up with five drivers disqualified as well, including the second and third place finishers. As if that wasn't enough, yesterday's H Production race had the winner DQ'ed. Finally, add the 8th place Formula 500 finisher to that list. All of these are either due to on track behavior (mostly passing under the yellow which the SCCA said they would crack down on severely) or post race technical irregularities. And who knows what will happen after the appeals process -- still underway as this was written -- finally wraps up.
So Who Did Win? Speaking of those messy races ... so far ... the winner of American Sedan is now Bob Hahn in a Ford Mustang, with Monte Cowles in another Mustang and Carey Grant in a Chevy Camaro in second and third, respectively. The top three in SSC are Bill Hagerty in a Honda Civic Si, Joel Lipperin in another Civic, and Gene Harrington in a Dodge Neon. The HP situation moved Dan Collishaw to first, followed by Ron Bartell and Phil Chiles.
Return Of The British Empire. A few years ago, the SCCA, in an attempt to up the sagging numbers in some production classes, opened them up to more "modern" cars. This of course meant that the traditional British sports cars would have their supremacy challenged. After two years of these "newer" cars winning, an MGA regained glory for English marquees in G Production. Kent Prather grabbed the lead at the start from his outside front row position. It didn't last long as Karl McColl, who would eventually finish third in a Datsun 510, took the lead and held it for the first five laps. Mark Dennis in a Nissan 510 took the top spot for one lap, before settling for second place when passed by Prather. Despite Prather opening up comfortable leads, Dennis would keep him honest by closing up, but was never able to get close enough to make an attempt for first.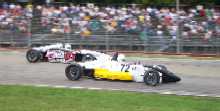 Not Quite A Donut. Formula Ford winner, Justin Pritchard, can be forgiven for his one transgression. Recently, he spent three weeks in the hospital and seven weeks on an IV instead of eating and drinking due to pancreatitis. That ordeal would make today's FF battle a walk in the park. So, when he spun on his cool down lap not even trying to be Alex Zanardi, we can cut him some slack. Though he led every lap from pole position in a Piper DF5, there were plenty of battles behind him that entertained the crowd, as well as a few wheel to wheel coming togethers, some of which left hot tempers. Chris Winkler took second and Thomas Schwietz took third, both in a Van Diemen RF99.
An Even Dozen. Duane Davis moved closer to the all time Runoffs victory leader. However, closer is relative. Davis won his 12th National Championship, leading ever lap from pole position of the Grand Touring 2 race. The only problem is that the all time title holder, Jerry Hansen, has won the gold medal 27 times in various classes. Davis still has a ways to go, but is more comfortably in second place now. In the other races today, John Heinricy, for the second year in a row, simply dominated the Touring 1 race. The F500 race saw Elivan Goulart repeat as champion after a controversial coming together with then leader Calvin Stewart.
T-Shirt of the Day. Men who have golf balls ... play golf. Men who have real balls ... race.

Photos by
Copyright &copy 2002 by Russell Jaslow and Deep Throttle. All Rights Reserved.