SCCA Valvoline Runoffs® Diary:
Day One
Gorgeous Weather and Great Racing
Lexington, OH, September 20, 2002 — Overpopulation. This is the ninth consecutive year the Runoffs have been held at Mid-Ohio, and with the exception of one years, I have been coming to every one in various capacities -- as a driver, crew, press, and spectator. I can't remember a year where the paddock overflowed as much as this year, the stands as full, and the viewing mounds as packed. And this is a Friday. If the weather holds up, and it was a gorgeous day, it should be an even better showing for the weekend. The most recent contract has guaranteed the Runoffs will stay at Mid-Ohio through 2005.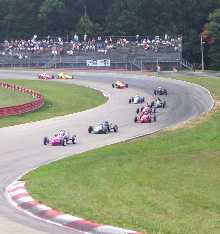 Flying Vees. Typically one of the largest fields at the Runoffs, 40 Formula Vees started the field. Also, typically one of the wildest races of the weekend, the FV field did not disappoint. It took only the first turn before Greg Rice -- once again driving the oddly named Shirley MacLane chassis -- lost his nosecone. That wouldn't slow him down, nor would an off course excursion, as he eventually finished fourth. Four laps later, three cars got together -- some going airborne -- and the wall in the esses. Four laps after that, a multicar car pileup -- again in the esses -- included flying cars, some climbing up and over each other, eventually leading to the demise of two more entries. Meanwhile, up front, Brad Stout kept all four wheels of his Vortech/Noble/Goodyear on the ground, crushing the field in the process, winning by 24.66 seconds. It's his second consecutive and third overall FV title. Donald Schanche and Stevan Davis were running second and third, respectively, when they took each other out on the last lap ... again in the esses. This allowed Gary Kittel in his Caracal to finish second, and Andres Serrano went from a 17th starting position to third in his Citation XTC-41.
From Bumber to Parachute. "It was a parachute," was how runnerup Keith Grant described his Nissan 200SX in the GT4 race after fellow competitor and pole sitter Scott Culbertson knocked his bumper partially off. This caused the type of aerodynamic occurrence that Grant was not looking for, as he dragged the bumper around for the remaining 16 laps of the 20 lap race. Grant was in the lead at the time, but after that altercation, Wilson Wright, also in a Nissan 200SX, took over and held on for the victory for his third GT4 title, mainly because Grant's "parachute" couldn't match Wilson for top speed. Culbertson, a senior at Clarkson University, finished third in his Nissan Sentra SER. Culbertson will have to put his racing career on hold as he will be entering the Air Force after he graduates.
F Stands for Four and First. Steve Sargis won his fourth National Championship, but his first one in F Production. He led from start to finish in his Triumph Spitfire, but he was strongly challenged for half the race by Michael Pinney in a MG Midget. Charles Guest in another Midget finished third.
SCCA's NASCAR. That would be American Sedan. As the name suggests, it is only open to American cars, and big bore ones at that -- Chevrolet Camaros, Pontiac Firebirds, Ford Mustangs, and Mercury Capris. In fact, when you think about it, it is much closer to the original idea of NASCAR, then today's tube framed virtual generic body styles of cars that aren't even rear wheel drive any more (like the Taurus). To be more specific, it is virtually exactly like the original concept behind the Trans-Am series -- taking cars off the showroom, and adding some performance and safety modifications. The racing, especially with a 26 car field, was as intense as any NASCAR or Trans-Am race -- read that as lots of contact. When all the dust settled, including one full course yellow to remove damaged cars all around the track, Csaba Bujdoso in a Camaro took the checkered flag. After that, things get a bit muddled. The results are still provisional as second place Brian LaCroix, fourth place Kyle Watkins, and 18th place Robert Eubanks were all disqualified. If all those penalties hold up after the appeals process, Bob Hahn in a Mustang will take second, and Monte Cowles in a Mustang will take third.
Family Feud. The battle for Touring 2 was for second place, and two of the main combatants were the father and son team of Mark and Jordan Sandridge. The elder, Mark, drove a Porsche Boxster while Jordan was in a Pontiac Firebird. Appropriately enough, they are sponsored by Grandma's Potato Salad. Veterans Kim Campbell, T.C. Kline, and David Roush were also involved in that exciting battle for second, but it was the Sandridges that prevailed with son beating dad. The winner, by almost ten seconds, was Thomas Oates in a Chevy Camaro.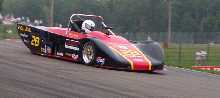 Battle Royale. The final race of the day, H Production, saw a close three way battle with Bob Weber finally prevailing, his second HP title. Bob Bartell's two year win streak ended as he finished third. Dan Collishaw took second place. In the first race, it was the opposite -- a runaway. John Fergus got a flag-to-flag win in Sports 2000, his second consecutive and third career title. In Showroom Stock B, David Daughtery won his 7th National title by leading the Mazda Miata brigade after Eric Morehouse spun and hit the wall on lap 11 while leading. David Roush finished second while Toby Grahovec managed to slot his Acura Integra into third.

Photos by
Copyright &copy 2002 by Russell Jaslow and Deep Throttle. All Rights Reserved.