Russell's Ramblings
by Russell Jaslow

UAE: A Country of Contradictions
11/09/13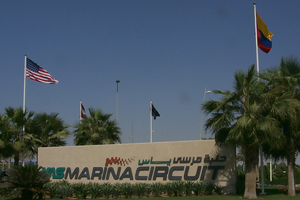 <!p class='regcaption'>Once inside the Yas Marina Circuit, it was like any other F1 track.<!/P>
Dubai, UAEŚI had the unique pleasure of being in the United Arab Emirates on the same weekend as the Abu Dhabi Grand Prix. Needless to say, I took full advantage of my luck, and attended the race.
This is the third time I've been to the UAE, and I have found it to be, as one person told me, a country of contradictions.
The UAE is what it sounds like -- a federation of seven emirates. Abu Dhabi is by far the largest one, more than multiple times the size of all the other emirates put together. Dubai is the most populated emirate (36% of the UAE population) and best known as a prime playground for the rich and famous.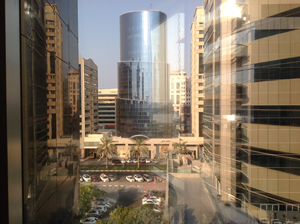 <!p class='regcaption'>Gleaming new buildings punctuate the affluent Dubai skyline.<!/P>
Rich is an understatement when it comes to the UAE. They are rich beyond belief, thanks to oil money. Though, to their credit, they are anticipating the days when that cash cow may start running dry. The UAE is attempting to become the banking center of the Middle East, similar to what Hong Kong is to Asia.
One of the side effects to having such a rich citizenry is none of the locals need to work any of the menial jobs. Thus, you need to "import" vast amount of foreigners to do that work for you.
The population of the UAE in 2010 was estimated at 8.3 million (with 88% living in urban areas), mostly in Dubai and Abu Dhabi with a large smattering in Sharjah. But, here's the catch. Out of that 8.3 million, only 13% are Emirati citizens.
The largest expatriate groups are South Asians (Indian, Pakistani, Bangladeshi) making up over half the population, Asians, and then Westerners. To become a citizen of UAE is difficult -- you must live in the country for 20 years, never been convicted of a crime, and speak fluent Arabic.
Therefore, if you are looking to experience a Middle Eastern Islamic culture, UAE isn't it. In almost all your dealings while in the UAE (hotel clerks, taxi drivers, bus drivers, storekeepers, cleaners, construction workers, bank tellers, airport personnel, security (including most of the police I saw), etc.) you will interact with a "foreigner."
The only time I ever dealt with a local citizen was at passport control and customs. That's it.
For a country based on Sharia law, there are many contradictions there as well. Alcohol is forbidden, but you will never go dry in the UAE. In Dubai, the most "liberal" of the emirates, any "western" style restaurant, store, hotel will serve alcohol without an issue. Abu Dhabi is more conservative, but not that much harder to find a watering hole. (Sharjah is very conservative, and you will be hard pressed to find any alcohol in essentially a dry emirate.) However, don't ever display intoxication in public. Even the smell of alcohol on your breath in public can get you arrested if someone complains.
You are also allowed to buy and transport alcohol. All you need is a special license to do so once you prove you are not a Muslim. Though, never, ever get caught with an open container in your car or driving while under any kind of influence which can land you in a load of trouble.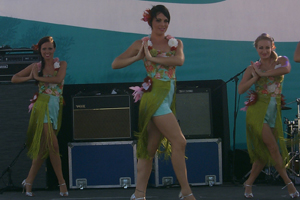 <!p class='regcaption'>Dancers in the Oasis at the Yas Marina Circuit are not exactly dressed conservatively.<!/P>
UAE is also a land of contradiction when it comes to sex. The locals still dress very conservatively, and it's suggested you also be modest. Yet, at poolside and beaches, it's almost anything goes. If you check into a hotel with your spouse, it is strongly suggested you bring a copy of your marriage certificate because sharing a room with someone of the opposite sex other than your spouse is strictly forbidden, and some hotels may refuse entry without proof.
Yet, you can attend any one of the number of nightclubs some hotels host, pick up a "lady" and bring her to your room as the hotel management and security will look the other way ... for a proper tip. These high class prostitutes, mostly from Eastern Europe, Asia, and South Asia, enter the country for three months, as that is the longest you can stay without needing a visa.
With all this going on, the UAE will still imprison a woman for reporting a rape because she had sex outside of a marriage.
Which brings us to the Abu Dhabi Grand Prix. Bernie Ecclestone says it's important to open new frontiers for Formula 1. He cites the Middle East and it's newly found car culture. Yet, I can count on one hand the number of local citizens I saw sitting in the South Grandstands where my tickets were.
The Abu Dhabi GP is attended by everyone except local citizens. It is a race of tourists, attended in large numbers by Brits, Finns, Aussies with a smaller number of Japanese, Americans, and other Europeans. And of course, some of the expatriates living in the UAE. Outside of the local royalty and business people, all of whom are in the VIP suites, the only locals Bernie attracts to this race are the Dirhams the organizers are paying to host the event.
Do I also need to say all the workers at the event are "foreigners?"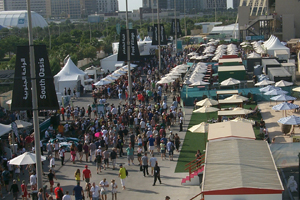 <!p class='regcaption'>The Oasis at Yas Marina Circuit, complete with a beer garden.<!/P>
Walking around the Oasis, the areas where the vendors and shows are set up, you would have absolutely no idea whatsoever you are in a Middle Eastern Islamic country. There is a beer garden. They sell cheeseburgers. Belly dancers grace the stage. The language most often spoken is English. Fans are wearing shorts and racing T-shirts.
We often hear how important it is to get a local driver to make a Grand Prix successful. But for this race, how would it matter? Though the attendance is nothing compared to the more established Grands Prix, they still pull in about 50,000 people on Sunday. Yet, none of them would ever be rooting for a Middle Eastern driver.
The Abu Dhabi Grand Prix was a fun event to attend. The facility is phenomenal. The sightlines are very good from most of the grandstands (all of which, thankfully, are covered) with all individual seating. Though the track isn't one of the best around, it isn't one of the worst either.
The events outside the track in Abu Dhabi (and unrelated in Dubai) will make any F1 partygoer happy. Overall, it was a very pleasurable experience both from an event standpoint and a F1 race standpoint.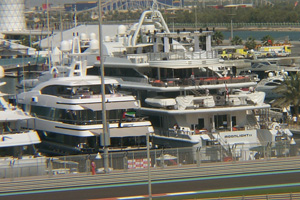 <!p class='regcaption'>It was all about getting the money from the United Arab Emirates.<!/P>
The only thing is, you could have plopped this race into any country in the world. It would not have mattered. Because quite frankly, while at the race, you had no idea you were in a Middle Eastern Islamic country.
Even the PA system was mostly English.
Photos by
Copyright &copy 2013 by and Deep Throttle. All Rights Reserved.
Russell's Ramblings Archive