[NOTE: This race fact sheet was used during the CART/Champ Car years. They have not been updated since then. However, we left them up for the historical information.]

Japan


Track: Twin Ring Motegi
Location: Motegi, Japan
Type: 1.548-mile oval (nonsymetrical, flat banked turns).



Lap Record (up to 2002)


Bruno Junqueira (2002) - 25.907 (215.108 mph).



Race Record (up to 2002)


Kenny Brack (2001) - 1:44:48.888 (178.113 mpg)
Past Race Winners

| Year | Driver | Laps | Miles | Time | Speed |
| --- | --- | --- | --- | --- | --- |
| 1998 | Adrian Fernandez | 201 | 311.349 | 1:57:12.016 | 159.393 |
| 1999 | Adrian Fernandez | 201 | 311.349 | 1:46:01.463 | 176.195 |
| 2000 | Michael Andretti | 201 | 311.349 | 1:58:52.201 | 157.154 |
| 2001 | Kenny Brack | 201 | 311.148 | 1:44:48.888 | 178.113 |
| 2002 | Bruno Junqueira | 201 | 311.148 | 2:00:05.882 | 155.447 |
Other Asian Venues and Results
Fuji, Japan - 1.548-mile Paved Oval

| Year | Driver | Laps | Miles | Time | Speed |
| --- | --- | --- | --- | --- | --- |
| 1966 | Jackie Stewart | 80 | 216 | 2:03:59.35 | 104.525 |


The Track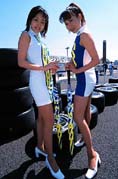 The Sights
Japan Jots


1966: No championship points awarded. Stewart also had the pole. Mario Andretti, Jim Clark, and Al Unser, Sr. among top names that failed to qualify due to mechanical problems.
1998: Qualifications rained out. Starting lineup based on practice times.
2000: Race postponed from Saturday to Sunday due to rain.