Debunking A Myth:
The IRL Has Not Hurt Pole Day Attendance
IRL supporters will say it till they're blue in the face -- there is no decrease in Pole Day attendance since the IRL was formed. Well, they say pictures are worth a thousand words, and here are a couple to mull over and to debunk this IRL myth. Both were taken on Pole Day in 1991. Despite the threat of rain (in fact, the last few hours of that day were rained out) the fans came out in droves. Unlike these IRL years.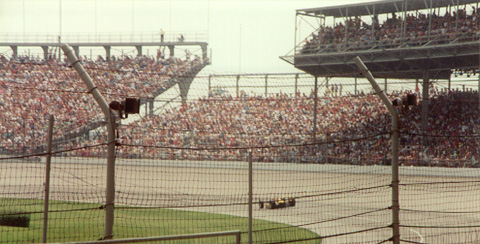 This shot is looking into Turn 1 taken a little after lunchtime. Nothing but fans in the grandstands.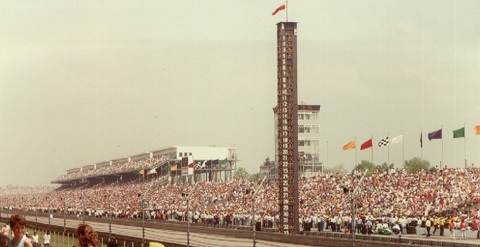 The packed pit stands taken around lunchtime. AJ Foyt's number still resides on top of the scoring tower before Rick Mears, in the heat of the day, knocks AJ off the pole in one of the greatest qualifying runs in Indy history.
Copyright &copy 1999 by Russell Jaslow and Deep Throttle. All Rights Reserved.