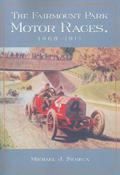 Order this book today

HOME

About Us

Articles

Book Reviews

Records/Stats

Links


PHOTO CREDITS
Left: The Locomobile Type 1906, "Old 16", driven by George Robertson on its way to winning the 1908 Vanderbilt Cup on Long Island.
Center: Action during the 1916 Vanderbilt Cup event at Santa Monica with William Bolden (#12) leading Omar Toft.
1967 Canadian Grand Prix Photos
Jim Clark: The Lotus were ill suited for the rain, forcing the pole sitter to fall back. However, when the track dried out, the Flying Scot drove masterfully up through the field back into the lead before rain returned again, eventually shorting his electrics and ending his run.
Copyright &copy 2001 by .
Captions written by .
We also have an article on the first Canadian Grand Prix.
Back To The 1967 Canadian Grand Prix Thumbnail Page