SCCA Losses Two Members
Deep Throttle pays tribute and remembers two members of the Sports Car Club of America (SCCA), Linda Gronlund and Joseph DeLuca, who were on United Airlines Flight 93 from Newark to San Francisco that crashed in Pennsylvania on the tragic day of September 11, 2001.
Linda Gronlund was the Chief of Flagging and Communications for the Northern New Jersey Region (NNJR) of the SCCA. She was involved in the SCCA for many, many years volunteering her time working corners in a sport she loved.
Joe DeLuca worked Grid, was the region's newsletter editor as well as a Trustee. Previously he served as Regional Executive of the NNJR. He drove pro rallies and then road racing before devoting his entire time as a worker.
Both were traveling together heading to San Francisco for vacation.
Many of you long time Deep Throttle readers may remember our cartoon of the week which often featured "Raymond The Cat." Joe was the creator of this cartoon that gave many racing fans and participants plenty of laughs through the years.
We include one of our favorite "Raymond The Cat" cartoons below. If you would like to enjoy more of his cartoons, go to the NNJR "Raymond The Cat" web page.
We here at Deep Throttle would like to think that Linda and Joe played some role in the amazing events that took place on that flight in an act of heroism and courage of astounding proportions.
That is how we will remember Linda and Joe.
God Bless America!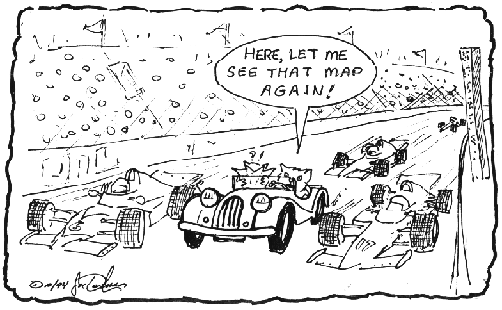 Copyright &copy 2001 by Deep Throttle. All Rights Reserved.