It Has To Excite Me
Rochester, N.Y., February 19 — If I only had a few days to live and someone offered to take me to my favorite track to watch a single modern day race car run hot laps, which car would I choose?
My first choice would be a Formula 1 car. When it comes to just watching one car attack a racetrack, it's hard not to choose a machine that has the acceleration, braking, corner hugging qualities, and enthralling sound of an F1 car. In person, nothing beats the awe inspiring, physics defying view of an F1 car at full tilt.
Open wheel racing, to me, involves the driver just as much as the car. For that reason, though I would thoroughly enjoy watching a solitary F1 car on the track, eventually I would need an actual race to take place. And as F1 cars become technically superior to some aircraft, racing action has sadly diminished.
My second choice would be a sports car prototype. A real prototype as found in the American Le Mans Series. These cars with their spaceship appearances that look fast when they are standing still are such a pleasure to watch at speed. It is for this reason when I watch an ALMS event in person, I don't even care if I see a single pass. Just watching the prototypes circle the track at speed is good enough for my money. Heck, even on TV they hardly bore me.
Sports car racing has always been about the cars for me. I never care who's driving. Never have. Sure, I like to see good drivers in the seats so they wring the most out of the vehicles, and I appreciate the personal accomplishments of the top sports car drivers, but that isn't what attracts me to sports car racing. I'm thrilled that Peugeot is entering Sebring. I have no clue nor care who they end up hiring as the pilots.
That's why I have little interest in the Grand Am Rolex Series. Sure, they have much larger fields, the driver lineup probably has more depth than ALMS, and certainly the competition is extremely close. But the Daytona Prototypes don't excite me at all -- they look like Spec Racer Fords on steroids with a roof. Nothing wrong with SRF -- I've raced them for over 20 years -- but when it comes to watching top flight prototype racing, a bloated SRF is not where it's at. I go every year to the Six Hours at the Glen because I always manage to find a free ticket or pass. I certainly don't hate my time there, but I would never pay to go. I certainly would pay to go to an ALMS event.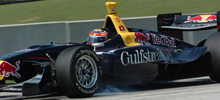 If I had to settle for a third choice, it would be a Champ Car. Preferably, one from the golden age of CART from the mid-80s to mid-90s, but certainly the Panoz DP01 would suffice. Maybe not quite as spectacular by itself as an F1 car, but certainly very close, and in some cases faster than an F1 at terminal speed.
When I first started falling in love with racing, it was the Indy 500 and Grand Prix racing that caught most of my attention. Though I loved Indy cars, the series itself didn't excite me as much as the all road racing F1 circuit. When VCRs were invented, I made sure to tape all the CART road races, but if I missed an oval race, so be it.
Slowly, CART racing began to get more and more exciting, and soon the competition was impossible to ignore, no matter what track it was on. At the same time, F1 was evolving into a processional no passing affair that was good for a nap. By the late-80s, I wouldn't miss a CART race for anything, no matter the venue. I'd watch F1 when I could.
It wasn't about the thrill of a single car. It was now about the whole series.
At that point, CART had the perfect combination -- great cars that were enjoyable to watch on their own, super action on the track, fierce competition amongst the drivers, teams, and manufacturers, and drivers who were not only extremely talented, but enjoyable to follow. Some series may have been better in one particular category, but no one had it all like CART did.
CART had all my racing fandom attention. Whatever time I had left over, I devoted to F1 followed by sports car prototype racing followed by whatever else I could find (Atlantic, Trans-Am, Indy Lights, F3000/GP2), but no longer bother with NASCAR or Grand Am (except the 24 Hours and Watkins Glen).
To me, racing is not just about watching cars go around the track. If it's just competition I want, I'll watch SCCA Club Racing, which I do often and enjoy it. In fact, I recently watched the tape of the H Production Runoffs race from 2007. Unbelievable racing. Three to four lead changes per lap, with many times half the lap run with the cars side by side. Exhilarating stuff. But the cars themselves aren't very exciting to watch on their own.
For the complete spectator experience for me, it's about the visceral feeling I get watching them go around the track. The speed. The sound. The look. The smell. The competition. The personalities. If one is so far off, the others need to be so far on to offset it.

That's why I just can't get into Daytona Prototypes. The cars are so far off, nothing else makes up for it. That's also how I feel about what American open wheel racing could become. I get no excitement watching cars that are uglier than a Shelby Can Am. That is a mighty feat of incompetence! I have no desire to listen to cars that will shatter my eardrum even with earplugs. I have no interest in watching cars that look slow going around corners on a road course.
When it comes to my leisure time, I have always had the philosophy if I don't enjoy something, I simply won't do it. And, I won't miss it.
I used to watch professional basketball back when the Nets played on Long Island in the ABA. Now, I don't watch a second of it. Not a single second. My brother always asks me if I saw this game or that game or did I at least watch the finals. I'm missing so much, he would tell me.
How could I miss something I don't care about?
My friend and Deep Throttle colleague, Angelo, says the same thing when I tell him I didn't bother to watch a particular race because I did not want to (as opposed to not being able to). He tells me look at what you could miss.
Again, how can I miss something I don't care about?
The wonderful thing about doing Deep Throttle, or any other writing I do, is that it is not my livelihood. (On the flip side, the unfortunate thing about my writing is that it is not my livelihood...) I can do whatever, whenever I want, and if I don't like doing it anymore, I simply don't. It's real easy.
I leave the stress and unhappiness part of my life at work (which I enjoy, but you always have to make compromises when a paycheck is involved). If it ever enters my leisure time, I find something else to do. I have plenty of other activities that interest me but just don't have the time to partake.
Maybe one day the Indy car series will once again have cars and engines and drivers and competition and venues that will interest me. When it does, I may again find myself unable to miss a race, no matter where it is.
Until then, I'll sit up on that hillside at my favorite track watching the F1 car or Le Mans Prototype hammering the pavement.
Copyright &copy 2008 by Russell Jaslow and Deep Throttle. All Rights Reserved.