Long Beach Grand Prix Decoded
Long Beach, Calif, April 14 ó Youíve got tickets, youíve got the time to go, but youíre wondering, whatís up with the Long Beach Grand Prix? What do I need to know to go there and have a good time? Hereís what you should know before you go:
Footwear. Make sure to wear very comfortable shoes, because, chances are, you will do lots of walking. If your tickets give you access to the pits, you will also need to be wearing close toed shoes for safety reasons. Best advice? Comfortable athletic shoes or other closed toe foot wear.
Head Gear. Being outside all days makes a hat of your choice very important. You will see lots of baseball type caps, and if youíd like and your budget allows, buy an event or series hat at one of the many concession stands throughout the Grand Prix.
Sunscreen. Lots of it, especially for children. Bring along your bottle so you can reapply protection throughout the day.
Clothing. There are plenty of badly dressed people at the race, but you neednít be one of them. Most veteran race fans wear jeans or shorts or something else equally comfortable. Make sure what you wear fits, and you feel good wearing it. I think layering is definitely the way to dress when youíre at the beach. The weather is very changeable, and your experience will be better if youíre not too hot or too cold.
Earplugs. If you donít spend a lot of time at race tracks, you may find something to cover your ears to be a Godsend. And, if you donít own a pair, itís easy to pick some up for free or at a nominal charge at the track.
Leave at home coolers, glass bottles, and tiny little purses. Carry a backpack or backpack purse so that you can get around easily.
Now that youíre ready to go to the track, hereís what you should know about coming to the track:
Arrive Early. Early morning warm-ups will start at 8 AM Ė itís a good idea to arrive early enough for one of the morning practices, either 8 or 9 AM. You can fill in the time waiting for the races by going to the Lifestyle Expo or having a great breakfast at the Hyatt.
Park Close. After years of using Shoreline Parking, we have started to use the very close parking that is available each day of the race for a fairly hefty fee. It is worth it to not have to do a lot of walking or waiting for shuttles. If cost is a big factor, consider using the ample public transportation that can bring you right to the doors of the convention center.
Leave Late or Later. Most Sunday attendees come for the Champ Car race that starts at 1 PM and ends at 3 PM. Understandably, this means there is a lot of congestion between 10 AM and 1 PM. So, it makes sense to arrive before 10, and it makes just as much sense to wait until 3:30 or 4 to leave. After the Champ Car race, thereís a drifting competition and even another race.
And, what can you expect to see on Sunday? Well, there were two races on Saturday, the Toyota Pro-Celebrity and the American Le Mans Series. That still leaves four competitions for Sunday, and here they are, in the order of my (subjective) interest from least liked to most enjoyable:
Drifting. Drifting is the act of deliberately putting your street car sideways and then Ö drifting. This is very popular in Japan and among young men in their twenties. Drifting is not so much racing as it is doing things that some consider to be cool with their cars.
Speed World Challenge GT. This series, which is broadcast on Speed TV, is divided up into two divisions, touring car and grand touring (thatís what GT stands for). It uses modified stock cars (with roofs) and many of the drivers formerly raced in the Trans Am Series. It is also a professional racing series run by the SCCA (thatís the Sports Car Club of America).
Champ Car Atlantic Series. Champ Car has a series for generally younger and less experienced drivers. The intention of the series is to give these drivers racing experience in shorter races (about an hour long) and with cars with less power than Champ Cars. Still, Atlantic is a professional series, and there are usually about 30 cars running per race. Many of the professional drivers racing in open wheel series spent time racing in Atlantic.
Champ Car World Series. Unlike NASCAR, whose drivers race in cars that look kind of like cars you may drive, Champ Cars do not have roofs or fenders. They require much greater skill to drive, and many people think the drivers who race in Champ Car and Formula One are the best drivers in the world.
So, you arrive at the track properly attired, you arrive early, park close, and leave late. You see anywhere between two and four races, some or all of which may be exciting. What else is there to do in Long Beach at the Grand Prix?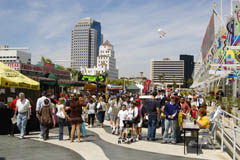 Lifestyle Expo. My father-in-lawís friend always referred to the Expo, which is held in the Convention Center, as the Place Where You Get Free Stuff. Well, itís that, and also a place where business people can sell you stuff. If nothing else, itís air conditioned, and a place to escape heat or rain if they happen to occur during the weekend.
Eat, Drink & Be Merry. Long Beach is the place to parĖtay, so if you want to have a good time Ė you can Ė go ahead. I said you could.
Buy Souvenirs. There are enough chatchkies to float a battleship. If you like this, go for it.
Most of all, if you have friends, family members, or co-workers who have the nerve to say you spent your time watching cars going around in circles, you can treat them to your most disdainful stare, and let them know that Long Beach is a street circuit Ė and that no one drives around in circles there, not even you!
Copyright &copy 2007 by Lisa Davidson and Deep Throttle. All Rights Reserved.