VIR Diary:
Day Two
[In]significant Qualifying
Alton, Virginia, October 4 — I've always said qualifying for endurance racing is useless. Couple that with classes that barely get above half a dozen, if that, and it's beyond useless. And don't get me started over all the hoopla made over qualifying for a 24-hour race. Really? You have 24 freaking hours to sort things out, and you're all gaga over your starting spot?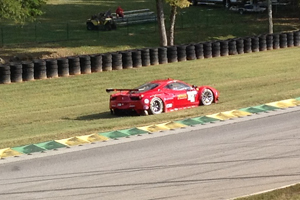 <!p class='regcaption'>The Risi Competizione Ferrari was stranded in Thursday testing with electrical problems. In qualifying, they caused a crash, losing their best time. However, it didn't matter as their next best time was still good for second in GT.<!/P>
I understand the ego thing. And I understand in classes with heavy manufacturer support, like ALMS GT, it's important for your manufacturer to get a notch in their marketing belt. And, sure, at places like Detroit or Long Beach where the races are more sprint length, starting spots become more important, not to mention at Baltimore you never want to start near the back.
But, with the rare exception, endurance racing qualifying is all bark, no bite.
However, sometimes qualifying can portend things to come in the race. Take the Corvettes for instance. With enough long straights and flat out sections, one would think the Corvettes would have no problem at Virginia International Raceway thanks to their horsepower. Not so, apparently, despite being the defending VIR champions.
In Thursday's test day, sixth and eighth best times behind Porsche, Vipers, BMWs, and Ferrari. After the second practice session, they continued to lag in fifth and eighth. After qualifying, they went backwards, placing eighth and ninth, ahead of only the Falken Tire Porsche and Team West/AJR's Ferrari.
A BMW took the GT pole. At the Circuit of the Americas, much was made of the BMW's superior handling characteristics, but their inability to make a pass stick with all the long straights. It appears, VIR is squiggly enough for the Bavarian company. Though, it should be noted the top eight are still only separated by less than a second.
Just like qualifying can be useless in endurance racing, so is the first lap ... except perhaps at VIR. BMW needs to take the lead in order to open up space through all the esses. Tomorrow's race, thanks to "useless" qualifying and a "useless" first lap may be very, very interesting for the GT class.
As for the overall top of the field, Dyson Racing Team outdid Muscle Milk Pickett Racing. Much was made of that, but in this case, qualifying really is useless. I'll still put a heck of a lot of money on Muscle Milk, barring a mechanical failure.
Level 5 dominated Extreme Speed in LMP2, but no surprise there based on recent results. PR1 Mathiasen continues their recent strong run with the LMPC pole. In GTC, where the race is always unpredictable (i.e., qualifying is useless), TRG took top class qualifying honors.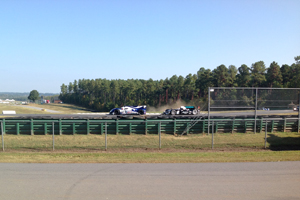 <!p class='regcaption'>The Oak Tree Turn ... sans the oak tree, guardrails, and corner station.<!/P>
Today, I explored Oak Tree from the outside of the track, which you have to drive to. It's way too far to walk to it. Then, I checked out the Roller Coaster back on the inside of the track. I still have not decided the areas I want to watch the race. (I am never one of those journalists who stays in the press room; I may as well stay at home in my living room.) It may be predicated on shade.
This week has turned out much, much hotter than originally predicted. Last week, when planning the trip, I kept a close eye on the weather reports. I wanted to pack light. I did not want to become the person I always criticize as "packing like a girl." I wanted just one carry-on sized luggage and a backpack (and my laptop of course) for the entire 10 days I was going to be on the road. Granted, I had the luxury of being able to do a wash at my parents, but I still wanted just enough clothes with few options, and no more, for the entire time.
Thus, when I saw it was going to be in the mid-70s, I packed accordingly. Well, it has been in the upper-80s, with each day being hotter and hotter. It possibly could hit 90 on race day. I thought I was done with hot race weekends after the summer was over. Apparently, in southern Virginia, I was wrong. (It also has been quite dry here lately. Last weekend during the vintage event, there were two grass fires caused when hot cars ran off the course.)
There are not many natural shady areas where the best spectating spots are. I may simply find the best one, shade that is, not viewing, and stay there for the two hours and 45 minutes.
Since the last time I saw the American Le Mans Series, there have been some changes. This weekend, Rocketsports Racing is nowhere to be found. Tomy Drissi, who provides me with the most fun to see which movie will adorn whatever car he is driving, is also not here, ruining my fun. (Though, Rush does have a small spot on the SRT Vipers. Speaking of Rush, go see it. You'll love it!)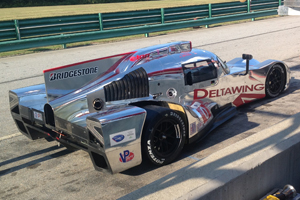 <!p class='regcaption'>The DeltaWing now sports an enclosed cockpit, making it a very tight fit.<!/P>
The DeltaWing now has an enclosed cockpit. I like the look of the car better with the open cockpit, though I'm sure aerodynamically, closed is better. Now, it looks like it has a beer belly on it...
Speaking of oddities, VIR has an in-house race car where they train new drivers as well as hold a race series. The car is called Ariel Atom or Spec:RaceAtom. I don't know how to describe this car. Sleek is definitely not a word I would use. The only way I can describe them is to say it is the duckbill platypus of race cars. An expensive duckbill platypus at $47,500, race-ready.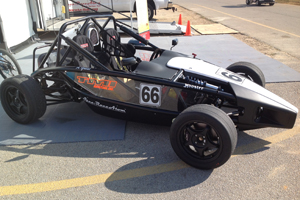 <!p class='regcaption'>The odd looking Ariel Spec:RaceAtom is running two support races.<!/P>
Like a duckbill platypus, it has a bunch of parts from different cars all put together on this design giving it a hodgepodge appearance. It resembles an open wheel, dual seater, rear engine, dune buggy all at the same time. They are running two races this week, and they do appear fun to drive, seem to handle quite well, and put on a good race. What more can you ask for if you ignore its looks?

Photos by
Copyright &copy 2013 by Russell Jaslow and Deep Throttle. All Rights Reserved.