VIR Diary:
Day One
A Track Reborn
Alton, Virginia, October 3 — Virginia International Raceway is a rarity in motorsports—almost as rare as a Danica Patrick victory—a track resurrected from the dead.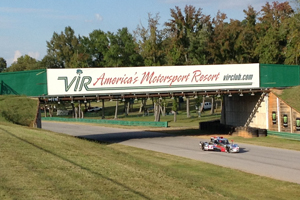 <!p class='regcaption'>VIR, resurrected as a motorsport resort.<!/P>
VIR was part of the road racing circuit building boom of the 1950s, opening in 1957 on a former farm and plantation. It quickly became a driver's favorite as fast and challenging. Then, as happened to a number of those early tracks, it fell on hard times, shutting it's gates in 1974.
There it sat for years turning into decades, a perfect example for the popular History Channel show, Life After People. Racing fans would make archeological expeditions to the place, trying to trace where the track once laid.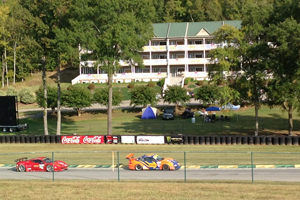 <!p class='regcaption'>The Lodge overlooks the Snake or Lower Esses from the outside of the track.<!/P>
Then, the aforementioned miracle happened. Harvey Siegel and Connie Nyholm rebuilt the track as one of the first private "motorsports resorts," reopening in 2000. The main course follows the original layout, albeit a bit wider with better runoffs. Additional portions were paved to create the possibility to run two smaller courses simultaneously as well as a plethora of different configurations. As a resort, private garages, villas, and lodges were built along with a renovation of an 1840s mansion, home of the plantation owners, as the Oak Tree Tavern and Connie's Pub.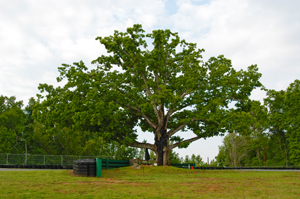 <!p class='regcaption'>The iconic Oak Tree once stood proud. Now, it is but a memory.
(Photo by Angelo Lisuzzo in 2005.)
<!/P>
Even the iconic 200-year-old Oak Tree was kept inside it's tight namesake turn just like the original incarnation. However, sadly, the tree fell down a few months ago after a storm, but it lived long enough to hear the roar of engines once again on this thrilling track.
It's the original layout which gets people's adrenaline flowing. I had a very unique experience on my first trip to VIR, old or new. I was here last weekend as the pace car driver for the Sportscar Vintage Racing Association's Gold Cup and SCCA Trans Am event.
There were two things I learned: 1) the track is very difficult to learn and 2) the track takes a very long time to learn. I had three practice laps before I had to start pacing races. It wasn't until Sunday before I could memorize all the turns. The line? Good thing pace car laps go relatively slow...
The main course is 3.27 miles long with a lot of turns packed into it. Officially, there are 17 turns. Technically, there are 23 turns, depending on how you count (and that's not counting kinks). There are two sets of esses. The first, referred to as either The Snake or Lower Esses are the slower ones. Good thing as they are the tighter ones. If you mess these up, you can use the curbs to get you back on line.
The second, which comes after a short straight from the first, are the Climbing Esses or the Upper Esses. These are fast. Very fast. In most cars, they are flat out. You absolutely must set these up properly entering the first bend or you are hosed. They are definitely pucker factor sweepers.
There is a long straightaway with two humps. The first time you drive the track, you brake at the first hump thinking it's the end. When you do finally brake for a left hander, it is followed by a series of turns aptly named Roller Coaster -- a right, two lefts, two rights all downhill which launches you onto the main straight.
Before the long straightaway and after the series of esses and a sweeping left hander called South Bend where the ground seemingly disappears below you at the exit, there is Oak Tree, a tight 180 (or two separate tight right handers, depending on how you want to count the turns). Entering Oak Tree is the first time you brake since you exited Turn 5, two turns before the series of esses. Patience is a virtue here, as you must make sure you exit smoothly entering the long straight.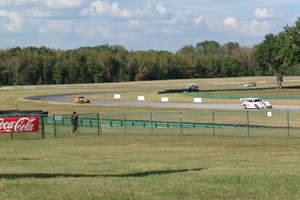 <!p class='regcaption'>Turn 3 or NASCAR Bend, may be flat, but it's one of the most difficult to get right.<!/P>
The front straight is very fast with a kink just past the start/finish line. It ends in a hard braking zone for a decreasing radius double apex (or, again, two turns) right hander, with some cars not bothering to hit the second apex. A left hand bend causes you to brake diagonally across the track for Turn 3. This turn is named NASCAR Bend because of all the NASCAR drivers who slide off it. Another left hander which you compromise on because you can't track out if you want to set yourself up properly for Turn 5 and the long flat out run to Oak Tree.
Like I said, challenging. And a mind bender.
After spending the week visiting my niece, a graduate research student at Duke University, and my parents, happily retired in Asheville, North Carolina, I am back at VIR for the second time in my life. This time, to cover the American Le Mans Series Oak Tree Grand Prix for Deep Throttle.
Now moving from the participant to the viewing mode, I have not yet figured out the best spot(s) to watch the race. For today's test session, I explored the infield areas from Turn 3 to the beginning of the Climbing Esses which allows you to see a long swath of the track. Though, they are good spots to watch the cars and see how they are set up to handle these variety of turns, I'm not convinced it's the best place to watch a race from.
Tomorrow, I'll explore the rest of the esses, Oak Tree, and hopefully some of the Roller Coaster. I'll also start talking about next year's schedule, now that it has been released, as well as any on track stories that develop.

Other photos by
Copyright &copy 2013 by Russell Jaslow and Deep Throttle. All Rights Reserved.