Mosport Diary:
Day Three
Sports Car Hall of Fame
Bowmanville, Ontario, Canada, July 22 — You'll be hard pressed to find three sports car manufacturers with a better pedigree, both on the road and on the track, as Porsche, Ferrari, and Corvette. So, when those three manufacturers were battling for the GT class win in the waning laps of the Mobil 1 presents the Grand Prix of Mosport, it was as if the fans were being treated to a sports car hall of fame.
The Flying Lizard Porsche of Jörg Bergmeister and Patrick Long fought desperately to keep the Corvette of Jan Magnussen and Antonio Garcia behind. The other Corvette of Tommy Milner and Oliver Gavin were out of the picture when their gearbox failed early. They did get back into the race, eventually finishing 21 laps down from class leaders.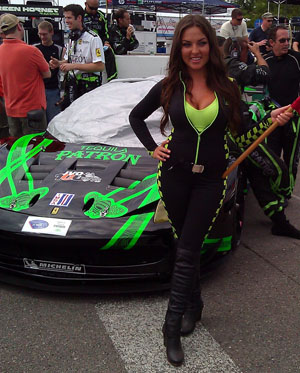 <!p class='regcaption'>Ferrari was looking pretty before the race and came out looking pretty after the race.<!/P>
Meanwhile, catching the leading duo was the Extreme Speed Motorsports Ferrari of Scott Sharp and Johannes van Overbeek. Their teammates, Ed Brown and Guy Cosmo, fell some laps down, but did subtly hold up the leaders which helped turn the leading duo into a leading trio.
It was great fun watching these three maneuver through slower traffic while they were maneuvered through by faster traffic, all the while trying to get at each other. A late full course yellow gave us an 11-minute shootout. The Porsche with Bergmeister was able to do a magnificent job holding off the hunters (or so we thought). The Ferrari with van Overbeek pulled a great last lap pass on the Corvette with Magnussen for second place (or so we thought).
I wanted to get a head start for my drive home, knowing I was going to be delayed with a dinner stop at a friend's house near Hamilton. Thus, I left shortly after the race ended. Unbeknownst to me, the race was not over. The GT "winner" was excluded from the results for a technical infraction.
That last lap pass wound up being the race winning pass. Just goes to show, every pass for every position is extremely important. ESM wins their first American Le Mans Series race, while Magnussen failed to extend his 11-year streak of at least one win.
This is the second race in a row Flying Lizard got caught by the technical inspectors. Two weeks ago at Lime Rock, the same #45 car lost their class pole position for a low ride height infraction. Since when has this team become so sloppy?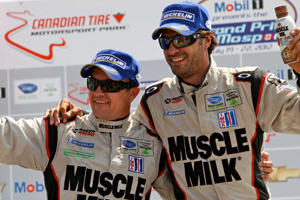 <!p class='regcaption'>Klaus Graf's (left) birthday was yesterday and Lucas Luhr's was today, so they celebrated taking the overall win.<!/P>
Overall, it was no surprise the Muscle Milk Pickett Racing won going away. Even with a drive through plus 20-second penalty for too many crew members over the wall during a pit stop, which they served without ever losing first place, and some more electrical problems, which slowed them at the end, they still won going away, opening up an 10.695-second lead in the final 11-lap shootout. Klaus Graf won the pole yesterday on his birthday. Lucas Luhr's birthday is today. What a way to celebrate.
The LMP2 class looked like it was going to match GT for an exciting finish. Conquest Endurance's Morgan held the lead, but Level 5 Motorsports was catching fast. Christophe Bouchut was driving like a madman in the final laps trying to catch Martin Plowman. Too much like a madman, as Bouchut dove underneath the pit exit blend line to pass a slew of slower classed cars, enabling him to close right up to Plowman. A definite infraction which caused a drive through penalty, enabling Plowman and David Heinemeier to take the win.
RSR Racing won their first ALMS race as Bruno Junqueira (also his first win) and Tommy Drissi took the LMPC victory. Spencer Pumpelly and Emilio Di Guida won GTC.
CORE Meltdown. What is with the #06 CORE Autosport car? Last race at Lime Rock, with Tom Kimber-Smith driving, the car dive bombed Guy Cosmo in his Ferrari at the apex of the downhill, causing the Ferrari to crash heavily. The Ferrari nearly did not make the Mosport event. They did, after spending $200,000 to fix the damage.
Today, with Alex Popow driving, the car rammed into the back of the #34 GTC Porsche of Peter LeSaffre entering Turn 3, causing the Porsche to crash into the #52 LMPC car of Ken Dobson, sending both into the wall hard, ending their races. Meanwhile, just like at Lime Rock, the #06 continued on.
This time, CORE Autosport did get penalized for avoidable contact -- a drive through plus 1:20 stop. This caused them to finish two laps down, but they still managed to finish on the podium in third place.
Other teams may be wise to avoid this car...

First photo by
Second photo by John Walker
Copyright &copy 2012 by Russell Jaslow and Deep Throttle. All Rights Reserved.