Mosport Diary:
Day One
What's In A Name?
Bowmanville, Ontario, Canada, July 20 ó A good friend of mine, who is a racing and hockey fan (former Buffalo Sabres season ticket holder), once told me the corporate naming of sports venues "cheapens" the experience. He told me this when I was also attending a Sabres game in the new arena in Buffalo.
I asked him, "Why?" He answered, "Look around."
The name of the arena was originally Marine Midland Arena. The bank, headquartered in Buffalo, bought the naming rights. However, shortly before this particular game, HSBC bought Marine Midland. HSBC honored the naming rights contract, but now all the nice signage around the arena was covered in sheets with the name "HSBC Arena" stenciled on them. This nice, new $127.5 million dollar arena now appeared "cheap."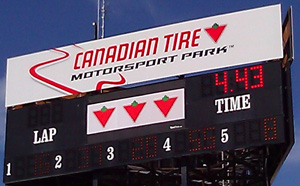 <!p class='regcaption'>Mosport Park has a new name thanks to selling naming rights to Canadian Tire. But, is that a good thing?<!/P>
My friend is a traditionalist. His reasoning for this feeling is not so much what the arena looked like during the naming transition. Because there is no permanency with the process of selling your name to the highest bidder, a sports venue losses a lot of its character. You can't grow emotionally attached to its name. That, he believes is a part of the entire sports experience, especially for hardcore fans.
Names such as Yankee Stadium, Fenway Park, Comiskey Park, Montreal Forum, Maple Leaf Gardens, Chicago Stadium, Soldier Field, Madison Square Garden, Boston Garden, Wembley Stadium, Augusta National Golf Club, Indianapolis Motor Speedway, Daytona International Speedway, and Watkins Glen are an essential part of sports lore as much as the teams and participates who competed in them.
My friend got to experience this all over again just a year ago when HSBC sold their upstate New York branch network to the Buffalo based First Niagara Financial Group. Now, the arena where my friendís favorite hockey team plays is called First Niagara Center.
It should be noted that despite the prolific nature of corporate naming rights, it isn't new. In fact, one of the most storied and unique venues in the world is named because of corporate naming rights Ė Wrigley Field. It was originally called Cubs Park, but when chewing gum magnate, William Wrigley, Jr., wanted to advertise his product, he renamed it.
Busch Stadium did the same, though they had to work around Major League Baseball's objection. The original Busch Stadium was called Sportsmanís Park. Then, when Anheuser-Busch acquired the St. Louis Cardinals and their ballpark in 1953, they wanted to rename it Budweiser Stadium. MLB blocked that idea, not wanting a stadium named after a beer, despite all the beer which is sold in baseball stadiums. Thus, Anheuser-Busch president, August Busch, Jr., named the stadium after himself. MLB couldn't stop someone using their own name. The fact one of their beer brands was also named Busch was a nice coincidence. St. Louis is now up to their third Busch Stadium, still named that as Anheuser-Busch continues to sponsor the name.
The old Crosley Field in Cincinnati, home of the Reds, opened in 1884 with various titles. In 1934, new Redsí owner, Powel Crosley, Jr., renamed it to advertise his Crosley Cars.
Even sports teams are sometimes named for commercial reasons. The New York Red Bulls of Major League Soccer is one. This, too, goes back years. The Green Bay Packers are an example. When they were first formed, co-owner, Earl "Curly" Lambeau, solicited money from his employer, The Indian Packing Company, to pay for uniforms. They contributed $500 with the provision the team be named for their company. Thus, one of the most iconic and beloved franchises in American sports history was named the same way a Little League team is named Ė after whomever supplies their uniforms.
Which brings us to Mosport. It is no longer Mosport International Raceway or Mosport Park. It is now Canadian Tire Motorsport Park. When the new owners embarked on upgrading the facility, they needed money. One way was to sell the naming rights.
One photographer in the Lime Rock media center two weeks ago said, "Why give up on the name Mosport? All that history and marketing investment. Mosport has value. Why not Canadian Tire Motorsport Park at Mosport, or something like that? They never should have dropped Mosport completely."
I responded, "Well, to me, itís always Laguna Seca (much to the chagrin of Dean Case, the very able Communications Officer for MAZDASPEED Motorsports), Sears Point, Charlotte Motor Speedway, and Mosport."
Whereupon, someone said, "Well, it is Sears Point again."
And, thereís my "point" ... again. In fact, corporate naming can cause so many name changes, no one has any clue anymore what to call a place, thus diminishing the value of buying naming rights in the first place. The current football stadium in Miami is a perfect example. When it opened in 1987 to replace the Orange Bowl, it was named Joe Robbie Stadium, after the Dolphinsí owner. Since then, it has been called Pro Player Park, Pro Player Stadium, Dolphin Stadium, Dolphins Stadium, and Shark Stadium, and now Sun Life Stadium. Wait another year or two...
I suspect people will continue calling it Mosport no matter what. I know I will.
There is precedence for that, too. When August Busch, Jr. first renamed Sportsmanís Park, nobody took to the name. The local populace and media still referred to it as Sportsmanís Park. Not until new stadiums were built to replace it, Busch Memorial Stadium and then the current Busch Stadium, did the corporate name stick. After all, there was no prior history for the newer structures.
One would think some names cannot be replaced. That is only partially true. When they built a new Yankee Stadium, Madison Square Garden (the current one is the fourth incarnation even though it is no longer square or near Madison Avenue), and Wembley Stadium, there was never any thought to changing the name.
However, a new Chicago Stadium became the United Center, a new Montreal Forum became the Bell Centre (formerly Molson Centre) and a new Maple Leaf Gardens became Air Canada Centre. Boston Garden was replaced by Shawmut Center which had to change its name before it even opened to FleetCenter and is now called TD Garden. The new Comiskey Park kept its name for 12 years, until it, too, succumbed to be called U.S. Cellular Field.
More often, money wins out over tradition. And so is the case with Mosport.
By the way, did you notice the name of the American Le Mans event this weekend? Itís the Mobil 1 presents the Grand Prix of Mosport.
Sigh...

Photo by
Copyright &copy 2012 by Russell Jaslow and Deep Throttle. All Rights Reserved.