Mosport Diary:
Day Two
Making An Impact
Bowmanville, Ontario, Canada, July 23 — Ron Fellows, a Canadian racing institution, has accomplished a lot in his storied racing career. Now, he may be embarking on the toughest task in racing -- track ownership.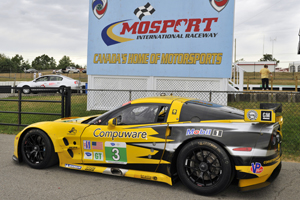 <!p class='regcaption'>Ron Fellows went from driving the ALMS GT Corvettes to owning Mosport International Raceway.<!/P>
Fellows, along with businessmen, transportation industry leader, Alan Boughton, and real-estate developer, Carlo Fidani, formed Canadian Motorsport Ventures Ltd. and bought Mosport International from Don Panoz and the Panoz Motor Sports Group in June. It's no longer about driving fast laps, developing cars, and winning races. Now, he has to worry about financial statements, promotion, fan amenities, sponsorship, and toilets overflowing.
The new ownership group made an immediate impact for their largest event of the year, the Mobil 1 presents The Grand Prix of Mosport. They have installed three large screen TVs around the track to allow the spectators to follow the race beyond the strip of asphalt in their immediate view. Certainly, this is not new -- many other tracks do this. However, for a facility known sometimes more for it's stinginess than it's amazing track, this is a huge step forward.
The large screens are an example of what CMV is going to try and do -- get corporate sponsorship to help fund improvements. A model that has worked very well for Lime Rock Park. Canadian Tire Corporation support made the large screen TVs possible.
It will be very interesting to watch how Mosport develops over the next few years with this new ownership group in charge, especially one with Ron Fellows, a real racer, at the helm.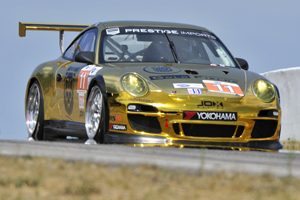 <!p class='regcaption'>The JDX Racing GTC gold Porsche is quite stunning.<!/P>
There are also some cars making an impact this weekend. There is the GTC entry of JDX Racing driven by Nick Ham and Chris Cumming who's visual impact is immediate. The brightly painted gold Porsche 911 GT3 Cup car leaves spectators needing sunglasses, whether the sun is out or not.
In the F2000 Championship Series, a new car is making an impact. The Radon Rn.10 chassis has been under development by Radon Sport LLC since 2009. It ran into "rules interpretation" problems with the SCCA last year. The company, made up of some previous USF1 designers, regrouped and tested the car at the Monticello Motor Club facility last week.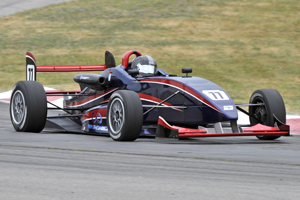 <!p class='regcaption'>Radon finally debuted their new Rn. 10 F2000 chassis.<!/P>
The car has advanced design features with Formula 1 style sidepods, an integrated engine cover fin, a low rear wing which connects to the diffuser, and an undertray unlike any on a Formula Continental car.
The development driver, Matt McDonough, has been driving it this weekend with race support from GTP Motorsports. In the first race, the car qualified sixth. Since the car is still under development, they chose to start last so they would not get in the way of the drivers running for a championship, using the race as a test session, coming into the pits for changes. Today, the car qualified sixth again, started from the rear again, using the race as a test session again.
One great thing about the F2000 Championship Series, unlike many other junior formula series (heck, even major league formula car series) these days, is their philosophy of going against the spec car trend. It's a "throwback" series where it's not just about driver development, but car design, manufacturer development, and design engineering as well. What racing was supposed to be all about.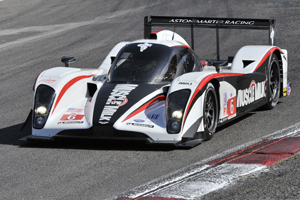 <!p class='regcaption'>The Muscle Milk Aston Martin needed to be rebuilt after a practice crash, then wound up on pole.<!/P>
Klaus Graf made the wrong kind of impact in the Muscle Milk Aston Martin Lola B06 62 during morning practice. He did a 360 spin in Turn 9, smacking the right side tire wall, causing a fair amount of damage to the right rear. The team stripped the car down to the tub, frantically rebuilding the car. They made it out with 10 minutes to go in the afternoon practice session prior to qualifying.
The team obviously did a good job, because Graf redeemed his practice mistake, turning a lap good enough for pole position at 1:08.679. The two Dyson entries start behind him with Chris Dyson edging out his new team car driven by Steven Kane by 34/1000 of a second. BMW once again got the GT pole, their third in a row, with Dirk Müller driving the #56 car with the other BMW car next. The top six consists of four different manufacturers: BMW, BMW, Porsche, Ferrari, Ferrari, Chevrolet Corvette.
Not So Much. Not everyone is making an impact. Take the new Panoz Abruzzi. Please!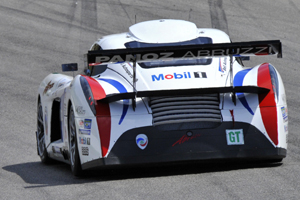 <!p class='regcaption'>The new Panoz Abruzzi made it's "debut" at Mosport.<!/P>
There has been all sorts of controversy concerning this race car, not the least of which is because it involves the series owner. Homologation issues and whether it can be raced legally tops the issues. In fact, the car appears not to be on the track. Sure, one can see the car running laps, but it never appeared on any of the test session timing sheets. If a racecar isn't timed, does it exist?
The design of the car also leaves many scratching their heads. I suppose it comes down to the "eye of the beholder" philosophy. The front end looks, as our photographer Angelo Lisuzzo said, gnarly. The rear end looks ... well ... how do we be polite ... ridiculous.
Legal or not, officially on track or not, good looking or not, racing really just cares about one thing -- is it fast? And therein lies the reason this car has made anything but an impact, for now.
Answers and Questions. Yesterday's questions were answered. They are: it did not crash, 4.683 seconds (nearly 106%), 4, and still debatable. Now, the questions for race day. Again, we at Deep Throttle want to make you aware of the real issues to keep an eye on.
Will a Jaguar, any of the two, finish (probably should stop the question right here...) within 10% of the number of laps for the winning GT car (which has happened only once this year)?
How many apexes will the #40 Robertsons' driven Robertson Racing Doran Ford GT miss?
Will the guardrail hold up for the entire race, all two hours and 45 minutes?
How many LMPC cars will end up on the overall podium?

Photos by
Copyright &copy 2011 by Russell Jaslow and Deep Throttle. All Rights Reserved.