Mid-Ohio Diary:
Day One
Technically Tough
Lexington, Ohio, August 5 — It's been a few years since I last went to Mid-Ohio Sports Car Course. I used to attend regularly when they hosted the SCCA Runoffs National Championship between 1994-2005. Ten out of 12 years to be exact.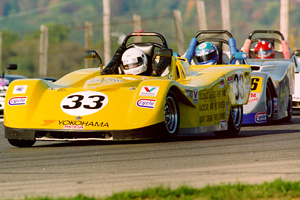 <!p class='regcaption'>Deep Throttle owner Russell Jaslow competing in the 1996 SCCA Runoffs at Mid-Ohio.<!/P>
In 1996, I had the pleasure of qualifying for the Runoffs out of the Northeast Division in the last year of the Renault powered Spec Racer class (formerly called Sports Renault). It was quite the experience, and I finished the race. That alone was quite the feat when you consider there were three first lap pileups in front of me before they finally threw the full course yellow.
Mid-Ohio is a bear of a track. I would use another word, but this might (well, maybe not) be considered a family web site. It's extremely technical, at times very tight, incessantly undulating, and always seems to lack traction. This type of layout plays havoc with any sort of setup, not to mention trying to get a setup that works halfway decent for at least half the track.
I admit, I never was able to get a handle on the track no matter how many times I raced there. If your or your car's style, and thus setup needs, are more suited for high speed tracks with fast corners (we were much more competitive at places like Watkins Glen, Lime Rock, Bridgehampton, and Nelson Ledges), making the transition to Mid-Ohio is met with frustration.
And I haven't even mentioned how the track can change from day to day. The Jaguar team felt that when the Bruno Junqueira/Kenny Wilden car placed seventh in GT during Thursday's test day, but couldn't match that performance today, qualifying 11th (Junqueira in #99) and 12th (PJ Jones in #98). In fact, Junqueira went slower today than yesterday, the opposite of everyone else. If a setup change goes the wrong way, sometimes it can be impossible to ever get it back.
Mid-Ohio is also a track that rewards exceptional drivers, and eliminates horsepower advantages. The LMP1 Muscle Milk Aston Martin Lola Coupe B08 62 enjoyed the virtues of their exceptional speed at Mosport. Not so much at Mid-Ohio.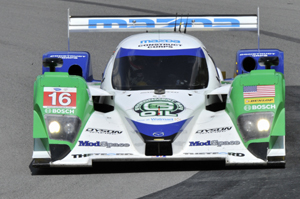 <!p class='regcaption'>Guy Smith puts the Dyson Racing Mazda Lola on pole at Mid-Ohio.<!/P>
The smallest engine in the field, the four-cylinder Mazda in the Dyson Racing's Lola B09/86, grabbed the pole. Guy Smith to be exact as his co-driver and owner, Chris Dyson, watched in pleasure. Klaus Graf placed the Aston Martin second, 0.165 seconds behind. Third was the other Dyson car, which nearly didn't make the qualifying session.
The car showed up on the pitlane halfway through the short qualifying session. Steven Kane hurriedly got ready in the car while the crew finished buttoning everything down. Kane got out to do just a few laps, but enough to place third on his last flier. Sure, there are only four LMP cars, but the rush job ensured the team would not start behind a slew of slower classed machines.
Like any race track, when things go wrong at Mid-Ohio, they can go really wrong. No need to rehash some of the spectacular crashes this track has seen, like Michael Andretti's wild barrel roll at the end of the back straight in CART or Joey Hand's bizarre end over end in the BMW. Sometimes, they are not quite as spectacular; they just create a mess.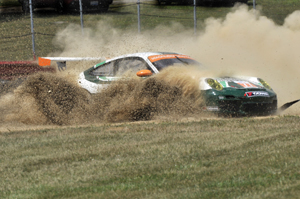 <!p class='regcaption'>Craig Stanton makes quite a mess when he went off into the gravel trap at the very fast kink.<!/P>
During the afternoon practice session, Craig Stanton in the GTC Magna Racing Porsche 911 GT3 Cup car went off at the very fast Turn 11 kink, plowing into the gravel trap, obliterating him from view.
Quote of the Day. While climbing the stairs of the Tower to the media room, I overheard someone greeting a Mid-Ohio worker, "You know how you can tell this isn't an F1 weekend? Everyone is smiling."
Questions. As always, we at Deep Throttle want to make you aware of the real issues to keep an eye on. Not the usual aspects of a race.
On what lap will Jon Field take out his teammate's car?
Will the Darren Law/Seth Neiman GT Flying Lizard Porsche 911 GT3 RSR (which seems to be getting slower as the year goes on) get beat by the "all girlie" team of Robertson Racing's Doran Ford GT?
Theoretically, qualifying should have all the LMP1 cars qualify ahead of all the LMPC cars qualify ahead of all the GT cars qualify ahead of all the GTC cars. However, this rarely happens. Well, it did today. Will the race results be similar?

Photos (except the first) by
Copyright &copy 2011 by Russell Jaslow and Deep Throttle. All Rights Reserved.