Long Beach Diary:
Day One
Reunited & It Feels So Good
Long Beach, Calif., April 15 — 2011 marks the eleventh consecutive year that Jeff Davidson and I have covered the Long Beach Grand Prix for Deep Throttle. We began this journey with low expectations: the chance to write about a sport I love in my case, and the opportunity to take photographs on the other side of the fence for Jeff. It has repaid us in so many ways except for financially, which is another story, but mostly it has brought us a whole world of new friends.
Now, I have to be honest and say that the friends I've made in racing I generally don't spend much time with away from the tracks, just as I spend little to no time with the friends I've made at work at my day job. But, these people in both cases are no less dear to me and are no less friends just because there is little time to socialize while I'm working in either case. When I'm writing, the time simply slips away like ice melting in my iced tea on a hot day. So, it is wonderful to look up after a 12 hour stretch at Long Beach and see Geri, who has looked after the photographer and Internet media press room all these years, and talk over the day. But, this year, according to a note she's left us, Geri is recovering from a recent surgery and will miss 2011. Get better soon, Geri!
Being reunited with some of my racing friends brings to mind the last Champ Car race three years ago. At the time, I recall saying as long as there were two major open wheel racing series in the U.S. it gave so many more drivers the chance to race in open wheel. At the time of the remergification in 2008, there were two distinct camps: Champ Car and IRL. There was a lot of talk about the "new guys" and "our guys." During the "split weekend," Danica Patrick won her first race at Twin Ring Motegi, and I said, glad she got that one in, because I don't see another win for a long time. Still waiting...
It was inevitable that in reuniting the open wheel series that many drivers aligned with either camp would be edged out. So, gone are the IRL's Marty Roth and Roger Yasakawa. From Champ Car's final race, we no longer see Franck Montagny or Enrique Bernoldi. Even more interesting is the following. Of the Izod Indy Car's twenty seven 2011 Long Beach entries, excluding 2011 rookies, only three, Marco Andretti, Takuma Sato and Vitor Meira, lack a Champ Car/CART background. So, out of 27, less the three IRL drivers and the six rookie drivers, an overwhelming two thirds of the Indy Car field this weekend is composed of Champ Car or CART drivers.
This fact would be astounding to anyone except us, the hard core open wheel racers. The skill level required to run ovals, street courses, and road courses is enormously greater than that needed to run just ovals (sorry IRL and NASCAR fans). So, here's to us; we're reunited, and it feels so good:
Rafael Matos, Will Power, Graham Rahal, Oriol Servia, Alex Tagliani, Paul Tracy, E.J. Viso, and Justin Wilson. And, thanks to the manufacturer defections from CART, the balance of this weekend's IndyCar field are also out of the richer open wheel tradition. I think we can declare now if we did not before that the party can start, the war is over, and now the best drivers in the world, in my not so humble opinion, drive for IndyCar.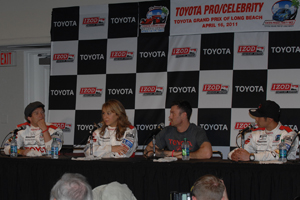 <!p class='regcaption'>The Toyota Pro-Celebrity race press conference where the pros aren't really pros and the celebrities are unknown.<!/P>

There was no reunion involved with our comic relief for the weekend, the so-called Pro-Celebrity Race. However, their press conferences tend to be the most entertaining except for the ones containing Paul Tracy. Megyn Price declared, "I beat Tito Ortiz," outlining what is for me the biggest problem with the Pro-Celebrity race, which is, who ARE these people? I recognized Stephen Moyer because he's on a television show I watch, True Blood. Other than that, I recognized none of the "celebrities." And the "pros" are certainly professional in the sense that all have professions, but none except Frankie Muniz's brief foray into Atlantics, are professional open wheel race car drivers! I mean, are you seriously telling me that Al Unser Jr, the King of the Beach, couldn't make it? Or Jimmy Vasser? I mean throw me a bone, people! I want real drivers for my Pros, not a retired professional boxer!

I'm just saying...

Looking forward to sleep and Saturday which will feature I hope an awesome ALMS race along with my Champ Car friends qualifying in Indy Car and finally getting to meet upcoming American racer Conor Daly, just back from Barth-elona!

Toodles!

Photo by

Copyright &copy 2011 by Lisa Davidson and Deep Throttle. All Rights Reserved.