Mosport Diary:
Day Three
Is Mosport Safe for World Class Racing?
Bowmanville, Ontario, Canada, August 29 — Mosport is a wonderful, wonderful race track. Fast. Wicked fast. Undulating. Excitingly undulating. Ballsy corners. Huge ballsy corners. It takes a real race car driver to drive this track fast, because unlike most fast tracks where the speed comes from long straightaways, Mosport's speed comes from its corners just as much as from the straights. Every driver will admit they hold their breath at least once -- if not more -- every lap.
Mosport is a wonderful spectator track. Great viewing hills where you can practically look down into the car. Close spectator fences allow you to feel the true sense of speed. The intimate feeling you are just as much part of the race as the drivers are. The full pleasure of watching cars go at it full tilt.
Mosport is also dangerous. Perhaps too dangerous.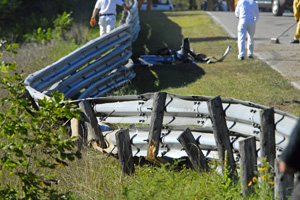 <!p class='regcaption'>Mosport is an anachronism. The track still uses wooden posts to hold up ancient guardrail on the fastest sections with spectator areas just yards away.<!/P>
Therein lies the conundrum. Has Mosport outgrown modern auto racing just like the original Nurburgring, the original Spa, and the original Monza? Or, is it just the case of a track that hasn't kept up with proper safety measures, and the proper application of money can make it safe without removing its famous character?
I hope it's the latter. The last thing I want to see is Mosport surrounded by catch fencing obstructing the best viewing areas, spectator areas pushed so far back TV would give you a better view, and the corners emasculated to boring chicanes like a modern F1 track.
However, there are issues the track absolutely has to solve, and quite frankly has no excuse not to. For starters, there is no medical helicopter on premises during the race weekend. Yes, you read that correctly. Whether this is the series or promoter's call does not matter. No series that bills itself as World Class can ever allow themselves to run without a medical helicopter on site.
It was worse than that on Thursday's promoter's test day for the support series -- there was no ambulance on site! Speaking of ambulances, when Pierre Kaffer had his huge shunt in the Risi Competizione Ferrari 430 GT on Saturday, there were various issues getting the ambulance to transport him from the track to the hospital. A similar situation occurred in 1999 when I was there crewing for a Pro Formula Vee team. A competitor had a bad end over end crash into the tire wall, yet could not get the ambulance to transport him to the hospital despite being injured. His family and crew had to get him there themselves.
It was the 1999 ALMS event that saw the BMW prototype team withdraw due to allegations of an unsafe track, from no medical helicopter to dangerous runoff areas to inadequate impact zones. Some of these concerns have been addressed. Some, 11 years later, obviously have not. There is a growing driver concern in the ALMS over certain safety policies of the ALMS, and they came to a row at Mosport even before the race was run. Don't be surprised if you soon see an ALMS drivers' advocacy group being set up in the very near future.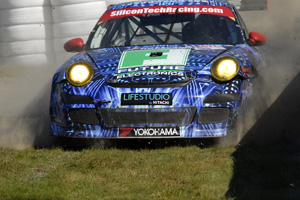 <!p class='regcaption'>Henri Richard crashes the TRG Porsche 911 GT3 Cup car in the 5a-5b complex after 32 laps in a drama filled race that was cut short by 29 minutes.<!/P>
Ancient guardrail being held up by decayed, termite infested wooden posts on the fastest sections of the track is unacceptable. The fact some of this guardrail "protects" spectator areas just yards away is almost criminal.
Spectator fencing that is literally laying flat in some areas because it has been trampled on so many times and lack of security in those areas is unacceptable. There were times when the photographers had to inform spectators watching from next to the guardrail that was probably not a good idea. Allegedly, this occurred in the very same area shortly before Luke Hines' Porsche 911 GT3 Cup car drove the guardrail back several feet, causing the red flag.
All fast sections of the track need to be lined with solid concrete walls like they eventually did in Turns 1 and 2, with tire walls to soften any impact. All spectator fences must be solid chain link fencing, so no one can simply walk over them and stand next to the guardrail. Certain spectator areas should be pushed back or eliminated. Road America doesn't allow anyone, including photographers, to stand by the back straight and kink area due to the danger of that section, as Katherine Legge's horrendous crash proved. And, there absolutely must be a medical helicopter on premises at all times during a race weekend, no matter the cost.
I raced at Mosport once. There is only one track I have experienced that has turns which truly define you as a race car driver and that's the late, great Bridgehampton Race Circuit. Bridgehampton closed due to real estate issues. That is not Mosport's problem thanks to its location. However, if Mosport is not willing to spend money on updating safety issues that most tracks addressed decades ago, it may be shut down due to liability issues.
All one has to do is look at the reaction over the off-road tragedy in California to see what can happen.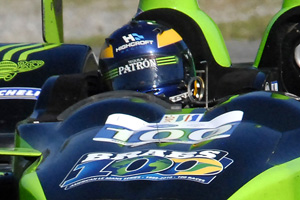 <!p class='regcaption'>Special livery and number (100) as the Patrón Highcroft team celebrated David Brabham's 100th ALMS start.<!/P>
The Numbers Game Last year at Mosport, ALMS celebrated Johnny O'Connell's 100th start. This year, another century milestone occurred at Mosport -- David Brabham's 100th start. For the occasion, the Patrón Highcroft Racing Honda Performance Development ARX-01c car changed their usual number 1 designation to 100.
When O'Connell celebrated his achievement, he topped it with a class victory. Brabham would not have such luck. He and Simon Pagenaud were off the pace of the Muscle Milk CytoSport Porsche RS Spyder all weekend. Their best race lap was nearly eight tenths of a second slower than CytoSport's. Needless to say, they finished second to Romain Dumas and Klaus Graf despite being the only car on the lead lap.
The GT class was setting up for a grand finish, with the Joerg Bergmeister/Patrick Long Flying Lizard Porsche 911 RSR barely ahead of the Toni Vilander/Gianmaria Bruni Risi Competizione Ferrari 430 GT with Bill Auberlen/Tommy Milner's BMW M3 GT and the Corvette ZR1 of Jan Magnussen and Oliver Gavin lurking not too far behind. Alas, due to the red flag shortening the race, the fans were denied another super GT battle down to the wire like last year. Also, like last year, the Ferrari team wound up second after starting last due to numerous issues the day before.

Photos by
Copyright &copy 2010 by Russell Jaslow and Deep Throttle. All Rights Reserved.