Lime Rock Diary:
Day One
Extreme
Lime Rock, Conn., July 23 — After last year's rain and flooding, one would think it couldn't get any worse. However, extreme weather, and we're talking extreme, dominates this year's version of the Lime Rock round of the American Le Mans Series.
On the Wednesday prior to the race weekend, a severe weather pattern swept through the area bringing with it tornados. Small tornados, but tornados nonetheless. Any tornado is rare in the Northeast, especially in New England. Yet, confirmed and suspected tornados hit nearby Connecticut towns of Sharon, Terryville, Bristol, Litchfield, and Thomaston, as well as a few municipalities across the border in New York. Some team members spent the night in the dark with some local motels and inns were without power for over 24 hours.
The early weather reports for Friday called for nice cool temperatures, with a 40% chance of a passing shower or thunderstorm. When we left my friend's house in Lagrangeville, N.Y., it began to rain. It never stopped till an hour before on track activities ceased.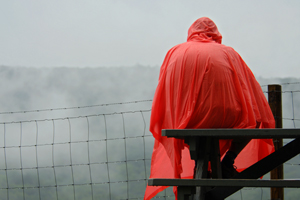 <!p class='regcaption'>A fan is covered in rain gear as the rainy, misty, foggy conditions virtually obliterate the track.<!/P>
Thus, the steady rain all day turned Lime Rock Park into Waterworld. Apexes were flooded, massive rooster tails were created, lakes appeared in the infield, and rivers flowed down paddock roads. At one point, I had to walk through water about 2-3 inches deep on a paddock road. I fully expected to see goldfish swimming around. Rain will continue tonight with an expected 1.88 inches to fall beyond what came down today. My wife said to bring oars for this weekend. We should have heeded her advice.
The extreme weather apparently won't abate on Saturday, though it will be different extreme weather -- HEAT. This weather report is calling for highs possibly reaching 95 degrees with a heat index well beyond 100. Humidity levels will make it even more stifling. Rain? A 30% chance of a passing thunderstorm, but look how accurate a similar forecast worked for today...
Extreme Laps Of course rain always brings out the best ... and worse ... in driving talent. It also is the great equalizer. That was extremely evident in the American Le Mans Series mixed bag of classes when they went out for their afternoon practice session in a steady rain. Five GT cars beat all the LMP Challenge cars. This is not too surprising as the stiffer sprung prototype cars simply cannot handle the wet as well as a softer sprung GT car. The only reason the regular prototypes, some of whom held up GT cars in the turns, were faster was due to sheer horsepower.
<!p class='regcaption'>An IMSA Lights car nearly disappears in its own rooster tail spray.<!/P>
The GT cars and Prototype cars qualified separately, but they kept the top five cars on the scoreboard when they switched over from GT to Prototype qualifying. It took ten minutes, half the session, before the Prototype cars were able to bounce all the GT cars off the scoreboard. The Prototype session became drier than the GT's 20-minutes, so in the end, there were no surprises across class times.
Five prototypes took the top five overall spots, with David Brabham leading the way with his Patrón Highcroft Racing HPD ARX-01c turning a lap in 0:58.106 around the 1.51-mile circuit. Even in the rain, this was a hair raising lap when one considers the use of the two chicanes at the uphill and West Bend.
Two LMPC cars were next with Level 5 Motorsports Christophe Bouchut topping the charts in 1:03.020. Even though there will be a split start, the Flying Lizard Motorsports Porsche 911 GT3 RSR driven by Patrick Long was next in 1:03.904 with the GT pole. Porsche took the top two spots in GT followed by Corvette, Ferrari, and Corvette. If the weather stays dry for the race, once again GT promises to be a humdinger of a race as the BMW's will be right up there as well. Tops in GT Challenge qualifying was Black Swan Racing Jeroen Bleekemolen at 1:08.129.
Amazingly, with all the rain and terrible track conditions all day, there were very few incidents with relatively minor damage.
Two Extremes Keith McCrone was flying during the first soggy F2000 Championship Series qualifying session. He climbed to the top of the scoreboard with a 1:07.543. However, coming down the front straight after that lap, he went into the braking zone too deep, locked up his wheels, and spun nearly straight off. Once he hit the soaked grass, his car seemed to accelerate, turning sideways. He finally came to a stop when he smacked the tire wall with a perfectly lined up left side very fast, very hard, with a loud thud. His car then turned over on its side with the cockpit facing the wall. McCrone finally climbed out of his car still perched on its left side.
Thus, McCrone went from the extreme of grabbing the pole for the first race to not making it out for qualifying for the second race. Actually, he didn't even get to keep his pole position. Since, he caused the stoppage in action, he was penalized two positions and will start third.
His crew worked frantically to repair the crushed left side of the Van Diemen RF01-Zetec, but could not complete the work in the three-hour gap between qualifying sessions. The Masters Division driver will start in the last row of the 29-car field for the second race.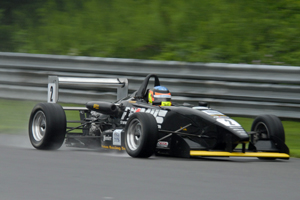 <!p class='regcaption'>Australian Daniel Erickson grabbed the pole in the first wet F2000 qualifying session.<!/P>
Daniel Erickson wound up inheriting the pole for the first race. The Australian has taken the series by storm in his Van Diemen-Zetec despite missing the Road Atlanta and Mosport rounds. He got the pole at both VIR races going on to take a second place, won both races at Watkins Glen, one from pole position, and now has his fourth pole of the year.
It finally stopped raining in the second qualifying session, the last track action of the day. Therefore, everybody kept turning faster and faster laps each time around the drying circuit. Erickson only managed five laps with engine problems, so his time puts him way down in 14th spot, making tomorrow's afternoon affair an interesting one to watch. Points leader, Victor Carbone, topped the charts early, and kept turning a faster lap better than anyone else, allowing his Van Diemen RF02-Zetec to stay on pole position in 1:01.245.
Races at the bullring called Lime Rock are always exciting affairs, especially in the mixed class main event. The question is whether these races will take place in dry but searing heat, a downpour, or even during a tornado.

Photos by
Copyright &copy 2010 by Russell Jaslow and Deep Throttle. All Rights Reserved.