Mosport Diary:
Day Two
London Fog Invades Canada
Bowmanville, Ontario, Canada, August 29 — Unlike America, Canada kept many of its British cultural influences. For instance, they call a bathroom a washroom. And, apparently, they also have kept the tendency to suffer from London fog.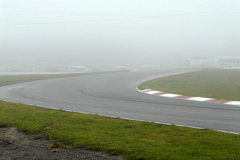 <!p class='regcaption'>Fog settles in over Mosport.<!/P>
The fog caused the IMSA Lites presented by Frisby Performance Tire qualifying session to be canceled. It forced the delay of the Cooper Tires Presents Atlantic Championship Powered by Mazda qualifying session. And, combined with intermittent rain, caused some wild qualifying action for the Star Mazda Championship Presented by Goodyear.
IMSA Lites was forced to use the best lap times from their first two practice sessions to set the grid. However, the Atlantic Championship got to enjoy a very exciting qualifying. The field started on wets, but quickly changed over to the dry tires. Then, the laps dropped in rapid order, as nothing was settled till everyone finished their final lap.
It appeared whomever timed it just right to be out there for the latest lap would be the one to grab the pole. When Jonathan Summerton, who held the top spot, slid wide on the final turn, messing up the run on his final lap, it appeared he opened the door. However, despite Simona De Silvestro and John Edwards making their last lap the fastest one, Summerton held on.
De Silvestro got her car working -- at least in these tricky conditions -- to grab the other final front row spot. Frederic Vervisch took third with Edwards placing fourth. Edwards faltering during qualifying when he was running so well in practice is going to hurt his championship fight tremendously.
"After the practices yesterday, I think we worked a little bit in the wrong direction," De Silvestro said. "It kind of messed us up a little bit, but we were pretty confident that we had a car that could be quick. I'm really happy to start second, because Edwards is our main competition for the championship, and he's a little bit behind."
Meanwhile, Summerton will not be able to breath easy like he thought he might now that De Silvestro is right next to him on the grid. Throw in the wild card of Vervisch, and tomorrow's Atlantic race is going to have a slew of folks biting their nails. And a lot of fans enjoying it.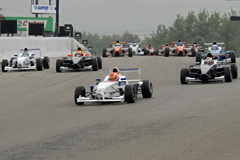 <!p class='regcaption'>Gianmarco Raimondo leads Gabby Chaves at the start of the FBMW race. They would finish in that order.<!/P>
The sun finally made it's appearance during the Formula BMW Americas race. A race that saw local hero Gianmarco Raimondo win. I happened to stay in St. Catharines, home of Raimondo, Thursday night. Perhaps, I'm a good luck charm.
In any case, Raimondo took his first race of the season after winning twice last year as rookie. He took the lead from the pole after a perfect standing start, and then had to hold off furious attacks by Gabby Chaves. Not an easy task.
"Great to have a win at Mosport, especially my home track," Raimondo said. "It wasn't easy to have one eye on the mirrors."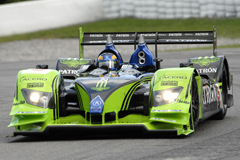 <!p class='regcaption'>David Brabham once again showed off his speed in the ALMS, taking the overall pole position.<!/P>
By the time the American Le Mans Series qualifying took place in the late afternoon, the sun was in and out of clouds, but it was warmer, and most importantly, dry. David Brabham snatched the LMP1 pole on the last lap while the Dyson Mazdas took the top two LMP2 spots.
The Star Mazda race took place in the dry, but not after a damp qualifying session saw a number of drivers slide off the track, with two making hard contact into the tire wall. It was quite a race that saw Conor Daly get by Richard Kent, only to throw it all away with a spin. Daly recovered to finish second as Kent went on to win.
The series leader, Peter Dempsey, came in fourth maintaining his lead by seven points over Adam Christodoulou who came in third in the race. Daly is 50 points behind second with Joel Miller six points behind Daly.
Tomorrow promises to be a nice day, albeit a bit cold. The crowds for the first two days has been extremely disappointing. We'll see if race day finally brings out the Canadian race fans that are so famous for filling the hillsides of Mosport.

Photos by
Copyright &copy 2009 by Russell Jaslow and Deep Throttle. All Rights Reserved.