Lime Rock Diary:
Day Two
Spectacular Racing on a Spectacular Day
Lime Rock, Conn., July 18 — It's one thing to be lucky with the weather. It's another thing to fit two days of beautiful racing weather (albeit with a slight Friday afternoon shower) around a night of rainfall of Biblical proportions. That's what Lime Rock Park did, and for race day, you couldn't ask for better weather to watch three formula car races, two sports racer races, and an American Le Mans Series feature event.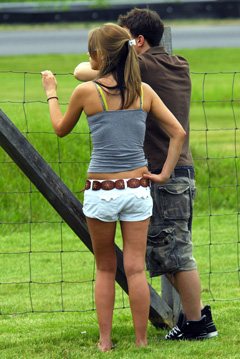 <!p class='regcaption'>The nice weather brought out the nice views, both on and off the track.<!/P>
Sure, the campers may not have been too happy. And, with the ground already saturated from a very rainy year (I have never seen the creek bordering the outside of the front straight so high and flowing so fast in all my years going to Lime Rock), despite a mostly sunny and reasonable warm day, the ground remained wet and muddy with the occasional flooded portions. In fact, the racing was delayed in the morning as they attempted to stop a "river" flowing across No Name Straight. But, that didn't keep the crowd away which was perhaps the largest ALMS crowd at Lime Rock. At times, the view in the spectator areas was just as nice as the views on the race track...
I couldn't find a bad race in the lot. Even the IMSA Lites races, which I initially wrote off as an opportunity to catch up on other items and which had meager fields in the past, turned out to be great races with good sized fields. Twenty cars in these economic times is an excellent turnout. IMSA Lites were hard fought affairs throughout the field, and nobody was able to run away with them. Whenever someone was able to open up a lead, no sooner did the field end up catching him. Just when you thought someone looked strong enough to win, someone else emerged as a solid contender.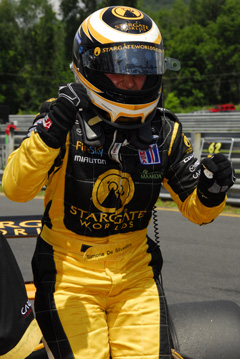 <!p class='regcaption'>Simona De Silvestro emerges from her car elated after dominating the Atlantic race.<!/P>
It was the junior formula series that I really came to see, and I was not disappointed. Each race had a great storyline, and each race gave the crowd a glimpse of some future stars. I mentioned yesterday how Simona De Silvestro may have had her coming out moment with a spectacular qualifying lap in worsening conditions to claim the pole in the Cooper Tires presents the Atlantic Championship powered by Mazda. She backed that up in the race with an absolute dominating performance.
She pulled off a perfect standing start and immediately opened up a gap on the rest of the field. She continued to expand the gap on every lap. The only driver that could have possibly run with her, John Edwards, was too busy moving from a fifth qualifying spot to second, posting some quick lap times himself. By the time Edwards got into second, De Silvestro was already ten seconds ahead. At that point, the gap remained constant. Whether it was due to Edwards pushing or De Silvestro playing it cautious by then, we many never know. What we do know is from qualifying to the race, De Silvestro had a near perfect weekend and is building a well deserved reputation.
Early on in her Atlantic career, she made many mistakes, and at times was quite inconsistent. However, she steadily improved every year, and has found a team that is dedicated to working with her and providing the attention any driver needs to be able to go faster. The Swiss driver finds herself 17 points ahead of Edwards and his teammate, Jonathan Summerton. However, there are seven races left, and those two drivers are more than talented enough to also be valid championship contenders. Now, we'll see if De Silvestro is able to take the next step in her development as a driver.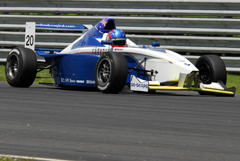 <!p class='regcaption'>James Kovacic emerged as the surprise winner in the second FBMW race with an impressive run from fifth to first.<!/P>
The Formula BMW Americas races already had some pretty talented drivers. Although this series only sports 12 entries or so, the top half dozen are of the upper quality level. However, the driver who emerged out of the second race, and how he did it, caught everyone by surprise.
James Kovacic commutes from Australia for each race weekend, bringing along his schoolwork. This particular weekend, he was celebrating his 16th birthday. For the second race, everyone was talking about the top four qualifiers, not Kovacic sitting in fifth. But, when the lights went out for the standing start, the changes made to Kovacic's car worked to perfection. He stormed through the field and then pulled away once in the lead to add his name to the championship contenders.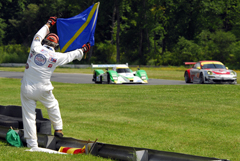 <!p class='regcaption'>A corner worker waves a blue flag as an ALMS prototype catches a GT car. The corner workers probably needed to ice their arms after the race...<!/P>
Of course there is the feature event. Yesterday, I listed the reasons why Lime Rock is one of the best tracks to watch a race. However, there are some folks who probably hate this track -- the corner workers responsible for the blue flag. I suspect there are many cases of carpel tunnel syndrome because they are constantly waving the flag with all the traffic produced in a mixed field on such a small track. At one point, I saw a worker wave his blue flag nonstop for about three laps!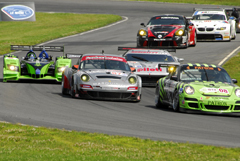 <!p class='regcaption'>A pack of cars of various classes pour into the esses. On such a short track, the fans got constant action.<!/P>
The action was as intense as I stated it would be yesterday. As usual for a road course event, I wondered around the track to check out the excitement from all sorts of vantage points. Interestingly, I found the new uphill configuration to be the most thrilling. So did a lot of other fans, as they lined up ten deep in some areas of that turn. In fact, next year, I may do something I never would consider at a road course. I may bring a chair and park myself at that corner for the entire race.
I don't know whether it is the track, the type of racing, the particular action that day, the lack of dealing with any of the racing politics, or the weather. Perhaps, it was a combination of all the above. For whatever reason, I had the most fun watching racing in a long, long time. So much fun that even though I was lucky enough to receive a press credential, I would have paid the $60 for a ticket. It would have been money well spent for such a spectacular day of racing.

Photos by
Copyright &copy 2009 by Russell Jaslow and Deep Throttle. All Rights Reserved.