Toronto Diary:
Day Three
A Smashing End
Toronto, Ontario, Canada, July 8, 2007 — The weekend may have started out a bit on the lame side. Smaller than usual crowds on Friday and Saturday. A pathetic wannabe version of the Miss Grand Prix of Toronto. A greatly reduced vendor and show area in the Convention Center. However, when it all came down to race day on Sunday, wow, did it ever deliver. Like everyone says, it's all about the racing. And the racing was the best yet this season.
Ten Little Indians. On the 4th of July, my wife and I went to the Cortland Repertory Theatre in Preble, N.Y., about 20 minutes south of Syracuse, to see a production of Agatha Christie's classic play, Ten Little Indians. Little did I know that I would see an encore performance four days later at the Toronto Champ Car event.
My modus operandi at Toronto is to watch the start of the race from Turn 3. Then, I eventually make my way ever so slowly to Turn 4 and over to Turn 5 to watch another chunk of the race. Afterwards, I cut across the infield, and watch a little bit from the last few turns of the track, walking slowly to the pits to watch the final portion of the race near the leader's pit area.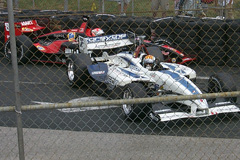 This year I couldn't pull myself away from Turn 3. At one point, I was just about to begin my migration when the rain started to fall. Watching the cars slide through Turn 3 barely able to keep it off the wall, prevented me from going anywhere. This was becoming just too exciting to leave Turn 3. Then, when Alex Tagliani, followed by Oriol Servia, slid into the tire wall, I knew Turn 3 was the place to watch the entire race.
The attrition rate was already very high just from the first lap. Everyone survived the standing start, the first turn, and even Turn 3. Well, not quite the latter part, for that is where Simon Pagenaud's wing was clipped off by Alex Tagliani when Pagenaud had no right to stick his nose in that space. I saw the wing get bounced around and then it disappeared. Where in the world could it have gone?
I looked up at the "big board" and there is Tracy in the wall. Followed by Legge, Figge, Heylen, and Gommendy with pieces of cars everywhere. We went from a field of 17 cars to 12 just like that. The culprit? Pagenaud's front wing that got caught under Tracy's car. Five cars gone thanks to a chain of events started by Pagenaud sticking his nose underneath Tagliani back in Turn 3.
Then the rains came, and the cars started dropping out again in rapid succession. Dan Clarke into the wall because he decided to keep the slicks on. Graham Rahal knocks his front wing off on his teammate and then crashes into the wall because his steering broke in the original altercation. Oriol Servia, who looked like a sure winner in the dry, into the wall.
Then, the biggest crunch of them all -- Robert Doornbos, of all people, runs into the back of Sebastien Bourdais, plowing both into the tire wall at the end of the back straight. Would anybody be left running at the end? Seven cars left ... Ryan Dalziel into the tire wall. Six cars left ... no, Dalziel gets back in. Meanwhile, Doornbos, just like the antagonist in Agatha's play, is not quite out after all. He's still running trying to grab precious championship points.
All the while, the crowd in Turn 3 was going wild. They let out a massive cheer when Justin Wilson passed Bourdais. Every time a car spun, they screamed and hollered for the Safety Team to get the driver started before the field came around. When they were successful, another huge cheer was let out. Of course, their wildest nature came out in the Doornbos-Bourdais incident.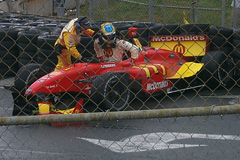 Robin Miller can criticize the fans for booing Bourdais all he wants, but like he wrote a year ago, hate is good. At least when it comes to entertainment value. These fans were thoroughly being entertained by "hating" Bourdais. They cheered loud and long when Doornbos knocked Bourdais into the wall. Boos showered down upon Bourdais when he got out of the car. For the rest of the race, every time Doornbos drove around, the crowd stood and cheered. They were having a grand old time.
Rain is a great equalizer, but like Miller said to me after the race, it also equalizes the teams. That is something we forget. We all know the cars are equalized in the rain, but the teams themselves don't have much of an advantage over another team in the rain. After all, there are no tracks in North America with a sprinkler system to test rain conditions. The better teams don't have a vast database of information for rain driving.
Thus, true talent rises to the top. Watching Dalziel not just lead the race but control it from the front, clearly shows that he is being held back by a new and inexperienced to Champ Car team, and not to Dalziel himself. It was a shame he didn't reach the podium, but he certainly opened up some eyes. Just think what might happen when PCM gets more experience.
When it was all over (and I haven't even talked about the just as wild Atlantic race), there was a great buzz through the grandstands. These fans loved this race. And so did I!
Tom Brown, a.k.a., The Rainman. One of the fans I met in Turn 3 was Tom Brown, living all of our retirement dreams. He bought an RV and is traveling the country attending races. And when I say traveling the country, I mean traveling the country -- Brown is from Anchorage, Alaska!
There is just one problem with Tom Brown. Wherever he travels, he brings rain. He's been to seven events so far this year, and six have seen rain.
He started his venture at the Indianapolis 500, and we all know what happened with that race (and to Ashley Judd!). Perhaps, starting his trip out with an IRL race is the reason he has become cursed.
Next was Dover for the NASCAR race which was rained out and run on Monday. Northward to Pocono, and the NASCAR race was shortened due to rain. Then, back to Indianapolis and the USGP where rain was seen for part of the weekend.
He finally got a respite when he attended Cleveland, which was as dry as it could get. However, his "powers" returned when he headed to Canada for Mont Tremblant followed by Toronto.
Tom Brown is going to travel back across the country again to be at San Jose, and then he turns around and travels back east for Road America. If you see an RV with Alaska plates flying the Alaskan state flag, say hello to Tom. He's a great guy and passionate race fan.
Oh, and some advice to all you fans who plan on attending one of those events -- pack your umbrella. It's a guarantee you'll need it.

Photos by
Copyright &copy 2007 by Russell Jaslow and Deep Throttle. All Rights Reserved.