Las Vegas Driver Interviews
Las Vegas, Nevada, April 8, 2007 ó Julie Andre scoured the Las Vegas pit lane and paddock looking for drivers to answer a reader's question to Paul Tracy on transitioning to the paddle shifter and her questions on driving the new Panoz DP01 and the inaugural Vegas Grand Prix.
READER TO PAUL TRACY: You've spent your whole career driving a car with a normal shifter. How has the transition been going with the paddle shifter?
TRACY: I am getting comfortable with it. Iím not one of those young guys who has come up from Europe thatís been doing using paddle shifting from the start. I am still trying too get used to it.
JULIE: How has the overall experience been this weekend for you?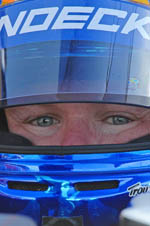 TRACY: The overall experience has been great. So far I am happy for the whole team and being a local here makes it more special. The race gives something for the local people to be excited about. I have about 20 or 30 friends here this weekend which is more than normal. I always try and look back at all the high points of anything I have done and use that as motivation and not look back at bad seasons as a de-motivator. I had all my crew guys over watching all the races from Ď93 and í92, winning Toronto. Just gets you pumped up and thatís what we are focusing on. We got off the blocks great today. I think it surprised a lot of people that we are going to contend. We are focused on winning the championship.
JULIE: Do you enjoy driving the new Panoz DP01?
WILSON: Testing has been going okay. We are still learning it, and we still have a lot to learn. So far I am pretty happy. The paddle shift feels good. Thatís nice. You just have to be a little bit cautious. Itís a new system. I havenít put enough laps on it. Hopefully it will be reliable in the race. We will see. There are a lot of things on this car that are new to us. We are a little bit nervous at the minute. We will feel a lot better after we finish the race.
LEGGE: I like the new car. Itís going to be a great year. I think for Champ Car you know with the new venues like here, go back to Europe and China, new car, new teams coming in and new drivers. Itís all very exciting! Paddle shifting is good. Weíve seemed to get rid of all the gremlins. Itís nice you donít have to take your hands off the wheel. Overall, I like it!
JUNQUEIRA: The car is working well. I finished fourth in the morning session. Itís not bad. The paddle shifting has been great. No problems. I just hope that the car is reliable at race time.
DOMINGUEZ: I love the new Panoz. I think itís a very good car. Overall they did a very good job. Itís faster and the gearbox is very good with the six sequential. So I think they have done a good job and for a driver it is very challenging. The paddle shifter works well and is easier than the stick shift for sure.
PAGENAUD: The car is really fun to drive. We have found a good set up so I am really confident in the car. The rear of the car is set in entry so I feel like I can go deeper and deeper with every lap. I like the paddle shifting in the new Panoz. I drove the European World Series by Renault and we used it. It makes things a little bit easier for a rookie.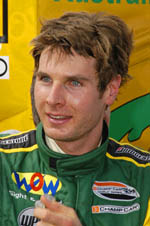 POWER: It is definitely a quicker car. Itís got more down force; it has better braking capacity. All in all it is a better car. I am really impressed. I love driving it, and I love driving in Champ Car. Paddle shifting is a nice improvement. You donít have to take your hands off the wheel.
DOORNBOS: Little things that I need to get used to. Obviously the car is 200 kilos heavier than an F1 car which you notice. The little gadgets arenít there. The power steering is not there and the traction control. But it makes it fun for a driver to drive this way. Itís a bit like Will Power said in the briefing, you need to really understand how to work the car and how to work the tires and we are on our way. Itís our first race and hopefully during the year we can get a better feel for it. For sure my Formula 1 experience has helped a lot.
FIGGE: I like the car. Itís nice. I had a bit of an incident 3/4th of the way through this morningís practice but other than that it looks like the new car is running like they thought it would. We just have to make some repairs and be ready for qualifying.
DALZIEL: We are struggling a little bit. The car is awesome; the paddle shifter is fun. In general to be out here racing a Champ Car in Vegas is pretty cool. So far so good, just need to get through the weekend.
JULIE: Your thoughts of the inaugural Vegas Grand Prix?
WILSON: I think itís really good. I like it a lot; itís quite interesting. Thereís some challenging parts on the track. Itís very slippery right now. Thereís quite a bit of dust and dirt on the track, so we are sliding around a lot. But itís good fun. Once we get a little bit more grip on the track it will be easier to pass. At the minute itís a little bit too risky to try to go down on the inside and pass.
TRACY: The track is good, but if you miss one corner it messes up the other corners. The chicane is pretty tricky. We are running a fairly stiff set up which doesnít really like curbs much. I kind of found my way around it once. There are a lot of passing opportunities on this track. You have a couple of long straightaways with good brake zones in them. I donít think there will be a problem with passing issues here. You have such a long straight away. We are hitting 190 mph with the push to pass which is usually good for 4 or 5 mph. It makes a big difference.
LEGGE: Tracks really good; itís a lot of fun. Itís a lot bumpier than we thought it would be, but I think they did a really great job. The track is really dusty and slippery but it will get more grip as the weekend progresses no doubt.
JUNQUEIRA: Track is really good. They fixed the bump overnight and the track is great. The chicane is fast and then you have a flat left hand at 160 or 170mph so itís pretty fast. There is a low section which is pretty hard as well because there is not much grip, and itís hard to find a good balance for the car there. But itís a great track. I like it.
DOMINGUEZ: The track is awesome. Itís a great challenge, itís really fast and I think itís really unbelievable, much better than people expected it to be. Itís still very slippery, and I canít get my car to grip up at all. Hopefully, tomorrow we can make it faster.
PAGENAUD: The track has been made really well. The angles of the corners are really good because you just coast into the apex which is the middle of the corner and just continue to go. Itís been really enjoyable. Turn 1 is kind of a weird corner because you go so fast and you canít see where you are and you need to brake as late as you can. So you have to be careful in this Turn. Also the last chicane before the tunnel is tricky. I have never seen a chicane like this one before because at one point you are airborne. You have to be extremely careful.
POWER: As far as street circuits go, itís right up there with the best street circuit in the series which is Australia. Itís similar in length, itís really smooth, and they made the breaking zones really wide so there can be passing. Itís a real race track. They have done a great job. They are not holding back anything. When there was an issue with the bump they went and fixed it right away and smoothed it out. It shows their commitment to having a good race here. I am really impressed.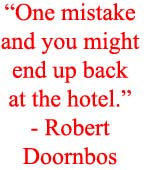 DOORNBOS: Itís very challenging. I am happy that the bump left because yesterday I just didnít take any risk there yesterday because I knew it wasnít ideal for driver and car. So yeah, itís obviously a very exciting street circuit because itís close racing and your heart is pounding a bit harder because you just know your concentration level needs to be higher because one mistake and you might end up back at the hotel.
FIGGE: The track is nice. The only part that is a little strange is there are a lot of parts that are repaved a couple parts that arenít so itís a little rough in those parts. Other than that itís a neat track. Plus, there are a lot of passing opportunities as well on this track.
DALZIEL: Dusty, slippery, crazy, and fun. Itís going to be hard to follow someone on the front straight. As far as entertainment value goes I think they did a good job. I think the level of grip is still a little low still. Everyone is having the same problems. I donít think the track is technically that difficult. Itís just the surface that presents a bit of a problem.
Photos by
Copyright &copy 2007 by Julie Andre and Deep Throttle. All Rights Reserved.