Toronto Diary:
Day Two
Hildebrand Continues His Amazing Drives
Toronto, Ontario, Canada, July 8, 2006 ó J.R Hildebrand continues to wow the racing world with a combination of speed, car control, and smarts. I said it at Cleveland, and Iíll say it again, you must keep your eye on this kid. He may be one of those phenoms that rarely come along.
Hildebrand Watch. How many times can you say this is ridiculous? The domination that J.R. Hildebrand is displaying over the rest of the Cooper Tires Formula Ford 2000 series is simply out of this world. Even more impressive are the qualities that Hildebrand brings to the table. Qualities that make him possible the greatest American driver to come along in a very, very long time.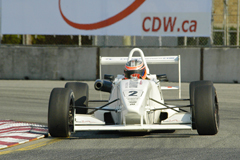 For starters, there is his intelligence. The 18-year-old recent high school graduate has been accepted into MIT. They even gave him a two-year deferment, not something MIT does often, so he can continue his racing. A driver like that is able to understand the dynamics of a race car and provide the feedback the engineers and mechanics need.
He gets along with every mechanic and engineer he works with, and is willing to do whatever it takes to help make the car go fast. Once, he sat in the car nearly all day as the team was setting up the proper corner weights and alignment. He never complained.
And of course, he is fast. Ultra fast. He out qualified the second place driver by nearly a second. Nearly a second on a 1.755-mile track in a FF2000 car! Thatís unheard of. Even more amazing, when you learn the driver he beat is his teammates, so you know the cars are equally well maintained and possibly even contain similar setups.
His car control is uncanny. The one race he did lose this year, the second race at Cleveland, after he spun off, he came back on the track not with flat spotted tires, but with tires that were worn down to the cords. He not only remained untouchable in second place, but at one point he was gaining on first place before he smartly backed off to save those destroyed tires. Uncanny!
His win streak continues, taking the Saturday race at Toronto with ease, pulling away at the start and the restart, and then coasting to victory. Again, he beat his teammate, Dane Cameron.
J.R. Hildebrand is the real deal. The complete package. Everyone in the Atlantic Championship better win this year, because they will have no chance next season if Hildebrand makes that his next stop.
Itís All In The Numbers. It is common for teams to stick with particular numbers. Team Australia runs 5 and 15 in both Champ Car and Atlantic with the actual Australians, Will Power and James Davison, running the single digit car while Alex Tagliani and Simon Pagenaud carry 15.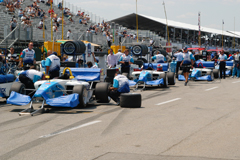 Fosythe Championship Racing needs to go one step further because they run four cars in the Atlantic Championship. They simply use various combinations of the number 3 and 7. To distinguish the cars, they use various color schemes.
James Hinchcliffe drives #3 like his fellow Canadian, Paul Tracy. The number colors are the same too, red. Number 7 also looks similar to the Champ Car #7 with a white number scheme along with white front wing and roll hoop, driven by Leonardo Maia.
The other two cars combine those numbers, 33 and 37. The former is driven by Richard Philippe, and carries a blue scheme. Number 37 has a yellow number, front wing, and roll hoop for Andreas Wirth.
FCR can still run two more cars, 73 and 77, before they would hit their limit.
Meanwhile, Graham Rahal continues to be the man to beat, as he grabbed yet another pole position for Sundayís race.
Tall And Shorty. Everyone jokes about RuSport having the tallest driver (Justin Wilson) and the shortest (Cristiano da Matta). However, the difference in their height is so noticeable in the car.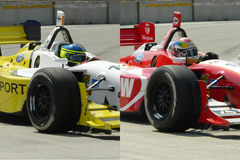 Wilsonís head can be completely seen in the cockpit when looking from the side. One has to wonder how he fit his lanky body into those tight confines. With da Matta, you only see the top of his helmet, and wonder whether he has to use blocks on the pedals. If someone landed on top of da Matta like what happened at Cleveland, they would never touch him.
Tall or not, Wilson went unnoticed in qualifying while A.J. Allmendinger and Sebastien Bourdais traded fastest laps for the pole position. While they were sending each other into a punch drunk stupor, along came Wilson who popped one fast lap that beat them all.
Tomorrowís start, with old teammates Wilson and Allemendinger next to each other on the front row and bitter rivals Paul Tracy and Bourdais sharing the second, should be very interesting. And, that may be an understatement.
Note To Self. Good friends bring good hospitality. However, it also brings lots of beer. Thus, if the quality of this piece is not up to the standards you expect from Deep Throttle, blame Ken and Karen (and their K&K B&B).

Photos by
Copyright &copy 2006 by Russell Jaslow and Deep Throttle. All Rights Reserved.