Toronto Diary:
Day One
Vindication Is Sweet
Toronto, Ontario, Canada, July 7, 2006 — Proving yourself right is great for an athlete. Doing it while making reporters eat crow, is that much sweeter. Nelson Philippe is showing that his move two years before Toronto is indeed paying dividends. And this reporter is forced to finally admit what was written two years ago isn't all true.
Nelson Vindication. Two years ago just before the Molson Indy Toronto (now called the Molson Grand Prix of Toronto), Rocketsports announced that Nelson Philippe was no longer driving for them. They quickly called Memo Gidley to fill the role.
Many criticized Philippe for what happened. Including yours truly. Some of the quotes he said afterwards about the situation caused even more criticism, especially from me.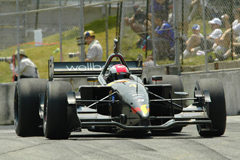 Though I still stand with some of what I said, feeling that Philippe's outburst was that of a spoiled rich kid who felt he was entitled to a career and his comments would hurt his future, the fact of the matter is, you can't argue with the end result.
"You worry that it could derail your career," Philippe said. "The fact that I came back proves that it worked out."
In fact, you can't argue with a lot of what has transpired the past two years in Philippe's career. Some, like me, have mentioned how tired we are of seeing drivers buy their way into Champ Car. Some, like me, have mentioned how tired we are of seeing drivers without the proper experience using the major leagues to hone their skills instead of in the support series (can you also say Michel Jourdain, Jr. and Mario Dominguez?). Some, like me, have been on Nelson Philippe's case since he entered Champ Car.
However, like my wife says, it doesn't matter how someone gets an opportunity, it matters what they do with it. Philippe got an opportunity, whether the reason is one to complain about or not, and this year he has certainly made the best of it.
Last year, he was rightfully voted the Bosch Most Improved Driver Award by his fellow racers. This season his results have been mostly ignored due to all the attention given to Sebastien Bourdais' quick start, the musical chairs soap opera, and A.J. Allmendinger's recent domination. Those results have been nothing short of impressive.
He said coming into Toronto that he is now expecting a podium finish. Based on finishing third in provisional qualifying, he just may end up with that first podium this weekend.
"People haven't given me enough credit for how hard I have worked," Philippe said.
Sadly, that is true. And being the guiltiest of that, I apologize.
Rocketsports Toronto Curse. There seems to be something with Rocketsports and Toronto. Like I mentioned above, two years ago Rocketsports had a sudden change in their driver lineup, when Nelson Philippe was dropped in favor of a quickly called upon Memo Gidley.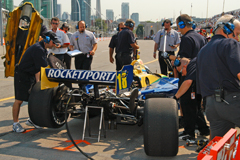 This year, it happened again. At an even later minute, Nicky Pastorelli was suddenly out as the driver for Rocketsports. The team cited sponsorship issues, the old "the check is in the mail" deal.
This time, even though the car and supposedly the crew were already in Hogtown, there was no time to try and call upon another driver. Thus, Rocketsports is only running one car and once again, the series is down to 17 cars. Which is not good.
Say what you want about the number of entries in Champ Car (or the IRL for that matter), and I am not blaming Rocketsports in this particular situation, but for a series to constantly flirt with a low car count just does not generate the warm and fuzzies amongst those you need to impress the most—sponsors with money.
And, don't even get me started with the reverse economics that Champ Car has been forced to endure—that of the driver supplying the lifeblood for the teams instead of the other way around. I do buy into the premise that this is a waiting year for next year's new chassis and business model. That strategy seems to be playing out nicely in the Atlantic Championship this year.
However, if this strategy does not work for Champ Car next year…
Gonna Be Here Awhile? You know the Snickers commercial where the football groundskeeper is painting the team name in the end zone. He mistakenly paints CHEFS instead of CHIEFS. While eating his Snickers bar agonizing over his mistake, the narrator asks, "Gonna be here awhile?"
While I always felt that commercial was funny, no way that could actually happen in real life. Think again.
Before the racing action got started, the painter preparing the start/finish line mistakenly wrote GRAND RIX instead of GRAND PRIX. Besides the fact that I would love to know what a grand rix is, needless to say, the painter was there awhile fixing it.

Photos by
Copyright &copy 2006 by Russell Jaslow and Deep Throttle. All Rights Reserved.