Edmonton Driver Interviews
Edmonton, Alberta, Canada, July 23, 2006 ó Julie Andre scoured the Edmonton pit lane and paddock looking for drivers to answer her questions on standing starts, the F1 qualifying system, and challenges of the fast track.
JULIE: What are your thoughts about using a standing start in Champ Cars?
RANGER: The car doesnít have traction control. You have a car with 800 horsepower straight away itís going to be so slippery. I think it could be dangerous.
ZWOLSMAN: I donít know. Iím not sure if it would improve anything. I always think that when I look at racing, European racing has the standing starts where as American racing has the flying starts. So I donít know if you should change it. Itís somewhat of an historical thing.
PASTORELLI: That could be a good idea. I personally like it better. First of all, it is more difficult so you can make a bit of a difference as a driver. I think it would help eliminate some of the crashes that happen in the first corner after the start.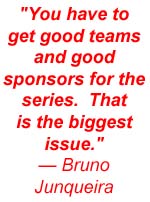 JUNQUEIRA: I think not having standing stars is what makes Champ car different from F1. It would be nice to have some standing starts but I donít think it will help to improve anything. You could create more issues. Some of the tracks it might be hard to have standing starts as well. If you look when F1 starts in Monaco with standing starts half of the time they crash. Standing starts on a street course could be hard. You have to get good teams and good sponsors for the series. That is the biggest issue.
CLARKE: Definitely! I think Champ car should implement the standing starts.
PHILIPPE: Standing starts are very European. Iím sure some drivers would like to see it. Iím sure it would also be very exciting for the fans. I can do both so I really donít have a preference.
WILSON: I am for standing starts if they make some other modifications. They canít just say OK you are going to do standing starts. Half of the time with these turbo engines when we leave the pits at full throttle we can stall. Obviously, you donít really want this because if half the cars stall at the start it can get a bit messy. The other thing is when they do standing starts in F1 they have a lot of technology and they have sensors under each car on the track which stops people from jumping the starts. If your car is rolling you have a much better chance at beating the car in front to the first corner because rolling is much better than standing, so I think if they approach it right and come up with solutions to keep people from cheating then I think it would be good.
JULIE: Would you be in favor of Champ Car adopting the F1 qualifying format using knockout rounds and why?
RANGER: I think it would be great to try, but I think the problem is every time you jump on the track another driver goes in front of you and you canít get a clean lap, or they stop in the middle of the track. Itís bad for the time because you try to push hard and you stop on the track because somebody stops. I think it would be interesting if they change the qualifying and everybody has a chance at getting a clear lap. That would be nice.
ZWOLSMAN: It could help the spectacle a little bit for the crowd. There are maybe other ways to do it even. But Iím sure the guys in Champ car are thinking about this right now. I think soon you will hear something from them. You can always make the qualifying a little bit more spectacular. Itís maybe a little bit difficult to follow right now with all the cars on the track, and itís a problem for the drivers to be blocked on a quick lap. It happens a lot actually. So it might help as well to have fewer cars on the track to fight for position.
PASTORELLI: No, I think it is very good the way it is now. Itís nicer for the spectators because otherwise Friday there would be nothing, only a free practice. I think this is the best qualifying system you could have.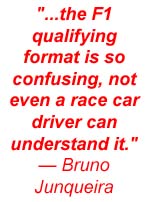 JUNQUEIRA: No, because the F1 qualifying format is so confusing not even a race car driver can understand it. I donít think it is good, and I donít think it will help improve Champ car qualifying.
CLARKE: I think they should do qualifying like F1 was in the 80s. We should have an hour session. We should be able to do what ever we want, use 12 or 15 laps. I think for sure the rookies need more experience. When we went to Portland or Milwaukee and we had extra days testing we showed we could be even quicker. I was running second at the beginning of the race. Itís frustrating to come to a track and everybody knows it but you. I think if qualifying should be geared towards anything it should be geared towards rookies getting a little bit more experience. Then you would have 17 cars in the race not just 12.
PHILIPPE: It would definitely be more interesting. But I think the qualifying is pretty good as it is.
WILSON: There are always a lot of complaints. Every qualifying we probably have half the drivers out there complain they get held up on their best lap. I think there is room to improve what we have, maybe do something similar to the F1 format like you suggested. Iím not sure what the right answer is. Itís worth looking at. We got 18 cars on the track and Atlantics do a better job than what we can with 24 cars or whatever they are running this weekend. I think some of it comes down to the drivers and some of it comes down to maybe we can put on a better show.
JULIE: What do you think of the track? What is the most challenging part of this circuit?
RANGER: The track looks nice. Itís not a problem. Itís a fun track. When itís so hot outside its tough for the driver, you have to drink a lot of water and be ready on the track. But itís a fun track! Itís a very technical track and a very fast track, its fun and I think it is fun for the fans too. The first part of the track, Turn 1 and Turn 2, is probably the most challenging. Itís a high speed track and if you have a loose car just a little bit you can lose it like Will Power did yesterday. No driver wants to have a big over steer problem here either. Itís very tight in the turns so you have to be careful when you qualify. Itís a very tough track physically, but its racing, and I enjoy it.
ZWOLSMAN: Hot and grueling. Itís incredibly hot. Track seems to have more grip today. We are just trying to figure out how to make the best use of it. We werenít that strong compared to yesterday when we were in the top ten. The track itself is a good track, though. I enjoy racing here.
PASTORELLI: Itís pretty slick but the conditions are the same for everyone, so itís OK. This morning the track was a bit dirty but they have cleaned it. I like this track. I absolutely like it. Itís really a track where you can push and attack the corners. Itís pretty wide, so yeah itís nice.
JUNQUEIRA: This track is the second nicest after Road America. Itís a difficult track probably the most difficult one but itís a good challenge. Turn 1 is especially difficult, probably the one where my car is pushed to the limit. I am not so sure that with more grip the track conditions will improve because drivers will be pushing very hard. You need to push to go fast here.
CLARKE: I like the track actually. I missed out on going a little quicker in the end because of the red flag. I am enjoying it so far. Sometimes I get to the circuits and I donít enjoy them as much, so it is a positive thing. Itís quite tricky being that it is an airport surface the road is quite crowned and in some corners its makes it difficult because you have to drive over those crowns which can make it very unstable in the rear. When you put your foot down you have 800 horses coming out the back and you go over a crown in the road sometimes the rear doesnít want to know about it. I would say the track is comparable to Cleveland, especially going around some tight sections to wide open sections.
PHILIPPE: Very slippery very green right now but it will get better as the day progresses. The team was here last year so they used the same set up. I know the track from last year so we are pretty good. We will see what happens in qualifying.
WILSON: It has to be the high speed change of directions when you are really working on the car and leaning on the tires. You need to hang on that little bit longer. The longer you can hang on the quicker you can carry speed through the corners. You know everything snowballs, so I would say the section from Turn 1 to Turn 8 is eight corners but its actually one sequence. If you get Turn 1 wrong you are wrong in Turn 2. It all adds up to that section and it snowballs and gets worse. Itís very challenging. Itís very physical from a driverís point of view as well.
Copyright &copy 2006 by Julie Andre and Deep Throttle. All Rights Reserved.