Denver Driver Interviews
Denver, Colo., August 13, 2006 ó Julie Andre scours the Denver pit lane and paddock looking for drivers to answer her questions on the new Panoz DP01, where they would like to race, the denver circuit, and what they think about no more ovals.
JULIE: What do you think about the new Panoz DP01?
KASEMETS: Very sexy. Plenty of room in the cockpit will allow for greater driver safety due to being able to have thicker seats. It will be good for marketing with its wide side pods, which allow plenty of room for sponsor logos.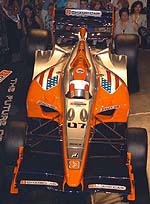 ZWOLSMAN: I am very excited about it. It was a nice way to unveil the car. It looks pretty good. I am really looking forward to driving it. It might help to tighten up the field especially in the beginning; it all depends on how much testing everybody gets and what is arranged. I am not sure of what the regulations are in that area; I still have to look it up. Still, the good teams are going to have an advantage. They have more money to spend, but definitely I feel it is going to level the playing field.
RANGER: The new car is going to be very nice. Champ Car improved the whole car; itís beautiful. It looks similar to a F1 car. Itís nice, and I think it is going to be very interesting for next year. Everybody will have the same car, and everybody will start with the same set up, and I think it is going to be great for the fans and for us and for a small team or big team should be the same thing for everybody. This is going to help all of these teams for next year. The problem right now with the Lola is every time you try and be near the guy in front of you, you lose a lot of down force and lose a lot of air and the car doesnít want to turn and every time you get close you get a lot of understeer and canít pass the guy.
PHILIPPE: I think it is an awesome thing. We will just have to wait and see what happens on the track. I think it may help to level out the field a little bit, but I still think it will be the same hierarchy where the well funded teams will still be up front because they can do more rig testing and basically just having a bigger budget helps.
BOURDAIS: Itís a nice looking car, but you have to test it to see what happens. I think currently it has less drag and sensibly more downforce. Itís a little lighter like 100 pounds so it should be fairly quicker. I just wish it would have a little bit more power. I think if we had 800 or 850hp with push-to-pass that would be a good thing. The reason why they expect better racing is because there is some 60% of the downforce generated by the under tray of the car and right now it is the opposite. There are 60 from the top and 40 from the bottom. They switched the differential around. The air flow from underneath is not as affected by traffic. Not as much as it is from the wings which is directly related to how quick you go through the air, so it is just a little bit of a different game. Thatís why they opt for better racing because they are going to generate the downforce from the bottom.
TAGLIANI: Itís a really nice car. I think they did everything right on that particular car, so it will be very competitive, really good for passing. I am really looking forward to trying it for the first time. It definitely will level out the playing field. Itís still going to be a lot of work. You need to use all the skills of your team to get the maximum potential of the car. I think it will be a lot closer than it is now.
WILSON: I think it is great! It looks really good as far as I am concerned. I can fit in it. It has a nice big cockpit. I think it is very positive and itís the right step for the future. Everyone is excited about it and looking forward to the new season. I think it is going to be less down to finances but still it is going to be down to which teams have the most resources. Itís not going to be just financial but knowledge, experience and some of the personnelóall the other things that go into making a team quick. You can give a poor team as much money as you want it doesnít automatically make them a front running team. Actually, they have got to have time to use that money wisely and to learn how to become quick and thatís the difference. So even though Newman-Haas and RuSPORT canít go and out spend the other teams, they still have the building blocks there to examine the car and make the car go quicker than everyone else through the knowledge that they have accumulated over the years. I would say the team is 75% of the performance and the driver is 25%. Which sounds a lot in the teams favor but compared to most of the championships that I have experienced thatís pretty good as far as the driver making the difference. Thatís why drivers love this series because we can make a difference. You look at F1 and its 98% the team, 2% driver. Thatís why so many people enjoy this.
CLARKE: The new car has been launched, and itís great. I think the guys have done a really good job with the presentation. It was very professional. It has gained a lot of interest. As for the car, it hasnít been tested yet. We donít have to worry about it until the season is over. The teams that are more staffed have an advantage with the amount of years they have been running the car. I would like to say itís not rocket science but I donít know what the other teams are doing here. I feel confidant. I think the team I am with feels that they are capable. As long as we all work together and I can develop as a driver, we will be competitive next year.
HEYLEN: I think it is all good. I think they needed a new car to make a new start. The car looks fantastic. I look forward to driving it. There is always going to be a difference in budgets. You can never change that. The rules and the way they are going to approach it will certainly help bring us closer together. I think the changes they have made with the regulations are good because it will help bring the field closer together.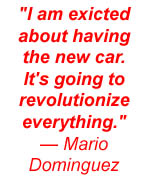 DOMINGUEZ: I think it is beautiful. I think they really did a good job. They really paid attention to driver detail. I think it is going to be a great car. I am excited about having the new car in Champ Car next year. Itís going to revolutionize everything. Hopefully I can be here next year. That is my goal. It will certainly level out the playing field for example there wonít be any shock development allowed like there is now. For example Newman-Haas just has an engine and they have been doing it for years. So that is definitely going to help level it out. I still think the good teams will be the good teams and they will still run up front. But I think it will be less difficult for a team like Dale Coyne to run up front. Closer together and better racing.
JULIE: Where would you like to see Champ Car race that is currently not on the schedule?
ZWOLSMAN: I would like to see Champ Car race at Laguna Seca if they can get some people there. I was racing in Europe right before I came to the United States and I was always looking forward to one day racing at Laguna Seca. I come to the U.S. and they drop it in the same year.
RANGER: Europe would be a nice place to go. I have never raced a Champ Car in Europe. I think it would be great for the series to race there.
PHILIPPE: I would like Champ Car to race in Miami again. It would be a home race for so many drivers. There are actually so many race fans in Florida, itís too bad we donít race in the southeast.
BOURDAIS: For sure it would be great to go to Europe.
TAGLIANI: I am very happy with the way it is. I am happy with the schedule that we have now.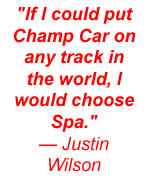 WILSON: If I could put Champ Car on any track in the world, I would choose Spa just because itís fast and flooring. We spend a lot of time on the street circuits, so itís nice to get it out on the open tracks like Road America, and Spa is another track just like that. That would be good fun. I donít see it happening. I am not making any predictions. Itís a good fun track, and its one that drivers love.
CLARKE: It would be nice to race in Europe. Itís a lot of traveling. I enjoy it out here. I like all the tracks I think the variety is good. I wouldnít say more ovals or more of this. Keep the variety and the fans will get their moneyís worth. Add a race in Europe, so I can go home sometime.
HEYLEN: I am new here for me it would be quite exciting to go to Europe once. For me all the tracks are new, and so far I am having a lot of fun, so I am enjoying it.
DOMINGUEZ: I would love to go race in Europe again. That was fun. I thought we got a good response in Germany and Brands Hatch. That was very good. Yeah, I would like to do Europe and who knows the ovals are always fun, but they donít seem to bring in the crowds like the street courses do.
JULIE: What are your thoughts about the Denver circuit?
ZWOLSMAN: I like the track, but itís very slippery out there! You can see with the numerous red flags that we have had. It was very difficult to get a good lap in the beginning. Everybody kept spinning off and causing wrecks. We got one good lap in, and it was good enough for P9 for the provisional qualifying and I am happy with that. The track is getting better but if the storms move in it could create problems tomorrow. Normally the altitude would affect me, but the track being so low grip itís not very physical at the moment. Maybe when the grip gets up it might be tougher to drive the car then I might feel something more.
PHILIPPE: I like this track. Of course, I would like it better if I was doing well. Itís a track I enjoy. Itís quite a lot of fun. Like they say, itís always more fun when you have a good car. The altitude affects me a little bit. I am a little bit more out of breath than other race tracks. I live in Miami at sea level and I train at sea level so being Mile high is a bit different.
BOURDAIS: I enjoy racing here but itís very slippery and bumpy. We like the downforce. Obviously, it just makes life difficult. The smallest problem you have on the car can affect the balance. Itís very difficult to get the car right.
TAGLIANI: Our car is really good; I like this track. I think we have a much better car than what shows. We just did the wrong decision on the second set of tires. We slowed ourselves down. The track is really good. I am really happy so far with what the team is doing. We are trying to aim as high as we can and recover some points we lost in San Jose.
WILSON: I prefer this track to San Jose. It has a few more technical corners and a few more driverís corners than San Jose. I actually like the layout. I think I would like it more if I was in Sebastianís shoes. Every time you go out onto the track you have 3 or 4 tenths on everyone. We just have to keep working on our car and get to that position. The altitude still takes your breath away and makes you work hard. Living here makes it easier to deal with. The only thing is when we go elsewhere we go to some of the more humid tracks we donít have humidity here. So we go to a more humid track and you really feel the humidity rather than the altitude. It has its pros and cons, but generally itís a great place to live and train.
CLARKE: We did an on track orientation yesterday because itís our first time around here. We noticed there is a lot of concrete. For Friday being the first day on the track makes grip level pretty low. The altitude here makes a difference physically. It doesnít matter how fit you are it will affect you one way or another. The heat is good but not necessarily good for the driver. Itís not difficult yet especially with the grip levels being low. Street circuits are tight and twisty so you donít have G forces as much in the cornering.
HEYLEN: The track is very challenging very low grip. Itís the same for everybody but I quite like it. There is a lot to it and it is quite exciting.
DOMINGUEZ: The usual very very low grip thatís the characteristic. The track is challenging.
JULIE: What do you think about there being no ovals on the Champ Car schedule next year?
WILSON: Itís a shame because it is part of the heritage of Champ Car. Itís an extra skill that you need to have. It is totally different. Itís going to be missed but until enough people support the races and turn out for the races I donít see them adding them back to the schedule. If it was a street circuit and not many people showed up then they would drop it off the calendar as well. Itís all about the attendance, and if the fans come out to see it we will race it.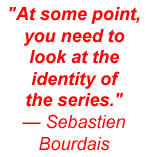 BOURDAIS: The truth is I am sad because we donít have any ovals anymore, and God knows that I am not a huge fan of ovals, but this series is all about the diversity of ovals, street course, and road courses. I think we are headed directly and dangerously to an all street course series. I think this is not Champ Car. I again might be criticized for that, but I donít care. I wish we would have a couple of ovals and more road courses. The only oval we have has been taken away. I understand the economic reasons, but still at some point you need to look at the identity of the series. I think we are losing some of it.
Copyright &copy 2006 by Julie Andre and Deep Throttle. All Rights Reserved.