Toronto Diary:
Day Two
It's All In The Numbers
Toronto, Ontario, Canada, July 9, 2005 — Whether it's differentiating people by numbers or records by numbers or determining perfection by numbers, racing is full of numbers.
What's In A (Roman) Number? Many of you have heard that the third generation Al Unser has been called by many names. Baby Al. Mini Al. Just Al. And, a slew of others, some reserved just for his mother. None of which Al really cares for unless it's his given name, Al Unser.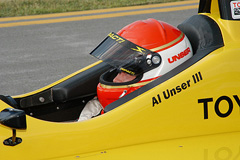 The problem is, with his family's racing legacy, calling him simply Al Unser just doesn't work. It's too confusing. The logical thing would be to call him Al Unser III. There is a slight problem with that, too. He isn't an Al Unser III. He does not have the exact same name -- his middle name is different -- as his father. Thus, while Al Unser, Sr. and Al Unser, Jr. are appropriate, Al Unser III is not.
Something had to be done, and the youngest of the racing Al Unser's figured it's just easiest to live with Al Unser III. It's what most people called him anyway, and it's the best of the options.
This is not the first time in racing Roman numerals have been used to differentiate drivers. It reminds me of two drivers, who unlike the Unsers, were not related whatsoever. But, since they had the same name, one get designated with a II. I'm talking about Howdy Wilcox and Howdy Wilcox II.
The first Howdy Wilcox was one of the preeminent drivers of the early days of racing. He won an event at the Indianapolis Motor Speedway before the "500" was conceived, taking a 100-mile race for the Remy Trophy in 1910. He competed in the Indy 500 from 1911 through 1923, only missing the years the race was cancelled due to WWI. He won the event in 1919, also taking the AAA National Championship the same season.
A few years later, along came another Howdy Wilcox. In order to not have their readers get confused between the two, newspapers designated this second driver as Howdy Wilcox II. Wilcox II took Indianapolis by storm in his rookie year, finishing in second place in 1932. He did not compete again at Indianapolis because the following year on race morning, he was diagnosed with a diabetic condition by the track doctor and would not allow him to drive.
It is this incident that nearly caused a driver strike, as they all supported Wilcox II in his right to compete. Wilcox II himself averted problems with the race just 30 minutes before the start when he told his fellow drivers not to protest in his behalf, but he did stipulate that he wanted his car owner to have the right to substitute another driver in his place.
The Speedway agreed, but when the owner selected a rookie who had not qualified, the other drivers got nervous. The track decided to place this rookie in the back of the pack, thus starting the rule that if you don't qualify the car, you get moved to the back of the field. The rookie didn't fare well in the race, finishing 35th (42 cars started that year), lasting only 48 laps when a timing gear failed.
The name of this rookie driver who got his break due to Howdy Wilcox II illness? None other than Mauri Rose, who went on to become the third driver to win the Indy 500 three times and the second to take back to back victories (1941 with Floyd Davis, 1947, and 1948).
What's In A (Record) Number? My dirty little secret as an open wheel bigot is that I'm a closet Trans-Am fan. If it's not open wheel, I won't go out of my way for closed wheel racing unless it's sports racing classes or sports cars like the American Le Mans Series. When it comes to sedan racing, I may watch it if it's convenient, but I won't go out of my way for it. Except for the Trans-Am.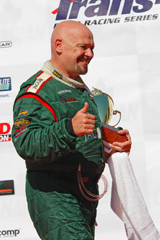 Throughout the years, I have enjoyed this type of racing as I find it quite exciting for road racing even if the cars are big and lumbering and never have tires to last the race. But, perhaps that's exactly why. Sure, the Speed World Challenge may be the most exciting sedan racing in this country, but there is just something about the Trans-Am series that has always attracted me. From the drivers over the years to the cars to the action on the track (where they are very racy even on street circuits, sometimes producing more passing than the small open wheel classes), it's a series I try not to miss a race (which is why I was incensed last year when they only showed highlights on Spike TV).
Thus, it was an thrill to witness first hand Paul Gentilozzi's 200th start at Cleveland and his record breaking 30th career Trans-Am win. I look forward to more Trans-Am action, and hopefully more years of the series being associated with the Champ Car World Series.
What's In A (Perfect) Number? Perfection is always hard to quantify. However, you know you are pretty close to it when you witness the Miss Molson Indy Toronto contest. I said before that the Long Beach and Cleveland contests won't hold a candle to Toronto. I was right. It wasn't close.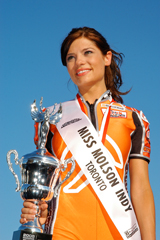 This year's group of contestants topped last year, which meant picking the winner was even more difficult. But, the judges didn't seem to mind, and the crowd certainly didn't mind. They chose Brandi Latimer as this year's Miss Molson Indy Toronto. I am going to have an impossible task of trying to whittle the photos down to fit into the gallery, which will be forthcoming soon.
I'm going to make a bold ... but easy ... prediction. Brandi is going to win the overall Faces of Champ Car contest in Mexico City. After all, for whatever reason (and I really don't need an answer; I just sit back and enjoy it), no one seems to be able to beat the Toronto babes.

Photos by
Copyright &copy 2005 by Russell Jaslow and Deep Throttle. All Rights Reserved.