Toronto Diary:
Day One
Return Deposit
Toronto, Ontario, Canada, July 8, 2005 — A return with a positive attitude, a return no one wanted, and a welcome debut highlighted the first day of the 20th running of the Molson Indy Toronto.
A Great Attitude. We've seen it before. Racecar drivers who have gone through hell, but maintain a positive, upbeat attitude. The most obvious example is Alex Zanardi, who despite losing both his legs, never wavered in his believe that life was still worth living, and in the process became a shining example for others. His recent victory in an Italian Touring Car race caused another moment of great inspiration for many.
Add Bruno Junqueira to the list. He returned to Toronto, the first time at a race track since his back breaking crash in the Indianapolis 500. Despite what happened, despite being in the Champ Car points lead at the time, despite the fact he could easily blame others for what happened, despite being given the opportunity to openly criticize those responsible, he never displayed any signs of bitterness or self pity.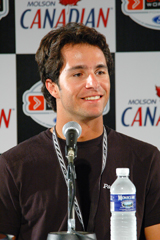 "It's part of racing," Junqueira said at a special press conference. "It happened. I have to move forward. I can't go back in the past."

Junqueira started out by stating, "I'm getting better every day." He then told the assembled media something many were not aware of. "We found out two weeks later my ankle was broken." That put his recovery a bit behind schedule since he had to be on crutches for two weeks, preventing him from walking for exercise.

"I lost a lot of weight, mostly in my legs and waist," he said. His rehabilitation is aimed at restoring that muscle mass he has lost. "I cannot move from here [points to his shoulders] to my waist." That was obvious just by observing him when he walked into the room and gingerly sat down.

"If I drop something, I have to have someone else pick it up," he continued. "Someone has to open the door for me. I'm like a girl."

When someone asked his reaction about A.J. Fort IV, his answer would shock many. "I've forgiven him for what happened," Junqueira said. "It was a big mistake. But, I feel bad for A.J. Driving for his grandfather -- it's a lot of pressure."

Throughout the press conference, Junqueira constantly looked at the bright side of the situation, saying that everything happens for a reason. He then joked, "I'm playing PlayStation, which I've never done before." However, he did add, "Driving with fingers is not like driving for real."

And, Junqueira definitely plans on driving again. He's hoping this year, though that would be a very aggressive timetable for his type of injury. Junqueira explained that Dr. Trammell told him for most people, this injury would put them out of action for a year to a year and a half. However, with someone in Junqueira's shape, it might take 6-8 months. It's too early to tell right now if Junqueira can return before the season is over, as the doctors will have to wait another month or so to evaluate his progress.

Junqueira is certainly eager. "I hope to get back to the PacifiCare number two car and drive better than before."

With the optimistic and positive attitude he displayed, there is every season to believe that will come true. "I have to not look back anymore," Junqueira concluded. "I have to look forward."

Wedding Crashers. The soon to be released movie about guys who crash weddings with the goal of getting to sleep with a girl for a night is being advertised all over the Toronto race track. That's appropriate since the Champ Car field has it's own version of wedding crashers -- drivers who make unwelcome appearances to the grid.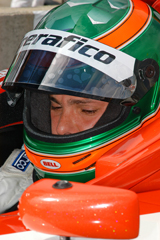 Ronnie Bremer, who has been surprisingly respectable in his HVM ride this year, was forced out of that car because his personal sponsorship ran dry. Thus, HVM went looking for another driver who had greenbacks in his pocket. Every series has backmarkers and ride buyers we would all like to forget. Whether it is Formula One (can you say Narain Karthikeyan), IRL (A.J. Foyt IV, Ed Carpenter), or Champ Car, they are an unwelcome fact in racing worldwide.
However, when the same backmarking ride buyer keeps returning like a recurring rash, it gets downright annoying. Alex Sperafico, who we thought we saw the last of a while ago, took over Bremer's ride. Now, we have the wonderful pleasure of watching the riveting battle between two Speraficos. And, we've been graced in our lifetime of witnessing three Speraficos at one time or another in a Champ Car race.
Needless to say, they are both together near the back of the pack after the first day of qualifying, with Alex surprisingly ahead of his cousin, though that might be attributable to having a better team under him.
If we are going to have to live with wankers in racing, at the very least let's have some variety in those wankers. This way we can at least come up with new jokes...
A Welcomed Debut. Ryan Dalziel thought he was set with a ride over the winter, having been hired by PKV Racing. That was before PKV had the opportunity to hire Cristiano da Matta. Thus, Dalziel was relegated to bystander role. When a spot became available in the revolving seat of Dale Coyne's car that Oriol Servia once occupied, Dalziel secured it for this race, most likely with help from PKV Racing's co-owner, Kevin Kalkhoven.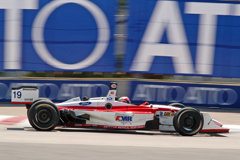 Many felt Dalziel deserved a Champ Car ride (as does Jon Fogarty and Michael Valiante) based on his performance in the Toyota Atlantic series, and it is nice to see him get the chance. Unfortunately, that ride is with Dale Coyne, and along with Dalziel's inexperience, so far it has not been an auspices start.
Dalziel sits 16th on the grid after the first qualifying session, right behind another Ryan who has been struggling all year long, Hunter-Reay. Hopefully, debuting like this will not hurt Dalziel's reputation. One thing is for sure, along with Valiante and Tarso Marques performances in that car the last two races, it really shows how talented Servia was to get as much out of the car as he did.

Photos by
Copyright &copy 2005 by Russell Jaslow and Deep Throttle. All Rights Reserved.