Milwaukee Driver Interviews
Milwaukee, WI, June 4, 2005 ó Julie Andre scoured the Milwaukee pit lane and paddock looking for drivers to answer her questions on the challenges of a two day event and which is better, night or day.
JULIE: What are the challenges of a two-day event?
WIRDHEIM: The biggest challenge is itís an oval circuit, and I have never raced on an oval circuit before. When it comes to the pace I think we are ok, but I have not driven many laps in traffic, so it should be exciting tomorrow when we go racing!
HUNTER-REAY: Just getting the car closer to what we had last year is the biggest challenge. Itís a very finicky and precise place, you have to nail it! We just have to find that sweet spot.
SERVIA: We are just lacking a little bit of front grip. We are really solid which is good for the actual race. We are still working on our set up, so we will see how the race goes tomorrow.
BOURDAIS: The biggest challenge for me is I donít really know what I have to do here. We always struggle. We have been trying different set ups and doing different things but obviously we are not very successful. We will see how we end up at the race tomorrow.
WILSON: Itís just getting used to it, and getting back in the groove again of driving ovals. Iím quite inexperienced at driving ovals. Learning what the limits are and knowing what the car is like at the limit. Trying to get up to speed quickly is the main thing!
DA MATTA: Itís harder because you have to be on top of it right from the beginning. We are lucky that we had the two day test here before. We were able to get more prepared for the race weekend than we usually are. So it wasnít too big of a handicap. But itís never easy to have one session before you go out and qualify.
ALLMENDINGER: Trying to hold on and not tense up during the race because this place scares the hell out of me! I could win tomorrow by a full lap and it would still scare me!
DOMINGUEZ: The only problem is if you have problems with your set up. You have a lot less time to take care of it which is what happened to us. We came and tested and we were very fast, and we show up here today, and we donít know whatís going on; we are just slow. Not enough time to move stuff around!
SPERAFICO: For me it is a big change because it is the first time I have been on an oval. I need to be careful and not crash. But itís amazing, I really like it! Letís see how I do in the race.
BREMER: I think the biggest challenge is being a rookie, and you donít have a lot of experience in the car. There is so much pressure to do the job straight away. But Iím on a very professional team and they gave me a good car. I know itís more up to me than up to them, but itís difficult especially when you brush the wall before qualifying, and then you have 5 laps to get into a rhythm again!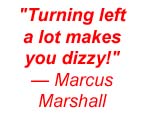 MARSHALL: The biggest challenge is itís my first time ever on an oval, with any sort of car. Two days is not a huge amount of time to get settled in and the car set up. Turning left a lot makes you dizzy!
GLOCK: Itís difficult because itís my first time on an oval. I have no idea whatís going to happen tomorrow during the race. Whatís important for us is to trim the car so it performs well in traffic and go the full 225 laps. Qualifying for sure is important but we need to get the car in the right shape for the race. We have to find a way to get the car quicker in traffic!
TAGLIANI: Well I think we had a pretty good car in testing. This morning there was a couple of problems with the car. We found out after practice and unfortunately it put us in a position where the track was pretty bad after the ARCA cars. We are suffering from a little bit of a bad track right now. We put ourselves in that position, so we just have to try and get better for the race.
RANGER: Today was my second time on an oval in Milwaukee. Itís pretty fast, but I feel comfortable. Unfortunately this morning, I lost some time because I brushed the wall. I have a little problem with turn 3 and 4. I lost too much time because the car would lift, but its racing, and tomorrow I need to get through 225 laps. You never know what is going to happen!
JULIE: Would you rather run Milwaukee during the day or at night?
WIRDHEIM: I have never driven in a night race, but I like the idea. I was a bit disappointed when I found out that they had changed it to a day race. I would like to see them change it back to a night race again!
HUNTER-REAY: Yeah, I would love to see them change it back to a night race. I think it fits!
SERVIA: Iíve always liked it at night I have to say. I think itís different and makes for a special event. It was definitely better!
BOURDAIS: No, I think the schedule is good the way it is, but itís up to us to make the right changes before the race.
WILSON: I donít mind whatever is good for the track. We just come here and drive it as fast as we can!
ALLMENDINGER: Of course, I would like to see us race at night again. Hopefully, the weather wonít put a damper on the fans coming out tomorrow. I think it will still be a good race during the day, but itís whatever the fans want. Night was cool and Champ Car did a great job of lighting the place up.
DOMINGUEZ: I would rather race here when there are more people, so if it helps to change it back to a night race then they should change it!
SPERAFICO: I prefer daylight, but if it brings the fans then it would be ok.
BREMER: I guess for the racing it might be better if itís not at night when it gets a bit cooler. Itís a little bit more difficult on the track, but for the spectators itís very nice at night!
MARSHALL: I think racing at night is a great spectacle for the teams, and it probably helps out with the crowd. People can get here after work.
TAGLIANI: Iím ok with what they decided if they think itís for the best. For me there is no change. Itís better weather for the fans during the daytime. At night it can get chilly which is no good.
RANGER: Yeah, I think it should be good. Itís a great track, and itís a nice place to come. I think running at night would make the event more special. For myself, I am very happy to come to Milwaukee and participate in the race. Itís fun!
Copyright &copy 2005 by Julie Andre and Deep Throttle. All Rights Reserved.