Long Beach Driver Interviews
Long Beach, CA, April 10, 2005 ó Julie Andre scoured the Long Beach pit lane and paddock looking for drivers to answer our readers and her questions on the challenges of Champ Car, what they would like to see in 2005, the future race in China, and the elmination of the mandatory pit stops.
READER TO MARIO DOMINGUEZ: How do feel knowing that you are the only Mexican driver left in the series?
DOMINGUEZ: Big responsibility! This series is followed very closely by the Mexican race fans and the Latin American race fans as well in the United States. So itís a big responsibility. Obviously, I want to do well and put Mexico on top of the podium as often as I can. I will do my best because the fans deserve that I give something back to them!
JULIE: Did you enjoy doing the 24 Hours of Daytona, and would you like to also do the 12 Hours of Sebring?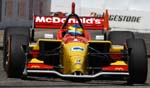 BOURDAIS: I didnít race as much as I would have liked. The day was pretty short. I love racing no matter what car I am driving in. Whenever I can race, I do it! Itís my job and itís my passion, so I do it as often as I can!
JULIE: What do you think will be easy and what do you think will be a challenge in your first year in Champ Car?
BREMER: Nothing is easy at this level but for me the car feels pretty natural and so far so good. The difficult part is there are so many strong drivers, so itís very competitive, but thatís what makes it fun at the same time. Everyone likes to see a good competition.
WIRDHEIM: Most difficult thing will be learning all the new circuits. I have never raced in the States before, so itís all brand new to me, and itís going to take some time. Fortunately, there is quite a lot of practice before the race, so it should be all right.
MARSHALL: Just being a rookie. I have had only two days of testing in a car. Also, the lack of experience and learning the racing circuits. Iím looking forward to it and getting myself up to speed.
JULIE: What's the number one thing you would like to see happen in Champ Car for 2005?
BOURDAIS: To keep promoting the series. Itís very crucial to try and draw as much attention as possible to the series. To try to fill the grandstands, to make sure the people know the series is around. If you have a race and the people donít know about it then whatís the point? I think to make the series stronger we need to draw fans. If they donít come then we donít exist.
DOMINGUEZ: I think they are doing very well. I think the series has stepped it up. The owners are working very hard. Perhaps, I would like not so much Champ Car, but the race promoters to advertise the races a little bit more. Put some billboards around the cities, things like that because they do that sort of advertising in Mexico and there is always a good turn out!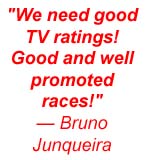 JUNQUEIRA: I hope I can win races and the championship. I hope we can have a good TV show and advertising for the races. We need good TV ratings! Thatís the most important thing. Good and well promoted races! Another thing that is important that didnít happen this year is to keep our good drivers. Unfortunately, we have lost a lot of important drivers over the years to different racing series especially in my opinion, Michael Jourdain, Jr. They need to keep the drivers that are up front and competitive and ones that the fans know. You canít have a lot of rookies.
SERVIA: Oriol Servia winning a race! Hey, Iím honest!
BREMER: Itís a strong series this year and thatís important for everyone involved. I think it needs to continue to grow stronger and stronger and get more publicity all over the world. I think with the strong field of drivers this year itís definitely going in the right direction for Champ Car at the moment.
WIRDHEIM: I like to see the series continue to grow stronger, like it has done for the last couple of years. Itís a very competitive field this year, so itís on the right track. Iím sure that because of that fact alone the races will be exciting.
MARSHALL: I wouldnít know, Iím a rookie, and Iím new to it all. At the moment I think its fine, but ask me at the end of the year, I should know more then.
JULIE: What are your thoughts about a future event in China?
BOURDAIS: Well, itís called the Champ Car World Series. So it makes sense that we try and put on a good show around the world. Fifty/fifty would probably make the most sense. It will be good to go to Korea this season and next season to China. Itís exciting for me to go to new countries and experience new cultures and tracks. Iím pretty open about it!
JUNQUEIRA: I think itís great! I think we should go to China for sure itís one of the biggest emerging economies in the world. They should go into Brazil as well!
SERVIA: I think itís great. I think we need to open our minds and there is definitely a huge market for motor sport racing fans there, and why not. I think it will be great for us! I think these races bring new things to Champ Car, and we bring new things to them. Itís a win-win situation.
BREMER: Itís good. Iíve been in Korea before with Formula 3, so I think itís very good but I would like to see more races in Europe again. I hope they do that in the future, but definitely Asia is welcome as well.
WIRDHEIM: I think it will be interesting. I went to China with Formula One and that is a fantastic circuit. Attendance for that race was easily sold out so it should be a great turn out when Champ Car goes there.
MARSHALL: Yeah, I think itís fantastic; any new event is great. Obviously, it introduces a lot of new people and potential fans to the series which is great!
JULIE: What are your thoughts about eliminating the mandatory pit stops?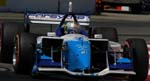 DOMINGUEZ: Itís going to be the same for everyone but sometimes itís not the best. I think it was better a couple of years ago when they said you have to pit like every 30 laps so everyone could run flat out. Right now, there is a lot of strategy that goes into the racing which is also a part of it; the team plays a big part, and you have to save fuel which is a different driving style. Iím OK at saving fuel. It will be the same for everyone I guess. It is Champ Carís way to try and increase the show and increase the spectacle. If it doesnít work out they will probably just change it. They want to make it as fun for the race fans as possible.
JUNQUEIRA: Yeah, I like it. The only question is when the pits close itís safe, but it can really screw up someoneís race. We need to wait and see how it goes!
SERVIA: I donít really have a problem with it! I donít like that they will close the pits on every yellow because teams that donít have the time or the people to have a good pit stop will end up losing positions It could really end up affecting someoneís race.
Photos by
Copyright &copy 2005 by Julie Andre and Deep Throttle. All Rights Reserved.