Las Vegas Driver Interviews
Las Vegas, Nevada, September 24, 2005 ó Julie Andre scours the Las Vegas pit lane and paddock looking for drivers to answer your questions. Then, she had a few of her own to solicit drivers' thoughts on their favorite event this year, what there 2006 plans are, and how windy conditions affect the handling on a superspeedway.
READER TO TIMO GLOCK: After your penalty in Montreal, would you change anything, strategy wise, if you're faced with a similar situation late in a race?
GLOCK: We had a couple of strategy changes but it never worked out in the past. For Montreal we actually got a podium so I was happy with the result. It was disappointing to get a penalty but again I am happy with the results.
READER TO ORIOL SERVIA: Well, have you come back down to Earth after Montreal? What have you been up during the long interval?
SERVIA: No and I have no plans of coming back down, yet! I was really happy and it was a great relief to get my first win for the Newman/Haas Pacificare team. They have been a great support for me. Not much enjoying the time off.
JULIE: What was your favorite event this year and why?
GLOCK: Montreal was great for me. I earned two points in my first Formula 1 race and this year with Champ Car; it was my first podium. It was a great experience for me. I enjoyed San Jose, too.
HUNTER-REAY: Favorite event is going to be Surferís Paradise.
PHILIPPE: Definitely when we go to Mexico it is a very special place for me. Itís probably like my second home. I love going there but Champ Car has great venues everywhere they go. There is not one that I really prefer over the other. Another one that I love is Surferís Paradise.
TRACY: My favorite event is Toronto. Itís my hometown. Itís a great event and a great weeklong event. I always enjoy going back to my hometown.
MARSHALL: Montreal was great. I love the city and the Canadian people are great like the Australians. They are very enthusiastic when it comes to racing. It was a great circuit and I had a good race. It is probably the race of the year so far!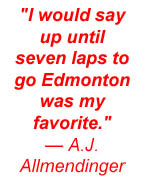 ALLMENDINGER: There have been a lot. I would say up until seven laps to go Edmonton was my favorite. The crowd there was absolutely amazing but Champ Car has put on good events pretty much everywhere we went. I think we have had an increase in the crowd at most races. You know I couldnít pick one, definitely the ones where I have been on the podium. But, Edmonton was probably the most surprising and the best for me so far because you had a legitimate crowd of 215,000. The track was awesome. Even though I hit the wall I still like the track.
WIRDHEIM: To be honest I really enjoyed Milwaukee this year. It was my first time on an oval circuit and it was such a different experience. I didnít think I would like it as much as I did.
LAVIN: Probably itís coming. I hope to repeat the results I had last year. I enjoy the races in Mexico, too.
SERVIA: Montreal! But Montreal has been good to me before. I was second in 2003. I have always been fast and I have always liked it. But I think this race, Surferís Paradise, and Mexico are great events.
RANGER: My favorite event is Montreal. First of all it is my hometown. My family was there and my sponsor. It is a great event and the track is nice. It also had a good crowd turnout.
WILSON: Toronto! I have had a few good events. Portland was good and also Edmonton was a great event. I really enjoyed that one!
TAGLIANI: My heart is with Montreal and Australia. It is the best street course in the world!
DA MATTA: Portland because I won. As an event I would say the Edmonton race. It was a great event, great track, and a great crowd. It was very nice.
VASSER: For me it has to be the Long Beach Grand Prix. It has a great crowd and a great environment.
JULIE: Do you know what your plans are for 2006?
GLOCK: We will see at the moment I have a couple of contacts for different teams in Champ Car and a couple of contacts in Formula 1. I will probably know more in the next couple of months.
HUNTER-REAY: Not yet, donít know.
PHILIPPE: We will see what happens this year. Not sure yet.
TRACY: Donít know yet looking at all my options.
MARSHALL: I havenít been thinking about it a lot. I am taking it race by race. I signed a two year contract with Team Australia and even though my qualifying results havenít been super great we are working on it. It has been a tough year being a rookie and learning all the tracks. Things are getting better and Iím sure I will get better and better by the end of the year.
ALLMENDINGER: Here in Champ Car with RuSport!
WIRDHEIM: I hope to remain in the Champ Car series. When I signed with HVM it was with the intention to be long-term. I have really enjoyed myself here this year.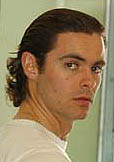 LAVIN: I donít have any yet. Hopefully I will stay in Champ Car next year. We are working hard to stay in this series.
SERVIA: Yeah, to be happy!
RANGER: I donít know. Iím a rookie and Iím young but this year was a great experience. Itís been fun!
WILSON: Same again. I am signed with RuSport. It should be good. We are building the foundation work this year.
TAGLIANI: Plan is to stay where I am and try to bring the team to the next level. It was the first year with the Lola chassis and there is a learning curve. I think for winter testing we should be a little bit better.
DA MATTA: No, Iím still not in a contract. Iím talking with PKV. I think it is very likely that we are going to be staying together next year. Hopefully, we can finalize the details soon.
VASSER: I have no comment on it right now. I might quit racing Champ Car, or I may be back for another year. We are going to decide what is best for the team and right now we are in the process of figuring it out.
JULIE: How is the racecar handling with these windy conditions?
GLOCK: It makes it a bit difficult with the wind you can feel it down the straight here. The car is a bit slow. Itís difficult for me because I have no experience on a super speedway, and itís my second race on an oval. It makes it difficult for me to find the right feeling for the car. For me itís important to get a good racecar.
HUNTER-REAY: The car is just horrible thatís all I can say about it. Itís more than just the wind.
PHILIPPE: It is very windy out there and all it did was cause more turbulence. It was pretty fun though. There are a lot of things moving around in the car but you know we manage.
TRACY: Doesnít really affect our cars that much. We have so much downforce on the cars as it is, so the wind doesnít really affect it all that much except it makes it slow on the front straight away and you get a tailwind on the back. It doesnít affect the handling at all.
MARSHALL: I think Turn 1 and 2 itís a little bit difficult with the gusts of wind. And down the back straight you get a massive push and then on the next lap you donít. It makes it a challenge.
ALLMENDINGER: Yeah it definitely affects the car. Turn 1 and 2 itís not too bad because the wind is pushing on the wings and it goes in and sticks the car more. But in Turn 3 and 4 the wind is pushing the car off the line and up to the wall. When you are doing about 210 mph and the car starts moving around itís not exactly the most fun feeling.
WIRDHEIM: I was really surprised on my qualifying laps because it was more windy than when we ran this morning. But to be honest it did not affect the car that badly, and we managed to go a little bit quicker than we did this morning and Iím sure it is because of the wind. Overall itís been a good day. I felt comfortable pretty early with the track and the setup.
LAVIN: Itís a little bit windy. This morning I didnít get a chance to go out a lot. The car doesnít feel bad. We still have to work on the aero balance on the car
SERVIA: It was very windy out there but hopefully it will calm down for the race. But again it is the same for everyone. I was very happy with the car it felt very good. We will see. I think we will be fine during the race. Thatís the main focus.
RANGER: The track is very nice and very fast. I need to be smooth with the steering and be flat out. For a while my car was pretty good today but the position was not there.
WILSON: Yeah it was difficult during the day. The wind has started to settle down so it is a little easier to drive. The wind wasnít as much of an issue.
TAGLIANI: Conditions are the same for everyone maybe sometimes it varies but itís very minor. Itís one of those tracks that you have to handle what you have. The handling is great, the car is great, and Iím going flat out all the way around. There is just no speed in the car.
DA MATTA: Earlier on it was a bit tricky with the high track temperatures. Now itís windy but the track has cooled down quite a bit and there is a bit more grip out there right now. I have had no problems.
VASSER: There is so much downforce in the car, it moves around a little bit but all in all it is pretty much planted. Especially on a new set of Bridgestones the car really sticks to the track.
Copyright &copy 2005 by Julie Andre and Deep Throttle. All Rights Reserved.