Denver Driver Interviews
Denver, Colo., August 14, 2005 ó Julie Andre scours the Denver pit lane and paddock looking for drivers to answer her questions on qualifying lap limits, the 2006 schedule, and minimum track lengths.
JULIE: Would you prefer qualifying sessions to be unlimited laps?
WIRDHEIM: It doesnít matter if the qualifying session has unlimited laps, but what I would like to see is more tires because the way it is now we run out of tires in the practice session, so we canít do as much running as I think we should. If we had more tires we could have more track time.
LAVIN: It depends. I probably prefer just the 15 laps.
DOMINGUEZ: I think it would make sense. I donít remember why they only went to the 15 laps. I think for now it would make sense to do unlimited laps so everyone can qualify the best they can.
BOURDAIS: Well they blew the 15 lap rules because they blew the qualifying on Friday in San Jose, so we had 4 sets of tires potentially to use. With unlimited laps there is more traffic, so it is harder to get a clean lap. I think Champ Car is doing a pretty good job at making things right. Tony [Cotman] is doing a pretty good job. He is a smart guy.
GLOCK: It might be a little bit easier. I liked the qualifying in San Jose. We had more chances to go out and run a good lap. I definitely like that style of qualifying. But you canít change it midyear, but maybe itís something to consider next year.
BREMER: No, when a part breaks on your car it doesnít matter how many laps you have, so I think the rule with 15 laps is okay.
JULIE: What are your thoughts of the 2006 Champ Car schedule and the addition of the Houston race?
WIRDHEIM: There are only 14 races this year, we could definitely add more to the schedule. Iím speaking from a driverís point of view. The only problem I can see with adding more races is it might be a strain on the teamsí resources. Iím glad to see Champ Car add another venue.
LAVIN: I think itís great for the fans in Houston and for the series to go to more places. For the Mexican drivers itís good to go to Houston because there are a lot of Mexicans there.
DOMINGUEZ: I think itís great that another race has been added. I was wondering how they were going to light the streets at night for the Houston race, sounds interesting. We will see what they have planned. I know when they ran it a few years ago they had a pretty good race going on. Good race track downtown. It sounds like a lot of fun!
BOURDAIS: Well, I donít know how the weather is in Houston. It might be a bit chilly at night. I think itís good for the series to add another event to the schedule. Perhaps they will expand it to a 16-race schedule and add Philly to it.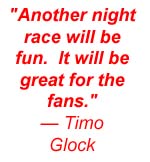 GLOCK: I think the new race in Houston will be a good show. Another night race will be fun. It will be great for the fans. I will be looking forward to it.
BREMER: I think itís good; I donít know anything about Houston, so I canít really say anything. More races are welcome as long as itís a good race with a strong turnout. It should be fun!
JULIE: Do you think there should be a minimum length for every road/street course that Champ Car runs on? Should the course length of the San Jose race track be increased?
WIRDHEIM: I think the track length should be longer than San Jose. This track is a dream compared to San Jose. I think the Denver track is not too bad.
LAVIN: Probably 1.7 or 1.6 miles and above. They do need to do adjustments to San Jose track.
DOMINGUEZ: I donít think there is a certain track length that should be used. I guess with San Jose it depends on the city and if they can run a few more corners. I think to improve San Jose they would need to concentrate on the bumps not necessarily the length. Mostly at the end when they put in the extra chicane there were no passing zones. So that hurt the show. It was a first time event for us on a street course there so you have to learn and make the appropriate changes. The city is supportive of the race so they are going to try and make any changes that need to be made.
BOURDAIS: Probably, but you have to go with what the city wants and what will work with what space is available. You need to consider the affect on the city and the people in the city. You donít want to bother them too much. If you piss everybody off by blocking all the streets they wonít have anyone in the grandstands. You need people to show up so they will continue to come back. Itís a compromise between everyone.
GLOCK: Normally the track time should be over a minute. Itís difficult to find a street course over a minute. We are a little over a minute right now. What the problem was in San Jose was they did not have space to overtake anyone, but in Denver there are some possible passing zones. Maybe for San Jose they need a longer straightaway and another hairpin added. It would improve the show.
BREMER: I donít think itís so much the length. I think itís having some passing opportunities there. Street courses are difficult to make long. Itís just making sure there are some passing zones for the fans and for the drivers as well. I think that is the biggest issue.
Copyright &copy 2005 by Julie Andre and Deep Throttle. All Rights Reserved.