Cleveland Diary:
Day Two
Beyond The Danica Fog
Cleveland, Ohio, June 25, 2005 — To the general media, i.e., the clueless, the only woman who has ever driven a race car in the history of the human race is Danica Patrick. Thankfully, that is not true. I've often said Danica is a good race car driver who can hold her own. However, now she is so over hyped that quite frankly the knowledgeable fan is sick and tired hearing about her. The shame is that if she never actually produces anything close to the attention she is getting, the backlash against women drivers may be so damaging to the gender that future opportunities and sponsorship could suffer.
Luckily, there are plenty of other talented women drivers who may be good enough to be able to break through the haze of the clueless and make a name for themselves even if they never make it to the "bigs." Who knows, maybe one day these women will have people saying, "Remember that driver at Indy? What was her name again?"
Two women who do not deserve to be pushed aside by the fabricated Danica craze are driving here at Cleveland.
Katherine Legge. The British driver has done what Danica has not -- actually win a car race. Legge did it in fine style with a victory in her debut in the Toyota Atlantic championship at Long Beach. This determined Englishwoman hounded, more like stalked, Kevin Kalkhoven. All she wanted is what every driver wants -- a chance.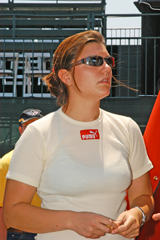 Kalkhoven was impressed with her strong will and racing resume, and gave her a shot. He set up a test with Polestar Racing. The team owner, Jim Griffith, has seen many young up and coming race drivers, was equally impressed with her speed, feedback, and overall talent. He recommended running her, so Kalkhoven funded her for six races.
Legge has an advantage over some drivers, especially Danica. She is able to provide useful feedback to the team engineers. Setting up the car, especially at this level of the game, is usually the difference between talented, even extremely talented, drivers from truly being successful. Legge is able to read the car, understand what needs to be done, and suggest the proper changes. It also doesn't hurt when you have Griffith, one of the best in the game, in charge.
Like Danica, Legge learned her craft first in karts (won numerous British karting championships) then in the UK racing series. What will surprise many, despite racing in the British Formula Ford Zetec Championship, British Formula Renault Winter Series, British Formula Renault Championship, British Formula 3 Championship, and the British and North American Formula Renault 2000 Championship, is to learn she only had less than two dozen races under her belt before this year.
Money has always been tight for her, and thus results sporadic. Worried her career was stalling, she jumped across the pond to check out the racing scene in the States where she tested for the Kathryn Nunn Infinity Pro Series team, posting the fastest lap times. However, she didn't have any sponsorship in her back pocket, which translated to no ride, and headed back to England.
When Legge heard Kalkhoven was going to be in London on business, she made sure to meet with him. Provided with the opportunity, she produced right out of the gate. Now, it gets tougher. With the competition keeping a close eye on her, not to mention front runners Charles Zwolsman and Tonis Kasemets starting to get very hot, as well as a tough teammate, Antoine Bessette, Legge will have her work cut out for her.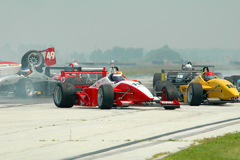 Since that win, she finished fifth, ninth, and third. In the first part of a doubleheader at Cleveland today, she pulled the classic Cleveland rookie mistake. The question on everyone's mind at the start of the race is which driver is going to be the one to pull the overaggressive move into turn one on the first lap. Legge was the answer, trying to dive bomb the field down the inside from her fifth starting spot. After bouncing off a few cars, including her teammate's, the end result saw Legge stranded on the side of the track. Her day was done, dropping her to fifth in points.
What will not be stranded is Legge's career as long as she learns from mistakes like today. Kalkhoven has indicated he will provide funding for Legge to run the whole season. Now, it's up to Katherine Legge to reach heights that Danica Patrick has not.
Amy Ruman. Talk about the ultimate, "Daddy, can I borrow the car?" Longtime Trans-Am competitor, Bob Ruman, hurt himself while testing at BeaveRun getting ready for the Trans-Am on the Tarmac in Cleveland. Not wanting the team to miss their sponsor's home race, dad let his daughter, Amy, borrow the car, allowing the 31-year-old to make her Trans-Am debut.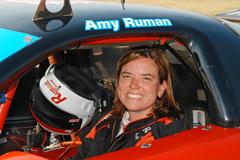 Amy has driven the car many times before in SCCA club racing at the national level in the GT1 class. In fact, Amy has competed in the Runoffs the past two years and is well on her way to qualifying again this year. In six National races this season, she won twice and finished third twice with two motor-related DNFs.
In fact, they set the car up to meet the GT1 specs, which this year runs as a subclass in the Trans-Am Series. Even with that slight handicap (after all, the car is essentially a Trans-Am machine), she qualified well up the overall field.
After learning the track her first time on the airport circuit, she came back in the second practice session to post the fifth best time, first in class. She bettered that in qualifying by a half a second for a final time of 1:16.265, though she wound up eighth on the overall grid and was just nipped out for the GT1 pole by two-tenths of a second to Paul Fix.
When you have parents who race, naturally you tend to get involved in the sport, whether you are a girl or a boy. Amy started racing Spec Racer Ford finding immediate success both at the Regional and National levels. She then competed in the Pro Spec Racer Ford series simultaneously running the Women's Global GT Series. Next, She entered the GT1 class while still competing in Spec Racer Fords. The last few years have been solely devoted to running the Chevrolet Corvette in GT1.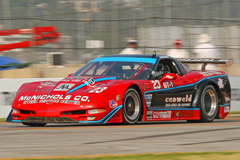 The race started out very well for Ruman. She held her own, and early on was running comfortably with the second pack of cars. She slowly fell back a bit, but she easily held a steady lead over Fix, her main competitor for the GT1 class. Then, trying to keep up with Tomy Drissi, who had just passed her, she spun coming out of turn four. Ruman quickly got going, and was closing in on Fix when her motor died stranding her on the course. She wound up finishing tenth, equaling her father's placing in his Trans-Am debut.
Racing is so often a family affair, and the Ruman family is the prototypical example. Besides Amy and Bob, the matriarch of the family, Barbara, competed for many years with great success in solo action. Amy's sister, Niki, also raced in the Spec Racer Ford class. Niki's husband, Dave Skinner, a Spec Racer Ford driver himself, is the crew chief for Ruman Racing.
Amy Ruman will return to running the car in SCCA National races, most likely in two weeks at Watkins Glen. However, the way she ran today with the big boys, one gets the feeling that she will be asking her dad for the car keys again. And Bob Ruman may have difficulty saying no.

Photos by
Copyright &copy 2005 by Russell Jaslow and Deep Throttle. All Rights Reserved.