Cleveland Diary:
Day One
Dog Day Afternoon
Cleveland, Ohio, June 24, 2005 — No matter when the Cleveland Grand Prix is run, it always seems to be hot and humid. One worker said if this race was run in February, it would still be ninety degrees.
Is There Such A Thing As Too Much Racing? Once again, I'm here not just for Deep Throttle, but to also drive the transport trucks, shuttling the flaggers, food, drinks, and supplies to and from the circuit When I first looked at the schedule, I balked at volunteering to work again, instead just applying for press credentials.
However, the SCCA was desperate for transport drivers, so I agreed to work. To be truthful, I have it easy. I can duck in for shade when I need it, and when I'm in the truck, I can blast the A/C. It's the corner workers who have it tough.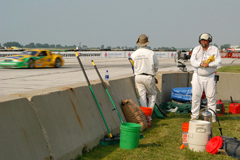 They are out on a track that offers no shade whatsoever, have to stand most of the time, and are forced to wear long pants and long sleeves. This, on a weekend where a heat wave came in just as the event got started, pushing temperatures well into the 90s with high humidity and barely a cloud in the sky to shield the sun.
Thus, the question has to be asked. Why is this event, unlike previous years, so jammed pack with races forcing marathon session that would cause slaves to revolt?
The workers don't get off the track till around 8:00 p.m. the first two days and past five the final day. The flaggers' meeting starts the day first thing in the morning. I know there were flaggers who planned to attend, but changed their mind at the last minute after seeing the schedule. They had no desire to work 12-hour days.
As it is, the date change to this weekend conflicts with the Mid-Ohio vintage event as well as the June Sprints at Road America. That alone caused an issue with getting workers to Cleveland. The long days didn't help.
This of course is not a knock on the corner workers. You won't find a more dedicated group of volunteers, and they all enjoyed themselves. They are a godsend to the sport. However, they did roll their eyes when I asked them their thoughts on the length of the day. Even great passions have their limits.
A Fallen Angel In White. Speaking of the corner workers, their weekend is being run with a sadness in their hearts. One of their own, Glenn Miller, a longtime Cleveland Grand Prix volunteer, is no longer with them.
Miller was tragically killed during a SCCA drivers' school at Nelson Ledges back in May. A car lost control on the backstraight, shot across the track, and fatally struck Miller. A death in racing is always tragic. Particular so when it happens to a volunteer worker who is out there purely for the love of the sport.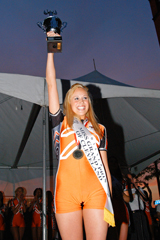 A First For Cleveland. Festivities in Cleveland kicked off Thursday night with a downtown party in the Old Warehouse District. For the first time, Cleveland held a Miss Grand Prix of Cleveland contest, which is part of the Faces of Champ Car yearlong competition to find the ultimate grid girl.
The turnout was lower than expected. Perhaps because it was a work night. Or, perhaps because the new style for this party hasn't caught on, yet. Cleveland has always enjoyed the Champ Cars, but to be honest, it's not like Toronto.
Speaking of that comparison, the beauty pageant also was not up to par with Toronto's Miss Molson Indy. It was better than Long Beach's contest, which was surprisingly a disappointment. Cleveland did hold it's own, but so far nothing has been able to match up with Toronto's beauty pageant.

Photos by
Copyright &copy 2005 by Russell Jaslow and Deep Throttle. All Rights Reserved.