Vancouver Driver Interviews
Vancouver, BC, Canada, July 25, 2004 ó Julie Andre scoured the Vancouver pit lane and paddock looking for drivers to answer her questions on Vancouver behavior following Toronto, a possible Calgary race, and the different rubber at Las Vegas.
JULIE: Going from one tight street circuit to another, will drivers learn their lessons from Toronto, or do you expect to see more of the same in this race?
HUNTER-REAY: It could be. There is a corner in Toronto that promotes most of the incidents that we saw last weekend. Maybe not as much but we will definitely see something.
DOMINGUEZ: You never know really, it depends. The street courses are always tough to pass on, so people have to take bigger chances to pass. So you never know really what is going to happen during the race!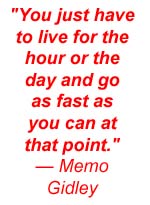 GIDLEY: I donít know about being more careful. We are all out there trying to push as hard as possible and mistakes happen. But certainly you can look back at Toronto. If I or anyone for that matter would have kept clean they wouldíve had a shot at the podium. So I am sure that that is in the back of everybodyís mind a bit. But you just have to live for the hour or the day and go as fast as you can at that point, because that is what will guarantee you the win.
BOURDAIS: It depends a lot on how the start goes. Last year we had some problems in Turn 1. It also depends on how the drivers behave. If they open a big door then for sure some drivers will be tempted to try something. I guess it could be one tough race and one race where they are taking it easy a bit in an effort to finish the race. So you might find a quieter start this time.
LAVIN: I think the last race at Toronto had too many crashes. Everybody was driving a bit too racy. I think for this race everybody is going to be more careful. Since I will be starting at the front I donít have to worry about what goes on behind me. I will try and make a clean start and just keep myself in front.
JULIE: What do you think about the idea of another Canadian race most likely in Calgary?
HUNTER-REAY: I would love to. I love Canada. The fans are great here.
DOMINGUEZ: That would be awesome! We love racing in Canada. Canadian fans are the best. They are so much fun. All the activities that they plan during a race weekend are great. Definitely would be awesome. We love racing here.
GIDLEY: The more races the better and definitely up here in Canada there are so many people interested in it. The fan following is great. Toronto and here at Vancouver the crowds have been awesome and I would like to see more races here.
BOURDAIS: I think it would be great! We have great venues here in Canada and the fan base is very good. I think it would be a good idea.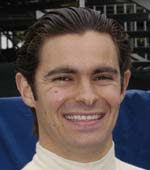 LAVIN: That would be great. Coming to Canada for me is really nice. The fans are great here. Itís pretty much the same as Mexico. They are really into it!
JULIE: The response over adding Las Vegas has been favorable, but how do you think the track will be having to run right after the Trucks with their different tire compound?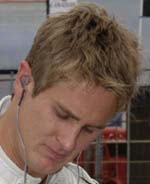 HUNTER-REAY: I donít know. We will have to see. We have run with other series that have had some pretty bad tires like CASCAR. We deal with it, but itís a good question! We will have to wait and see. I donít think I have ever run a weekend with NASCAR before.
DOMINGUEZ: We have done it before. Itís a little bit weird at the beginning because of the different rubber but itís not a real problem you just have to get used to it.
GIDLEY: Well you know we ran after the Trucks a couple of times in 2001 when I was racing for Ganassi. I am sure it poses some sort of problem, but I donít think it is a real big issue. I think we will get used to it. It will probably be a little slimy at first and then it will clean up as the race goes on. I just have to wait and get there. Thatís looking pretty far ahead for me.
BOURDAIS: Well, we canít really predict anything. It is going to be a different tire manufacturer on the track. Sometimes the two rubbers do not suit one another. Hopefully, it is going to be OK. It will probably take about 15 laps before the rubber is washed out. I donít expect to have big problems. We have been testing in Milwaukee after the Craftsman test and actually the cars are handling fine.
LAVIN: Normally the Trucks run a different line. I donít know. Itís tough to tell right now. I can tell you after they run and I run if it makes a big difference or not.
JULIE: Are you still on a race-to-race deal with Rocketsport?
GIDLEY: Yeah, well, thatís just normal for me.
Copyright &copy 2004 by Julie Andre and Deep Throttle. All Rights Reserved.