Toronto Diary:
Day One
Under Scrutiny
Toronto, Ontario, Canada, July 9, 2004 — It's the second weekend in July—it must be Toronto.
Hello, Memo, are you busy this weekend? Seventeen cars took to the track for Friday's morning practice session. The last pit stall lay empty. Nelson Philippe's car, as well as the 17-year-old self proclaimed phenom, was nowhere to be seen. Nor, did the combination appear for qualifying.
Word came that Memo Gidley was on his way to fill in. Memo might not even arrive until Saturday's qualifying, missing the morning practice. That's how last minute this phone call was made, as Gidley is literally traveling to Toronto as this is written.
What happened to Philippe? Officially, Philippe broke his contract with Rocketsports. Read that as his father didn't pay the bill for this race. Whether this is a one race situation is not known. It will be interesting to see what sponsor decals remain on the car when Gidley pulls out of the pits.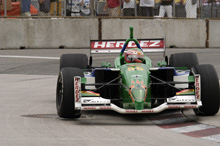 Up Close Observations. When you go to a race, one of the things you should do is get as close to a turn, especially a difficult one, as you can and observe the drivers with a critical eye. Pay close attention to the little details such as how much they are turning the wheel relative to each other, how they are getting on the power coming out of a twisty turn, whether the engine sound suddenly jumps indicating they are spinning their wheels, and if the engine makes the "brap, brap, brap" sound of hitting the rev limiter. By making these observations, you will truly get an appreciation of which drivers have talent, which cars are well setup, and which drivers simply don't belong out there. If your not an expert on racing, bring someone along who is, especially if they have raced cars before. You will learn a lot about the sport. And appreciate it more.
Here is what I observed during the qualifying session watching in Turn 3, then coming up the hill through four, and finally in Turn 5:
Alex Tagliani had a serious understeer problem he fought the whole time, eventually overcompensating which just gave him oversteer.
Mario Haberfeld's car was a handful, sliding all over the place.
Both Newman-Haas drivers barely nipped the curbing in Turn 5, while everyone else was running over it on their hot laps. This, combined with how smooth their hands were with the steering through Turn 3, shows how well dialed in their cars were. Then again, considering how Sebastien Bourdais lost pole position by three thousandths of a second, perhaps he should have shaved a few inches of that curb like he did in Turn 9.
Gaston Mazzacane is slow. Just flat out slow. Even if the car has problems, it appears he is not even driving it hard.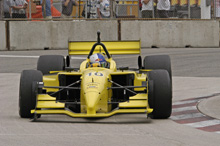 Following The Mentor. Another interesting observation was how A.J. Allmendinger approached qualifying. Near the end when the real hot laps are turned, Allmendinger followed his mentor, Paul Tracy, the entire time. When Tracy ran hot, Allmendinger poured it one. When Tracy backed off, so did Allmendinger, content to follow Tracy rather than pass him. Whether Tracy taught his protégé anything is not known as Allmendinger qualified only 11th while Tracy got the provisional pole.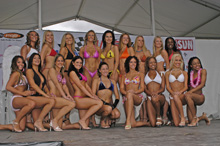 It's A Tough Job, But Someone's Got To Do It. When you own OWRS, you can give yourself the job of being a judge at the Miss Molson Indy Sports Model Competition "Bikini Finals." Kevin Kalkoven certainly appeared to be enjoying himself watching the beauties in swimsuits parade up and down the runway. Other judges included last year's Miss Molson Indy, Lynne Kushnirenko, and Bronte Tagliani. With a website named Deep Throttle, wouldn't you think they would have asked one of us to be a judge?
Helpful Traffic Tip. When you're driving home from the race, don't pick a road that is closed off because the racetrack is there. Don't ask…

Photos by
Copyright &copy 2004 by Russell Jaslow and Deep Throttle. All Rights Reserved.