Las Vegas Driver Interviews
Las Vegas, NV, September 26, 2004 ó Julie Andre scours the Las Vegas pit lane and paddock looking for drivers to answer her questions on what venue to return to in Las Vegas, should there be more double billings, and how do the drivers mentally prepare for a superspeedway.
JULIE: Would you like to come back to Las Vegas on the oval or a street course?
HABEFELD: I would prefer a hundred times over if we could race on a street course. Itís a lot more of what Champ Car is about. Driving here with the wing package that we have is boring!
MAZZACANE: For me the oval is completely new and very strange. I need to learn about the lines on the superspeedway. At the moment I prefer the street courses because Iím more comfortable on them. But the specifications for this race are good. Itís a long race, which is good for pit stops and strategy.
SMITH: I think the oval course track here is great. I think the racing tomorrow night will be spectacular. For a driver itís a nice change to do something out on an oval and this race in Vegas gives us an opportunity to do that. Iíve been looking forward to coming here so much.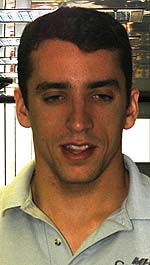 WILSON: I donít mind either way. The ovals are interesting and a good challenge. But the challenge isnít really for the driver itís for the team. Street courses are good fun but variety in the series, with different types of tracks are important.
DOMINGUEZ: Well I guess it depends if we have other ovals, but I would like to have two or three ovals in the season. Itís nice to have a combination of racetracks.
PHILIPPE: Whichever. I love Vegas, so it doesnít matter.
TRACY: I think if we come back here the proper place to race is on the oval. If we come back to the city itís a different story. I think the plan is to come back here depending on how the result is. From our estimations it looks like it is going to be a good turn out.
GONZALEZ: I would love a street course. We are getting the oval this year. It would be great to race on the streets of Las Vegas. Itís going to be interesting. I think itís a great event and the place to be with Champ Car. Either would be nice, but I would like to see a street course.
JOURDAIN: Well I think a street course would be good, but it depends on if itís going to be a proper track where we can show what these cars can do. Otherwise, we should stay here.
HUNTER-REAY: Either way it would be nice to bring the Champ Cars back to Vegas. We need some more ovals in this series I think. Maybe they could come back with a different wing package.
ALLMENDINGER: My opinion, I would like a street course. Hopefully we will get a good turn out tomorrow night and if thatís the case and we get a good turn out then we should come back.
CARPENTIER: Yeah I would like to see a street course. But if we come back here we need a little less downforce.
VASSER: I donít know. Whatever the fans want letís put it to the fans to vote.
BOURDAIS: I donít know. It might be something better to achieve on the oval but not as much downforce as we have right now. Itís OK. I donít really have a preference in Vegas.
JULIE: Do you think it makes sense for Champ Car to have a few events with double billing with another major series?
MAZZACANE: Yeah, they should race with the NASCAR cup cars.
SMITH: I think itís good, and I think it helps everybody. Sometimes we have good crowds, and sometimes we donít have good crowds. The series needs more consistency. So, if that means we need to race with another series every once in a while then we should. Itís good for the series and good for the circuits. NASCAR has a huge crowd wherever they go so teaming up with them might be a good idea.
WILSON: Yeah, I think with different types of championships and different types of cars is good. Itís what the fans want to see, a variety of racing.
DOMINGUEZ: Yes, I guess itís good. It shows the fans different aspects of racing. They get a good variety and a good show.
PHILIPPE: Well, definitely think it is good. Of course with the NASCAR truck series, which is very known in the States, itís a good way to start expanding.
TRACY: I think double billing is great. Itís good for the fans. Two major races in one night; I think itís good. I think itís a good opportunity for the NASCAR fan to see something different. This is a perfect venue for us.
GONZALEZ: As long as we get the seats filled they can do whatever they need to do. I think this race will be full.
JOURDAIN: Well, if it is going to bring more people than for sure we should.
HUNTER-REAY: Yes and no, some here and some there. We canít do it all the time.
ALLMENDINGER: Yeah, for sure. Basically, whatever you can do to get more fans out is good. If that means we roll with the trucks and there are truck fans that become Champ Car fans, great. Itís all about putting people in the grandstands.
CARPENTIER: Yeah, I think it is great! I think we are going to get a lot of people. Hopefully they will stay for our race. Iím looking forward to it. Itís going to be fantastic.
VASSER: I donít know. Itís not for me to decide. I donít care one way or another as long as itís a good show. We probably should have one or two of these races with NASCAR trucks but in general we should be on our own.
BOURDAIS: If it brings a bigger crowd then for sure it is good for everybody. It gives a great show for the fans.
JULIE: What's the difference in mental preparation for a banked flat-out oval like Las Vegas compared to a flat oval like Milwaukee?
HABEFELD: I do the same preparation for every track. I give 100% on any track I race on. Iím more used to road tracks than ovals, so I prefer those to ovals. As far as preparing, itís all the same.
MAZZACANE: The big difference is you need to leave the throttle in the big corners and here at the superspeedway itís completely flat. We need to work with the downforce to improve the speed and the line. Milwaukee is slower and the banking is different. Milwaukee is more complicated.
SMITH: Yeah, itís completely different. You are thinking about downforce, how smooth you can be and how to gain more momentum. As a driver itís nice to have a different challenge. That keeps racing interesting.
WILSON: All the time you are thinking about drag on the track and getting the car to go quicker. Reduce the drag and obviously you reduce the downforce. Itís knowing what you can cope with.
DOMINGUEZ: Very different. Milwaukee is a one mile oval. This track you are flat-out. At Milwaukee you actually have to drive the car a bit more. If they had less downforce it would be a different story.
PHILIPPE: Well the preparation is more or less the same but this track is less stressful because you are flat out all the way. You just turn left, so itís not that stressful anyway.
TRACY: The car set up is different.
GONZALEZ: Not really but there is more strategy here because we are going to run closer to the cars in front. The set up is going to be different. Itís more of a mental game.
JOURDAIN: Yes, itís completely different. Here you need to make the car as free as you can.
HUNTER-REAY: Yeah, there is no mental preparation here.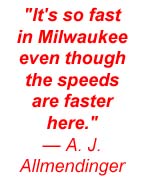 ALLMENDINGER: Well at Milwaukee I was scared out of my mind. It was the third race for me and I had no idea what was going on especially on an oval. Itís so fast in Milwaukee even though the speeds are faster here.
CARPENTIER: Itís very different. Milwaukee is a track that you push very hard at, and you are at the limit the entire race. This race you have to be very careful and watch what everybody does and stay in the race.
BOURDAIS: No difference. Here we have enough downforce to make it very flat. Milwaukee you are always on the edge.
Copyright &copy 2004 by Julie Andre and Deep Throttle. All Rights Reserved.