Vancouver Driver Interviews
Vancouver, BC, Canada, July 27, 2003 ó Julie Andre scours the Vancouver pit lane and paddock looking for drivers to answer your questions. Then, she had a few of her own to solicit drivers' thoughts on the push to pass button proposal, the reliability of the Ford engine, and their best racing moment.
READER TO ALEX TAGLIANI: Do you think that CART should become a predominately international series like F1 instead of being mainly an American series?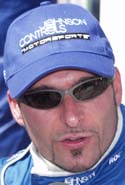 TAGLIANI: I think that CART has all the tools at the moment to become a very popular series because we have fantastic events, we donít have a problem filling up the stands, and we have great teams. It is a competitive series so all of the pieces of the puzzle are there. I think if we are an international series it makes it more open for international sponsors to come in and with more sponsors comes more money. I think if you try to make it a predominately US series the market is already saturated because of NASCAR. They are taking all the sponsors even though we are different, we are open wheel itís still racing. So I think we have to look at it differently.
READER TO MICHEL JOURDAIN: Do you think you can beat Tracy in the championship? Who do you think will be your greatest rival for the championship?
JOURDAIN: Well of course it is Paul and Bruno. I have been fighting with them all year. Right now Paul has been very strong especially the last couple of races, so we need to be faster and win some more races.
READER TO PATRICK CARPENTIER: Salut Patrick, es-tu dťja guťrit de tes lťsions? Bonne chance pour la course! Merci. [Good day Patrick, are you healed from your accident? Good luck for the race! Thank-you.]
CARPENTIER: I am all right now. Everything is good. Thank you for asking.
READER TO PAUL TRACY: Do you think you will be back next year with the same team but a different sponsor? CART needs you and so do the fans.
Unfortunately, Julie was unable to get a response from Paul Tracy because he was not participating in any personal interviews due to all the controversy during the weekend. Julie will try to ask him this question later in the season.
JULIE: What is your opinion of the proposed "push to pass" button? Should it be limited to the number of times it can be used?
JUNQUEIRA: I think it will be good for sure. It will bring some more passing during the race. I definitely think that it should be limited otherwise it would be used all the time. Maybe five or six times a race would be perfect. I think at Road America, especially, the overtake button would make a huge difference.
JOURDAIN: I didnít know there was a proposal. I am not sure. I would have to think about it more before I can discuss it.
MORENO: That is a very good idea. I like that idea. We had it in the past and it worked well. In my experience some drivers knew how to use it and some drivers did not. I think limiting the number of times it can be used is a standard requirement because the more you use it the more you take out of the engine. It has always been limited in the past. Every track would benefit from it. If a driver knows how to use it, which only a few do, it would benefit those drivers greatly.
HUNTER-REAY: I donít know. It would definitely be better for the spectators but there would need to be more strategy worked into it. I think it would have its ups and downs. Everybody would get the same amount of boost with the pass button so equal is equal. It should definitely be limited. I think that it would be a benefit everywhere except maybe Laguna Seca and Brands Hatch.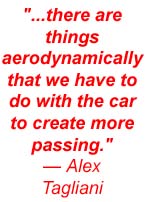 TAGLIANI: I think that it would be OK, but there are things aerodynamically that we have to do with the car to create more passing. More under tray for the ground effect and less wing all the way around. Thatís what I think would create more passing.
CARPENTIER: I wasnít aware of that. We would have to try it and see if it is a good idea. We used to have it on the oval tracks to give us a little bit more power to try and pass. It worked pretty well sometimes.
JULIE: Do you find the Cosworth engines to be consistent in their performance through the life of the engine and from one engine to another?
JUNQUEIRA: The engine has been really good. I have had no problems. It is extremely reliable. I have been really happy with it.
JOURDAIN: Very reliable. I havenít had any problems with it. I donít think anybody really has. It has been good.
MORENO: Indeed very reliable and consistent. No problems in the transition.
HUNTER-REAY: Yeah they are dead on. Very reliable. I canít tell the difference between one engine and another.
CARPENTIER: Yeah they are really reliable. Consistency is a little questionable sometimes but they are really reliable. They are good engines.
JULIE: What was your favorite racing moment?
JUNQUEIRA: Next weekend Road America!
JOURDAIN: Would definitely have to be Milwaukee my first win!
MORENO: 1981 Australian Grand Prix in the Atlantic cars when everyone had the same cars.
HUNTER-REAY: Last year winning at Laguna Seca in the Atlantic series. This year would have to be Long Beach when I qualified top Reynard and was going to finish top Reynard until we had some fuel issues.
CARPENTIER: This year at Laguna Seca we had a good car and lead the whole race.
Copyright &copy 2003 by Julie Andre and Deep Throttle. All Rights Reserved.