Toronto Diary:
Day Two
Female Heroes
Toronto, Ontario, July 12, 2003 — As is typical of a huge international racing event such as the Molson Indy Toronto, the flesh gets a lot of attention. Numerous scantily clad -- sometimes silicon enhanced -- models barely fitting in their outifts seem to be everywhere, helping to sell products or draw attention to the sponsors. Even Hot Wheels, supposedly marketed to children, has a hot trio of beauties flashing their wares.
However, there are women in auto racing who take the sport seriously. Women who have not only poured their heart and soul into their passion, but who sometimes have been perfect role models for not just young girls, but for all of us.
We all know Danica Patrick by now -- who as a matter of fact has played both ends of the equation -- but there are two other women you may not know much about. They both happen to come from the Toronto area, and they both have excelled in their chosen specialty. Even more importantly, they both deserve to be known.
Back From The Dead. When the paramedics reached the scene of the highway accident, they found no pulse in her legs. They didn't detect any vital signs. After reviving her, the hospital diagnosed her full gamut of injuries -- a crushed aorta valve, broken back, broken ribs, nerve damage in her legs, and a "messed up" stomach.
Ashley Taws should have died that night of December 7, just months after winning the 2002 co-Rookie of the Year award and tying for third place in the Canadian Formula Ford series. Now, even if she were to live, doctors told her the nerve damage was so severe, she would have to relearn how to walk, if it were even possible. Racing a car would be out of the question.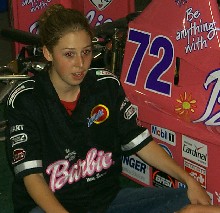 After nearly three months in the hospital, four major operations,titanium screws in her back, and ten pounds under her normal weight, the 19-year-old from Newmarket, a Toronto suburb, is racing for the first time since that fateful trip back from the movies with a group of friends (all of whom also survived). She is once again competing in the Canadian Formula Ford Championship Pro F1600 series. Ashley Taws has been no less an inspiration as Alex Zanardi, showing the world once again that perseverance, determination, and postive outlook can overcome the greatest of challenges.
Again sponsored by "Be Anything With Barbie at Wal-Mart," Taws qualified 9th after the first session for Sunday's race. This may be a far cry from her impressive pole position last year at Toronto en route to a fourth place finish (after she fell back to last place when her engine stalled), but it's as good as a victory from where she lay December 7.
Grease Under The Fingernails. She originally wanted to be a firefighter. The waiting list was quite long. In the meantime, she attended a racing school to learn how to work on her motorcycles. Before she knew it, she got a job working with a team.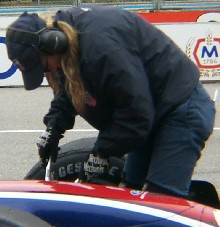 Tess Brelia is now paving new ground in the Champ Car series. She is the only full-time female mechanic in the series and the first woman to ever go over the wall for a pit stop, doing so for Ryan Hunter-Reay's car with the American Spirit Team Johansson. Brelia is responsible for changing the inside front tire. During the more "sedate" moments of a race weekend, she is the front end mechanic, working on the suspension, brakes, and wings.
Before coming to the big leagues, Brelia, from the Toronto suburb of Brampton, spent five years in the Indy Lights as a full time mechanic and was named to the Indy Lights All-Star Team. Then, she worked for a Toyota Atlantic team, a rival of the one Hunter-Reay drove for. However, her excellent work caught the attention of Hunter-Reay, and he convinced his new boss to bring Brelia along to the Champ Car series.
There certainly is no reason a woman cannot do the job with the wrenches that a man can do, working the 12-16 hour days necessary in racing. That is exactly how Tess Brelia feels. As far as she is concerned, she has a job to do that she enjoys doing, and when the car comes flying into the pit stall, she has to change the tire as fast or better than the person on the other team, no matter what sex she or they are.

Photos by
Copyright &copy 2003 by Russell Jaslow and Deep Throttle. All Rights Reserved.